Euro Zulu Safari
by Frances and Rodger Lee
(England)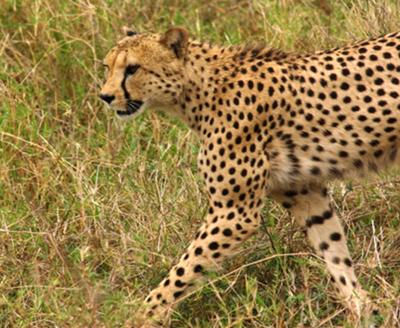 Cheetah on a mission
We can't fault Euro Zulu - from Annemarie in the office to the guides and the good food provided. All were warm and friendly ready to answer questions and to provide sightings.
Safari Operator Performance
In 2007 we travelled with SAGA but in 2008 we did our own thing. In 2007 we met up with Annemarie and Geoff Asherwood of Euro Zulu when we booked to see the whales and then used them for all our extra trips. This year we had a number of trips with Euro Zulu to Hluhluwe and to the turtles. Also a night ride but I can't remember the tour's name.
Because Euro Zulu knew we were photographers we were never in a full vehicle. The maximum was 6 in a 9 seater Safari vehicle, so that we all had an outside view.
Rick Pascoe was a superb guide. His knowledge is extensive. He is a fun man to be around and besides knowing about the wildlife and why they behave as they do, he had knowledge of Zulu culture and activities.
Last year we went out with Geoff who is also a very good guide, a fountain of knowledge both of the animals and Zulu culture.
A Typical Day On Safari
We would wake up about 4am, get dressed and be out for the vehicle about 5 o'clock. We then had an hour's drive to Hluhluwe and arrive at the gate ready for opening at 6. Even on the drive there were things to see once the light allowed.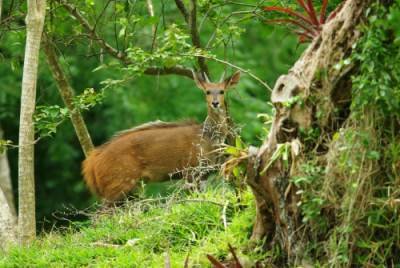 Depending on the weather and reports from rangers we would start looking for animals. To start with the impala, zebra, wildebeest were ignored. We would aim to find the big cats. Rick would talk to other independent guides and they would share sightings or radio if there was something special.
A break for breakfast and facilities was had and then back to the hunt.
It was not always large animals that caught the attention. We would be driving and suddenly the vehicle would stop and Rick would jump out and pick up an insect or show us a dung beetle pushing dung across the road. It could be tale about the tree used by the Zulus to return a warriors soul to the village or an explanation that you would only see a Tawny Eagle and a White Backed Vulture together if there was a kill.
Lunch would be another stop with facilities and a chance to stretch the legs.
The afternoon was shorter but again the hunt for interesting sightings and to watch the more numerous animals.
About 4 o'clock we would begin the drive back to St Lucia tired but happy at all the wildlife we had seen. No matter how many times we go on safari we always see something new.
Back at the guest house we would have dinner and after some conversation and television retire early.
Wildlife
We saw 9 separate cheetahs, hyena, lions, warthogs, elephants, wildebeest, zebra, kudu, impala, 3 different owls, white/black rhino, leopard, monitor lizard, croc, hippos, 4 different kingfishers, duikers, bush buck, nyala, chameleons, bush pig, Vervet monkey and Samango monkey, baboons, buffalos, various vultures.
The highlights were:
watching a lion stalk a warthog and then deciding it was too big as they eyed up each other;
watching 5 cheetahs as they decided it was time to look for food and realising we'd been there nearly an hour;
watching a hyena protecting its kill from a crowd of vultures which it kept chasing off.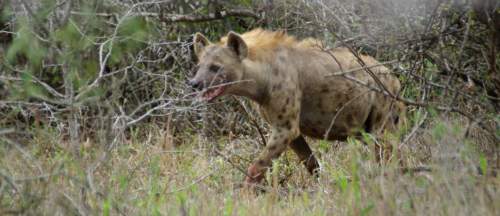 Accommodation
We stayed at Avalon Guest House, 15 Sandpiper Street, St Lucia. Excellent guest house with very efficient, helpful and friendly manager.
Food
Breakfast at the guest house included the choice of full English breakfast, to cold meats, cheese, rolls, pancakes, toast etc etc.
When on a day trip with Euro Zulu they provided rolls and tea/coffee for breakfast. Lunch depended on the weather. If good it was a barbeque with salad. If wet, it was cold meats and salad. Coffee and tea were provided as well as an alcoholic drink.
The turtle trip included a small buffet with tea/coffee and an alcoholic drink.
At night we ate in local restaurants or had a very good meal in the guest house. This time we did not sample traditional food but would encourage travellers to try anything offered even if it's only to say they have eaten Mopani worms.
Tips & Advice
Be open to all new experiences. There is always something to see even if the big 5 are elusive. The more questions you ask the guide the more you will enjoy the safari. They react to your interest in why, what, how.
Our most useful item was the camera.
Rating, highs and lows
We rate this trip 9.9 out of 10. It would have been a 10 if the turtles had obliged.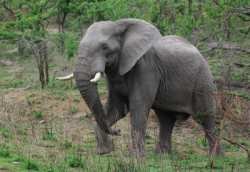 That was our only disappointment: not seeing turtles. But if you want to guarantee seeing any particular animal then go to a zoo.
Sitting in the tree tops at Eshowe, soaking up the sun and the silence was a highlight.
Once you have seen Africa it pulls you back. There are always new experiences, different wildlife from the smallest insect to the largest carnivore, from animals to birds and reptiles and then the flora.
More Hluhluwe-Imfolozi Safari Reviews