Hluhluwe Imfolozi Park
We visited some of the KZN wildlife parks during July: Ithala, Hluhluwe Imfolozi Park and Mkhuze. Going with a normal car was no problem but during the rainy season some roads will be tough going...

Booking process
Booking our self-drive safari in KZN was easy. I called the central reservations office who booked our Ithala (my trip report) camping and referred me directly to Mkhuze for our camping there. Since our accommodation during the Hluhluwe Imfolozi part of our safari was outside the park, all I had to do in preparation - relating to Ezemvelo KZN Wildlife - was deciding which gates to use and find out about the daily conservation fees.
If you're a Rhino Gold Club member, you don't need to pay the conservation fee at all. The KZN parks were also in the process of joining the Wild Card system [came into effect 1 August 2007, for most KZN parks], also offering the advantage of no conservation fee.
Because we missed the Wild Card commencement date for KZN (more below) - and for anyone who doesn't have membership with either of these two clubs - you just arrive at any of the three Hluhluwe Imfolozi gates and pay your daily fee (R40 for South Africans).
Hluhluwe Imfolozi Staff
Reception staff at both Mpila and Hilltop Camps were very friendly and helpful. The gate staff were generally helpful and friendly with the exception of Nyalazi Gate where we first entered the park. We were told prior to our visit that the park had already joined the "Wild Card" system, which would have saved us a few hundred Rand. We made special arrangements to upgrade our Wild Card to an "All Cluster" for this reason. Upon arrival however we were told that this wasn't so. (It has come into effect in the meantime, from 1 August 2007).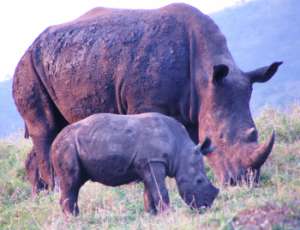 Find out more about the Wild Card »
The thing that upset me most was the attitude of the woman working at reception. She offered no apology at all (she said it wasn't her fault, it was Wild Card's fault); in fact she was a bit aggressive about it. Our questions about other aspects of the park were answered, but her slouching, gum chewing body language didn't come across well at all. Not very professional. Gate personnel are the front-line; I think Ezemvelo KZN Wildlife would do well to invest in a bit of customer service training.
Facilities in Hluhluwe Imfolozi Park
Mpila Camp (Imfolozi section) has a shop with basic food supplies (don't count on fresh veggies; the yoghurt was expired), books, curios, gifts, t-shirts and drinks including beers. No bar or restaurant.
At Hilltop (Hluhluwe section), the bar and restaurant is situated so that you can enjoy great views over the surrounding area. There is an internet terminal in reception, and the shop is well stocked - much better than Mpila's.
Fuel is sold at both camps and both have public phones. Hilltop Camp has a swimming pool and a game viewing hide, the latter which is quite nice in itself but poorly positioned.
Hluhluwe Imfolozi Park: Activities
There are a few self-guided walks scattered across the park, as well as guided walks and the more intensive wilderness trails. Guided game drives and night drives in open vehicles are offered from both main camps.
Group size and vehicle
Bruce and I travelled alone in a Toyota Tazz. We had no problems at all getting around - the roads of Hluhluwe Imfolozi are in good condition. You certainly don't need a 4x4 vehicle.
Hluhluwe Imfolozi lends itself perfectly to a self-drive safari and we liked being able to plan our own routes and having the freedom of schedule.
If I had to travel the route from Ithala to Hluhluwe Imfolozi again, I wouldn't take the shortcut but rather do the extra kilometres on the tar via Pongola. Unless I have a vehicle that can take a bit of hammering. It slowed us down quite a bit. Although, getting off the beaten track (and getting lost, sometimes) brings great experiences that you wouldn't otherwise have had. Like being waved at by so many people and finding hardly any traffic on the R69.
This was a camping safari... we stayed at two different sites outside Hluhluwe Imfolozi Park as no camping is allowed in the reserve itself (unless you're on an organised wilderness walking trail).
If you want to stay in the Hluhluwe Imfolozi Park itself, you can choose from various accommodation options. The main camps offer safari tents, rest huts, rondawels, chalets and cottages - all self-catering; and there are seven bush camps, bush lodges and lodges for a more exclusive experience.
Bonamanzi Game Park
We camped here for 2 nights and all I can say is "wow". The ablution facility of the spacious camp site is one of the cleanest I have ever come across in a camp site, and I have been to many. In fact it was the most looked after I have experienced in Africa. There were even little soap bars in pretty boxes, something I (as a camper) certainly didn't expect .
The tree rich camp site area is huge and divided into only 4 pitches, meaning you have lots of space and privacy. The central braai (BBQ) area is well lit at night as is the washing up area.
The Bonamanzi Game Park is quite large. Other accommodation options are "tree" houses, a youth hostel, chalets and a lodge. We had a look at most of these and all looked good to me. Our experience at reception was also great and the staff very professional and organised (only the internet didn't work while we were there, but they were working on fixing the problem).
Being a reserve, you can actually spend an extra day there: we saw our first ever red duikers there, warthogs, vervet monkeys, crocodiles, impala and plenty of nyalas. Some of the antelope strolled through the campsite… in fact the impala ram made quite a racket with his rutting behaviour - great experience.
There are two bird hides and bird life is rich in the reserve. There is a dam where you can relax on comfortable benches under the trees, or enjoy the view from a couch in the bar. We saw crested guineafowl here for the first time and heard purple crested turaco which reminded me of home. During the night the distinctive call of a wood owl woke us.
The roads within Bonamanzi are all dirt or sand and during the rainy season I doubt we would have been okay with our Tazz. I think you'll need a 4x4 then. Getting to Bonamanzi from the N2 highway you also use dirt roads but they are not sandy so a normal car will probably still be okay in the wet season.
Getting from our camp site to the Memorial Gate of Hluhluwe Imfolozi Park, via Hluhluwe town, took about 45 minutes. On our first morning we entered at the Nyalazi Gate and getting there took longer than expected… about 1 hour 15 minutes.
Bonamanzi has a 24-hour security gate so you don't have to leave the Hluhluwe-Imfolozi Park early to make the gate time there, or be delayed in the mornings because of it.
Hluhluwe Backpackers
We camped here for 3 nights. The reason we moved from Bonamanzi is because of Hluhluwe Backpackers' perfect position: less than 2km from the park's Memorial Gate. We even heard a hyena the one night.
The place is cheerfully decorated with a number of wildlife pictures against the walls, notices about do's and don'ts and things to do in the area.
It has a typical backpackers feel to it with people coming and going, cooking, socialising and relaxing. Lanterns on the dinner veranda lend a cosy feel to the evening around the house.
The camping ablutions block were a bit problematic - during our short stay one of the two toilets went out of order and one of the two showers broke as well (it wasn't me!). Fortunately there were more facilities in the main house that we could use. The light in those showers cubicles weren't working and I had to use my torch for light.
The camp site itself is good: enough shade and - heaven! - soft ground. We did get strong winds during our one night there which I think is probably a common occurrence with its exposure on the hill. There are some resident pets, of which the Alsatian was the friendliest!
Dave let us use his computer to get on the internet - he's a straight forward kind of guy with an obvious love for the park and its wildlife. The lady that works there is extremely friendly and helpful. I also liked the fact that they make a real effort to recycle.
We didn't make use of it but there is a bar and you could also arrange meals if you don't want to cook/braai your own.
We self-catered completely - this was easy since Hluhluwe town is near the Memorial Gate. There are various supermarkets there (we used Spar and Shoprite), liquor stores and a butchery. I wish we had thought of the butchery on the one occasion as the boerewors (sausage) we bought at Spar wasn't great.
Both supermarkets are huge and have all the groceries you will need, except ice (for the cooler box) which you can get at one of the fuel stations.
There are also some fast food outlets in Hluhluwe town, like KFC and Steers.
In the Hluhluwe section of the park, there is a restaurant at Hilltop Camp where we had coffee and scones one morning. The restaurant offers buffet breakfast and dinners, and during the day you can get light meals, teas, coffees and more at the bar.
In the Imfolozi section, there is only a small take away outlet at the Centenary Centre which is situated close to the Nyalazi Gate. No restaurant at Mpila Camp at all.
Although it was mid-winter, the days in Hluhluwe Imfolozi were nice and warm. We started the mornings with a sweater on, but around mid morning we'd be in shorts, t-shirts and sandals. The evenings were quite pleasant as well.
Being dry season, we had no rain and beautiful blue skies every day.
One of our best sightings of our Hluhluwe Imfolozi safari occurred a mere 10 minutes into the morning game drive of our first day. At first we only saw the spotted hyenas in the long grass, but after about 10 minutes of viewing them, we saw 3 lionesses. Over the following hour we had the privilege of watching the interaction between the lionesses that'd killed a wildebeest and was still periodically feeding on it; and the 6 hyenas. Weren't it for the fact that most of the hyenas were still very young, they could have overpowered the lions and stole the carcass. In stead they had to play the waiting game and grab scraps whenever they could get a gap.
Hluhluwe Imfolozi has all the big game but in places the vegetation is so dense you wouldn't see an elephant if it was 5 metres from the road.
But elephants we did see! In fact, the one afternoon as we were heading for the exit gate (and therefore in a bit of a rush), we were almost blocked by a large herd. Fortunately we drove past, then stopped and kind of looked back at them as they calmly strolled into the road.
The star of the show is the white rhino. It was here in Hluhluwe Imfolozi (which used to be two separate parks and is still run independently to a large extent) where the white rhino was saved from worldwide extinction in the 1950s with "Operation White Rhino". You wouldn't guess it, as today there are so many of them… we counted 18 different individuals on the one day. During our visit we saw several young rhinos including one very small one grazing near the road with its mum.
We saw a fair bit of buffalo, two of them so close you could count their eyelashes.
The number of leopards and cheetahs in Hluhluwe Imfolozi is not certain, but thought to be around 30-45 each. So, we weren't expecting (hoping, yes) to see any. But again, we were blessed! We saw two cheetahs (presumably brothers) lying on a hillock and scanning their surrounding area. What a treat!
Warthogs are bush clowns. They probably don't think it was funny but I found watching them having a tussle very entertaining indeed. We came across 5 adults, their bodies wet with mud from a recent wallowing. They were full of energy and we watched them spinning around, wrestling each other then trotting off to rub themselves on a nearby tree.
Other animals seen include zebra, impala, blue wildebeest, giraffe, waterbuck, kudu with their beautiful spiral horns, lots of nyala, terrapin sunning themselves at the water holes, chacma baboons, vervet monkey and duiker. Near Thiyeni Hide in Hluhluwe we saw 6 different species of animals around one waterhole, including impala displaying rutting behaviour - very entertaining!
Unfortunately no black rhino sightings for us here, although they are periodically seen in the park. Also no hippos, because of the dry season and the wild dogs also evaded us…
Bird life noted down included vultures, crows, hamerkop, purple-crested turaco, helmeted and crested guineafowl, emerald-spotted wood-dove, bulbul, kurrichane thrush, bee eater, hoopoe, Swainson's francolin, eagle owl, either marsh or African wood owl, African spoonbill, trumpeter hornbill, Burchell's coucal, bateleur, long-crested eagle, gymnogene, secretarybird, fork tailed drongo, woodpecker and three-banded plover. There were many more in Hluhluwe Imfolozi so for keen birders the species list will be a fair bit longer than ours.
Wildlife spotting highlights
Animals:
The interaction between the lions and hyenas at the wildebeest kill.
The rutting display of the impala (both at Bonamanzi and in Hluhluwe Imfolozi) - and the accompanying noise!
Birds:
Seeing our first trumpeter hornbills ever flying overhead at Hilltop Camp.
Lying in the tent at Bonamanzi and listening to the wood owl very close by.
Interaction between a gymnogene and long-crested eagle. The former kept bothering the latter until he eventually got bored and left the eagle in peace, its long crest fluttering in the morning breeze.
We would have liked to go on the river cruise but it's not operational during the dry season - for obvious reasons.
There were no animals in the game capture boma at the Centenary Centre so we didn't pay the R10 pp to enter the boma and exhibition area. There was a disappointing picnic site served by a very basic fast food shop, and a nice curio market. The highlight was the bronze statue of a black rhino in front of the centre.
There are a few self-guided walking trails in the park which we found a bit weird in itself since Hluhluwe Imfolozi is a "big 5" reserve. Unfortunately we ran out of time and couldn't hike the 2km trail which starts several kilometres from Mpila Camp. We only did the one closest to Mpila Camp and it literally just goes up the hill outside of camp. It was quite exciting in that we saw some kudu as well as impala and enjoyed stunning views from the top. But if you really want to become "one with the bush" you should book a wilderness trail in the Imfolozi section (on my list!).
Apart from the curio shop at the Centenary Centre, there is another one at the Memorial Gate which is very similar. Dumazulu Village (near Bonamanzi) has curios too as well as a snake and crocodile park and live traditional Zulu displays.
We popped in at Ilala Weavers, not far from Hluhluwe town. It's a gallery / museum / village / shop / tea garden; the place to buy woven Zulu baskets. Very nice.
| | |
| --- | --- |
| Tips and advice to people planning a similar safari | |
At Bonamanzi: watch out for ticks.
White rhino hot spot about 1km from the Memorial Gate around dusk and early evening - we repeatedly found them there.
I recommend people make the effort and drive to the viewpoint south of Cengeni Gate - it's beautiful!
Most useful item in my luggage
Camera and accessories, binoculars (we have a Bushnell Waterproof 8x42), credit card.
---
Don't forget anything at home: safari packing list and camping list...
I would have preferred to camp inside the park. The wildlife was great, the weather was great... I think an 8!
| | |
| --- | --- |
| Safari Location: | South Africa: Hluhluwe Imfolozi Park |
| Safari Company Used: | Independent / self-drive |
| Duration: | 22-27 July |
| Traveller Details: | Wilma & Bruce Whittaker, South Africa |
| Rates & Availability: | Plan your own safari. Make a Hluhluwe Imfolozi enquiry |
More South Africa Safari Reviews