Arathusa Safari Lodge Review
by Jacques de Speville
(Mauritius)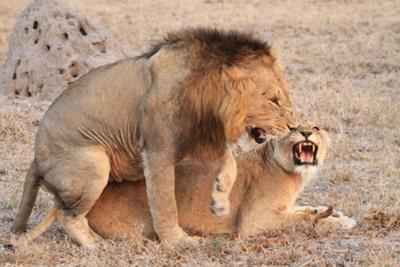 The service was generally very good. We liked the professional and caring attitude of the staff. As we were repeaters, we felt a little bit at home and developed a friendly relation with the staff.

Our guide and tracker were excellent in tracking the big cats, especially leopards. The safari was excellent!
Accommodation
We were four people: my wife, my two sons and myself. We booked our stay at Arathusa Safari Lodge for the second consecutive year and in the Sabi Sand Game Reserve for the third consecutive year, (we stayed also at Nkorho, Idube and Lion Sands before).
My wife and I have been travelling to South Africa every year since 2005. We have been able to experience different Game Reserves (including the
Kruger National Park
(Mopani, Olifants and Skukuza) and Madikwe Game Reserve (Tau Game Lodge)).
I normally organise all my trips myself and make all bookings through internet. I contacted Arathusa Safari Lodge after I visited their website.
Arathusa Safari Lodge is situated in the northern part of the Sabi Sand Game Reserve adjacent to the Kruger National Park.
The camp is an intimate one completely open-plan, offering accommodation to 20 guests in standard chalets and 8 guests in luxury chalets, and designed to harmoniously blend with the adjacent waterhole and African bush.
Food
Breakfast (buffet style): cereals (muesli, corn flakes…), fresh fruits, muffins, toasts, hot breakfast (eggs, bacon, mushrooms, tomatoes…), different jams, coffee and tea.
Lunch and dinner: we had a menu (a choice between two starters - including a soup for dinner - and two different main courses). A vegetarian course was also available.
Dessert: home baked confectionery.
Wildlife
Hippopotamus, Giraffe, Warthog, Steenbok, Waterbuck, Kudu, Zebra, Nyala, Wildebeest, Black-backed jackal, Spotted hyaena, African fish-eagle, Bateleur, Eagle-owl… and of course the Big Five are among the large variety of wildlife we had the chance to see.
I would say that we were very lucky with Lions and Leopards that were certainly our wildlife-spotting highlight.
For example, we started one morning drive by sighting three Lionesses lying together in the morning sun.
Later on, we came upon three magnificent male Lions - out of a coalition of four brothers (named the Majingilanes) who are the new dominant males in this region. We followed these big boys for over half an hour in the bush while they demonstrated their affection for each other in rolling on their back and rubbing their mane against each other.
Finally, we find three Leopards on the same spot within 15 meters from one another - which is apparently something quite rare for Leopards. One female (Ntima) had killed a Grey duiker and had hoisted it on a tree. The other female (Safari) was on the ground eating a Warthog she had just killed.
While we were taking pictures and watching the females eating, we saw a male (Mafufenyane) approaching Safari with a clear intention to steal her food. Safari growled but did not resist, as she had no chance against this much bigger male. Mafufenyane took what was left of the Warthog in his mouth and walked away with it.
All this during one drive was quite exceptional!
During another drive, we were watching a female Leopard (Karula) that was walking quietly nearby our vehicle when she suddenly jumped about 2.5 meters high up a small tree trying to catch a squirrel. She missed it, but the suddenness of this attack impressed us and we could admire the rapidity and agility of this big cat.
We had many more encounters with the big cats, including Lions mating and 4 male Cheetahs lying in the shade.
We also had beautiful sightings of Elephants, Rhinos and Buffaloes – a big herd of about 200 Buffaloes came a few times drinking at the waterhole in front of the lodge while we were having dinner on the deck overlooking the waterhole, in a nice moonlight...
Typical Day
5:30 AM: Wake up call.
6:15 AM: Coffee.
6:30 AM: Start of morning drive.
9:00 AM: Return to the lodge. Breakfast time.
Between the breakfast and the lunch, we were 'free' – we used to read, to take a nap, to look at photos we took during the morning… For those who had more energy to spend there was an optional bush walk from 10:00 to 10:45 AM in the vicinity of the lodge, guided by an armed ranger.
2:00 PM: Lunch
3:30 PM: Start of afternoon drive.
6:30 PM: Return to the lodge. Drink at the bar with the rangers.
7:00 PM: Dinner.
We used to go to bed just after the dinner.
Other Activities
Shopping in Sandton!
Photography
What photographers should be aware of:
Our ranger always did his best to place his vehicle in the best possible position so that most passengers could see the animals and take pictures.
Furthermore, for any of the big five, the ranger would drive off road to come closer to the animal(s) giving therefore excellent opportunities to take good photos.
However, the safari drives being organised in open vehicles with a maximum capacity of 10 passengers plus the ranger and the tracker, it was sometimes difficult to please everybody.
When the vehicle was at full capacity (it was often the case), a few times I found myself sitting on one side of the vehicle and having difficulties in taking photos of an animal positioned on the other side.
Furthermore, for safety reasons it was strictly forbidden to stand up during drives, especially when animals were nearby.
More about photographing wildlife in the e-book...
Tips and Advice
Stay in the same place (game lodge) for some days so you become acquainted with the animals (especially the cats).
Apart from my camera I would say that it is important to take both warm and light
clothes
– the temperature can be high during the day and low during the early hours of the day and at night, especially during the winter months.
More Sabi Sands Safari Reviews