Leopard Hills Review - Part 2
by Mary Johnston
(Scotland, UK)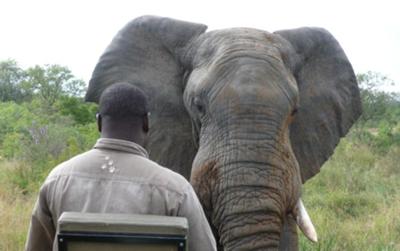 This elephant came very close to the vehicle
I would say the highlight of the trip was probably my birthday, but really every single thing about it was a highlight as far as we were both concerned. The staff are so genuine and friendly and nothing was too much trouble for any of them. We were met by the manager and his wife, which I thought was a really nice touch.

From the moment we arrived, everyone called us by our first names, which we really liked. It felt as if we were with family and friends. What appealed to me so much was the fact that all the staff were treated as equals. From housekeeping to management, every single person was amazing.
Safari Logistics
We booked our safari through a tour operator from the UK called Elegant Resorts. They tailor-made the holiday specifically for us.
We were met at Johannesburg airport and transferred to a vehicle and taken to the lounge for our Fedair flight on to
Leopard Hills
which was lovely.
There was a beautiful garden to sit in and watch the planes, a lovely lounge with TV's and comfortable seating and complimentary food and drinks which were really lovely.
The staff were also very approachable. Unfortunately after our long overnight flight from the UK, we had to wait over 4 hours for our short flight to Leopard Hills.
I didn't mind the wait as the lounge was lovely and I enjoyed sitting in the garden watching the planes take off.
It was so lovely to be able to sit in the sunshine as we had really wet and cold weather when we left Edinburgh.
We were a little wary about flying in such a small plane, but after the initial take off and climb, it was fine.
One hour later, we arrived at the airstrip. Our luggage was removed and waiting for us was a guide from Leopard Hills who then transferred us by jeep to the lodge.
After about 10 minutes we arrived at what was to be our home for the next 4 nights.
Typical Day
We were awoken at 05.00am by a knock on the door. After falling out of bed and getting a quick shower we called the front desk and someone came to walk us up to the restaurant where we all met for a hot drink, before going on the game drive.
Around 05:30 we all went on the drive. That lasted until around 08.30 then we got out of our jeep and we used to just go straight for breakfast.
It was so lovely to sit out on the verandah and look over the waterhole. It was just so relaxing.
We took time to have breakfast and chat to all the staff. It was a perfect way to end a perfect game drive.
Then we went back to our suite and just relax. My husband wasn't too keen on getting up so early in the morning so he used to go for a nap.
I was too excited about being in such a spectacular place. I didn't want to sleep, in case I missed anything. I would sit and read inside the suite or go out on my sun lounger and just lie and take in the wonderful sounds and fresh air.
I could easily have just closed my eyes but I knew that it was possible for the animals to get close so I always had to be alert.
We would wander up for lunch and spend some time there just enjoying the peace and quiet and chatting to the staff.
We also went a few times to the small gym and also to the library.
At 4pm we met up again to go on our afternoon safari. Again there were nibbles laid out and drinks also.
The afternoon game drive lasted around three to three and a half hours. It always got cooler in the evenings so we used to always take a jacket with us.
When we returned from our game drive we were met with drinks and then escorted back to our suites to get ready for dinner.
We always had dinner with our ranger, Gary. It was always a really good evening with wonderful food and great company.
After dinner we would sit and chat with a few drinks and then get escorted back to our suite.
As we were up at 05.00am, we used to be in bed by 11pm normally.
One day was extra special for me though.
It was my 50th birthday, and when I got back from our morning game drive, our room had been filled with candles, and small flowers around the edge of the room, petals over my bed and the bath run, also filled with petals and a handmade birthday card signed by all the staff.
On the evening game drive, we stopped for our sundowner and they brought out champagne and everyone sang happy birthday to me.
When we got back from the evening game drive, there was another bubble bath run and a bottle of champagne on our bed.
I felt truly special and will always remember how special they made it for me.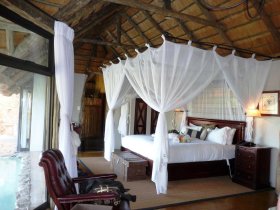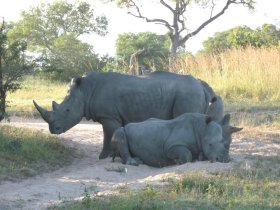 Other Activities
Unfortunately we didn't get round to doing any other activities as we were only there for 4 nights. We plan to return next year and stay for 8 nights so will probably do other activities then.
I did have a massage treatment at the spa and it was divine.
Disappointments
Everything far surpassed our expectations. The only thing we regretted was not booking for longer.
Tips and Advice
I would say, not to take too many clothes with you as it is always very casual, even in the evening for dinner.
We also made the mistake of buying
"safari clothing"
which we found was a waste of money. Most people just had their normal everyday clothes on. Unless you are intending on doing the walking safari, you don't really need any special footwear either.
The most useful item in my luggage was probably my sun cream as it was very hot when we were there. We have stayed in much higher temperatures but the actual sun was quite fierce.
More Sabi Sands Safari Reviews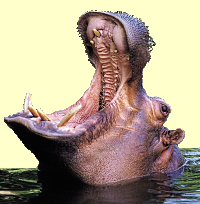 Join in and write your own page! It's easy to do. How? Simply click here to return to South Africa Safari.