Lawson's Birding and Wildlife Tours
by Dave Evans
(UK)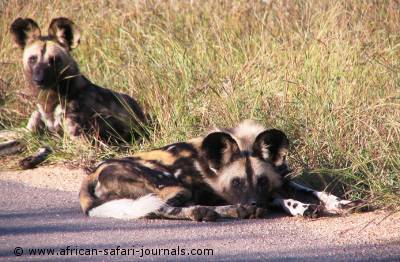 Personally my favourite moment amongst all the wonderful moments was seeing 6 Wild Dogs (quite rare these days, I believe) running along the track in front of the vehicle then sitting down at the side of the track to rest, having just come from a kill.
Safari Operator Performance
We heard of Lawson's Birding and Wildlife Tours from previous clients and also met representatives of the company at the annual British Bird Fair at Rutland Water in UK.
Our party consisted of myself, my wife and my 16 year old grandson. Lawson's provided a guide (Leon Marais), minibus and all ground services for the 10 days.
On arrival we were handed a brochure with useful hints and safety advice, the itinerary (which had been agreed before leaving the UK) and a checklist of the birds and mammals we should encounter during our stay.
It was a very professional service given by Leon and I cannot think of a better way of exploring in Africa. Everything was made so easy that all we had to do was turn up at Johannesburg Airport!
Accommodation and Food
1st night: Outlook Lodge, Johannesburg;
2nd night: Blyde River Canyon;
3rd and 4th night: Punda Maria Rest Camp, Kruger National Park;
5th, 6th and 7th night: Shingwedzi Rest Camp, Kruger National Park;
8th and 9th night: Nkorho Bush Lodge, Sabi Sand Game Reserve.
All the accommodation was of a good standard, being comfortable and clean. The Sabi Sands accommodation was of a much higher standard, but then the cost was appreciably higher.
All the menus were varied with plenty of choice, including local food.
Wildlife
We saw all of the Big Five, plus a further 28 mammals and 171 species of birds.
My wife thought it nice to see Southern Giraffe gracefully striding between the trees and bushes.
My grandson's favourites were the African Elephants, especially the group of 35 we saw a waterhole one evening.
Seeing an African Wild Cat looking at us from about 10 metres was a great surprise too.
Typical Day
Out of bed at 05h00, a quick drink and a biscuit and leave camp at 06h00 as the gates opened. A game drive until returning for breakfast at 09h00.
Leave camp on another game drive as soon as we were ready returning to camp before the gates were closed at 17h00.
Some days we returned to camp for lunch around 12h30, other days we had picnic lunches at a rest stop.
Tips and Advice; Highlights
Decide what you and your party want from your safari related to your budget then contact Lawson's Birding and Wildlife Tours, they will do the rest.
My
binoculars
was the most useful item in my luggage.
It might surprise you to know that seeing our 3 pieces of luggage on the luggage belt at O. R. Tambo International Airport was a good moment, especially as we had changed planes at Charles De Gaulle Airport in Paris, having flown in from the UK. I don't want to think of what might have happened to our safari had the luggage been mislaid!
I have no disappointments about the trip, except that I wish we could have afforded to stay longer!
More Sabi Sands Safari Reviews