Lawsons Safaris
Add Your Own Review
Share your own safari experience to help others still planning to go on a rewarding trip like this.

Lawsons Safaris Reviews
Click below to see contributions from travelers who have been on a Lawsons safari in the past...

Excellent Birdwatching Guide
The planning was very good; our guide Leon was excellent, very knowledgeable and handled all of the challenges that we presented him with. His expertise …
Kruger Birding Safari
We saw many birds, the highlight being a martial eagle bathing about 12 feet away (for a very long time!). We also saw lots of lion, elephants, rhino, …
Lawson's Birding and Wildlife Tours
Personally my favourite moment amongst all the wonderful moments was seeing 6 Wild Dogs (quite rare these days, I believe) running along the track in front …
Facebook Reviews


&nbspKath Stennett&nbsp&nbspSafari Wish Come True
A safari holiday had been on our wish list for many years. We chose our trip with Lawson's Safaris based on excellent...


&nbspJanet Zinn&nbsp&nbsp310 Species Spotted
We have taken two custom safaris in South Africa, both with Lawson's Birding & Wildlife tours, guided by Leon Marais...


&nbspRobin Brook&nbsp&nbspAfter A Year Of Research
I'm one of those travelers that as a rule avoids tour companies. Lawson's is very much an exception to the rule...
---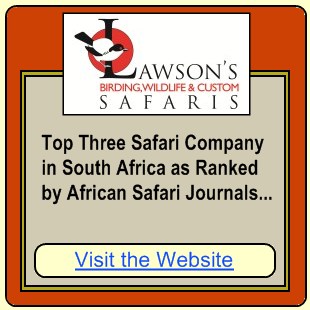 Lawson's Birding, Wildlife and Custom Safaris is a family owned and operated business, specialising in birding and wildlife trips to the very best Southern African destinations.
Many of the places they visit are in the spectacular National Parks and wildlife reserves of the sub-region, where unsurpassed scenery, an unrivalled diversity of life and close encounters with large mammals such as elephant, lion, hippo, giraffe and leopard make for the experience of a lifetime.
Memberships:





Their tour itineraries are based on nearly twenty years of experience and, although they endeavour to see as many different species of birds and mammals wherever they go, there is always time and space on the tours to enjoy the infinite wonders of nature.
*Per Person Per Night