Kruger Birding Safari
by Deanne Dallas
(Sri Lanka)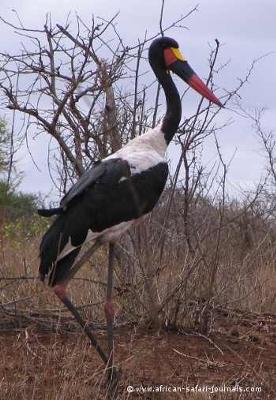 Saddle-billed Stork
We saw many birds, the highlight being a martial eagle bathing about 12 feet away (for a very long time!). We also saw lots of lion, elephants, rhino, buffalo, only 2 leopard but we were able to follow one as he scent marked, hyena, jackal – blackbacked and side striped -, wildebeest, giraffe, kudu, hippo, serval, mongooses etc.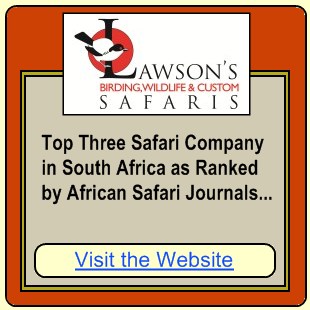 Safari Operator Performance
We knew about Lawson's Birding and Wildlife Tours because we went with them the previous year on a birding holiday with Ornitholidays.
They looked after us very well. The guide was excellent.
Have been on many safaris and cannot think of any particular highlight but the whole trip was very enjoyable and thoroughly recommended.
Accommodation
Byamiti Bush Veld Camp, Lower Sabie Rest Camp, Satara Camp, Talamati Bush Camp, Nkorho Game Lodge, Elephant Plains Game Lodge, Forever Resorts Blyde Canyon.
Nkorho and Elephant Plains were particularly good.
Food
Often brunch – eggs, bacon, tomato etc. at the camps prepared by our guide.
Lunch and dinner at lodges were 3 – 4 course meals and were always good.
Dinner at camps (again prepared by guide) was a barbecue – steaks, sausages, chops etc. plus salads etc. – very well done.
Typical Day
Wake up at 6am, have coffee and biscuits/rusks, go on game drive, stop for coffee and more rusks about 7.30/8 continue on game drive and get back for brunch/lunch.
Afternoon nap and out again about 3.30 after tea/coffee. Game drive and stop for sundowner and nibbles at a spot for more game viewing then continue and get back about 7 for shower, drinks and dinner.
Early to bed!
Tips and Advice
Take warm
clothes
as it can be very cold in the early mornings and evenings in open vehicles.
Don't forget
binoculars
.
More Kruger Park Safari Reviews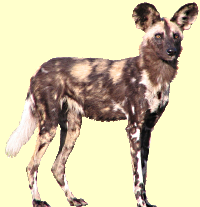 Join in and write your own page! It's easy to do. How? Simply click here to return to Lawsons Safaris.