Tinga Safari Lodge
by Jean Wethmar
(Australia)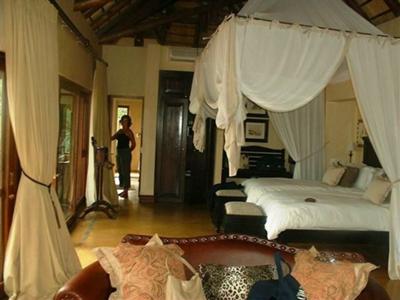 Our suite at Tinga Lodge
The Sabie River has the highest recorded density of leopards in Africa, and one of the highest predator densities. All the game comes to you, although we went on 4x4 trips as well. We saw leopards in close range and my camera went into overdrive.
Accommodation
My daughter organised this total treat for me when I visited her. She had been personally invited so we were treated to a total royal stay! No expenses spared!
First was 3 nights in the bush at
Tinga Legends Private Game Lodge
- it was absolutely amazing and 5 star luxury. It is the BEST equipped lodge by far!
It is situated on the banks of the Sabie River, in the prime game-viewing area of the Kruger National Park.
Right on that river is an amazing bench under a Jackleberry tree.
They have a spa bath that when you sit in it; it is as if you are in the bush! The four poster bed was a treat!
It was a highlight lying in the spa bath, with the candles flickering, and the bubbles popping in my ears! With the African bush so black outside, and not a sound other than the hoot of an owl, or a night jar... and the occasional sound of the hyena's howl! Wowie! That is life for sure!
Then came 3 nights at a spa:
Cybele Forest Lodge
. They and Tinga have a partnership that works well, giving you an all round experience of the wonders of Africa!
The luxury at Cybele we experienced was amazing as well! The spa was the best ever - the products the beautician used are flavoured with fynbos and rosemary!

Food
We had our dinners in the boma that is in itself such a setting - you could be eating beans on toast and it would be amazing! Roaring fires with the night sounds.
The food and good wine go down a treat! Of course we had the usual G n T's in the bush at sundown time with lovely homemade biltong and droë wors.
Some traditional dishes of local game were on offer, but I did not take part. Breakfasts and lunches were served under an enormous tree on the deck overlooking the Sabie River.
Dinners at Cybele were in the dining room, so it was very specially decorated, and so intimate. It was only my daughter and I there, but the full staff was on standby to serve and treat!
Wildlife
We saw the usual fields and fields of impala, little and so petite, so gracious, and so skitterish, ever vigilant and on the lookout for that lion or leopard.
We rounded a corner and rode almost into a whole herd of elephants. That was rather scary!
The smells of the African bush were the BEST!

Typical Day
On the first knock on the door with the hot tray of coffee or rusks, to the quick dress and brushing teeth - excitement rises!
What will you find today? What will this amazing African bush bring you as a present? Normally I cannot get out of bed for anything, but no problem there.
Of course the dreamy dishy rangers were so charming, making sure we were warm and comfy on the trip. On getting back around 8.30, a huge brunch treat awaits at your leisure (after a spruce up).
Then we had lazy time around their lovely deck pool and library. I found myself nodding off with the sun beetles for company!
Around 4pm it is back on the "landies" with jackets, camera,
bino's
and enthusiasm! Aah, there is nothing that beats Africa!
Tips and Advice
My journal and my camera were the most useful items in my luggage.
Free e-book: Better Safari Photography »
We stopped over at Old Joe's Kia. It is a lovely tea stop. We also stopped for trout on the way home at Dullstroom.
Enjoy and savour the moment! Take it all in! Make every moment count!
I had a very, very special time with Africa and her bush and my special daughter.

More Kruger Park Safari Reviews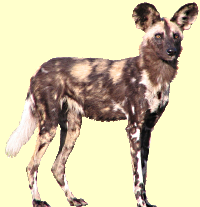 Join in and write your own page! It's easy to do. How? Simply click here to return to South Africa Safari.