Five Star Lodge Safari Experience
Monique works in the travel industry and went to Sabi Sands for her first African safari. I had an informal telephone interview with her to find out what she thought of three different five star lodges there...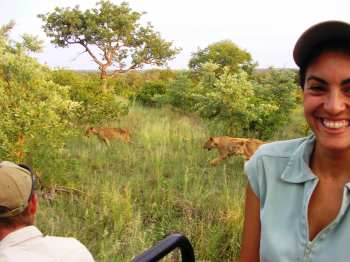 I went to Singita Boulders Lodge for two days. It's absolutely amazing. And then I went to Londolozi and Sabi Sabi after that.
And how did you get to hear about them?
We deal with them often because I work for a tour operator (Green Route). It was a fam trip; we had to take one of our tour operators from America: he's never been before and I've never been before, so the two of us went to the five star lodge.
How did each five star lodge perform? Was there anything special you liked about their service?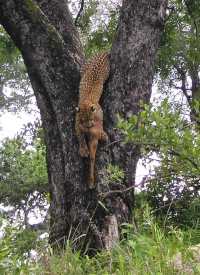 SINGITA was brilliant. Everything was perfect. From the time you got there ... the attention to detail and the attention that they gave you ... I mean they make you feel that you're really really special.
I liked everything about their service, there was nothing I didn't like. Even the quality of their product - they use Dermalogica in the rooms - was just fantastic. Everything was fantastic. I was sad to leave.
SABI SABI: I was quite disappointed when I went there because apparently they're supposed to be quite good as well, but they were terrible. It was really bad.
The service was bad... I mean I came from Singita where you got individualised attention and it's a five star lodge obviously. Then you go to Sabi Sabi which is also supposed to be a five star lodge but the quality of the room was not that of a five star lodge.
Singita gives you all your beverages and things for free - they don't do that at Sabi Sabi. They don't have that quality of product in the rooms - the shampoo, you know that type of thing, the little things that people always look at. Even at dinner, the staff just don't pay attention to you. You don't feel like you're being looked after. I was actually very disappointed.
We went to the three five star lodge places (Londolozi is also a five star lodge) - I liked Londolozi but Sabi Sabi I was seriously disappointed.
So you wouldn't advise people to go to Sabi Sabi?
Actually although I was very unimpressed, I have to admit that if a group wants a five star lodge but they can't afford the Londolozis then we obviously send them to Sabi Sabi. Also because Sabi Sabi is kid-friendly.
LONDOLOZI was also very good; it was very nice. The service was brilliant. A lot of baboons and mischievous monkeys! You have to keep your doors closed.
Not as fantastic as Singita… they should have really put me there [Singita] last because I compared everything after that to Singita.
They did something really nice: the drinks stop that they did was a surprise. The guide said, "There's something there... I think it's a fire. Should we go take a look?" We looked and saw this light, and when we got there, there was a waiter, this whole table that was set up and candles and champagne … that was really nice, I thought. That extra special touch.
And the general manager would dine with us at times - that was nice.
They really went the extra mile.
How was the guide(s)?
Our guide at Singita was fantastic; his name was Sean. He was brilliant. Not only was he good looking but he was brilliant, very clued up. And he knew a lot of the local language as well. Our tracker was a black guy who grew up in the area; they were obviously able to talk to one another.
At Singita it was out of this world! Unfortunately I couldn't take my partner with - and there was no cell phone reception and I kept thinking I just want to call him and say, "I wish you were here"!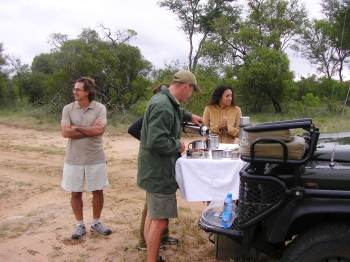 It was awesome. Boulders is very big, it's like a family lodge so it was just myself in the room and then there was another room there. You've got your own dining area. It was awesome, everything was beautiful.
It had a splash pool outside, and an outside shower. It was gorgeous, seriously gorgeous.
How many people were there… was it quite full during your stay?
We were about 10... no locals. I was the only local, the others were all international visitors.
Did you fly in or drive in?
I flew in with Federal Air. They've got a landing strip there and the guide waiting for you in the 4x4 and then he takes you through to the five star lodge. They've a got a very nice reception area around the Landy pick-up.
At Singita, breakfast was a buffet so you could choose whatever you wanted. They come around to you in the morning and they offer you eggs and sausage or whatever you want and then they make that for you then the rest was buffet like cold meats, cheeses and that type of thing.
And you get your own personal butler - from the time you get there. They say this is your butler and he's there and he's the only person that tends to you. So for all the early morning teas and the afternoon teas, he comes to you and asks what you want… that type of thing.
Ah, I was amazed at all the food!
Unfortunately I went to Singita first and afterwards I went to Londolozi and after that we went to Sabi Sabi as well. So, they started me off with the best! So after that, nobody else could keep up!
At Londolozi, the food was excellent.
I saw elephants from the air, because one of the foreign people in the plane pointed them out.
At Singita, we saw so much game. We were really lucky! We saw everything! The highlight, I would say was the lions, because I've never been that close to lion, and it was a whole pride of lions. To me, that was quite awesome.
We also spotted a leopard during the day and then in the evening we followed a leopard and she had a play in the tree. For a first time, we saw a lot of cool things.
At Sabi Sabi, it was also very good. We had very good luck apparently, because we saw at every place we went - even at Londolozi - all the game that you could see.
Would you say you were satisfied with the amount of wildlife that you saw?
Definitely. Yes, I was astonished by the amount that I saw.
African wildlife photo gallery »
First, it's your early morning wake up for your early morning drive, so you wake up and they give you coffee and biscuits then you go to your early morning safari.
When you come back it's breakfast, then not long after that, it's lunch time. Not long after that it's tea time again! And it's so much food! It's amazing.
And on the safari drive itself, they give you sundowners; they have a drinks stop. Then you go back to the lodge and they give you dinner.
[With regards to Singita], I would just say prepare yourself for the best experience of your life - seriously. It's not only the service, it's not only the rooms, the accommodation - it's just the whole experience overall was amazing.
What was the most useful item in your luggage?
I think it was probably my sunscreen.
Did you take any anti-malaria medication?
No I didn't. I sprayed myself with Tabard.
Did they provide you with binoculars?
No, you're advised to take your own. You've got the guide that's got a pair and if somebody doesn't have, you can use his. But they don't provide you with anything.
| | |
| --- | --- |
| How would you rate your overall trip, out of 10? | |
I'd give it an 8.
| | |
| --- | --- |
| Safari Location: | Sabi Sands Game Reserve, South Africa |
| Travel Agent Used: | Green Route |
| Duration: | January for 3 days |
| Traveller Details: | Monique Leendertz, South Africa |
| Rates & Availability: | Plan your own safari. Make a five star lodge enquiry |
More South Africa Safari Reviews