Tshukudu Safari
by Wilma Whittaker
(African Safari Journals)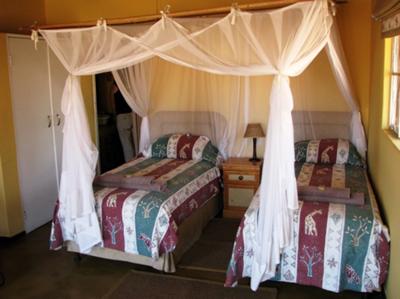 23 September
We left Barberton in the early morning, passed through White River, Hazyview and finally Hoedspruit and entered the security gate of Tshukudu Game Lodge.
Tshukudu Game Lodge as well as Tshukudu Tented Camp and a bush camp for school groups, are all situated on this family game "farm". We didn't see any animals (or birds, for that matter) during our 6km drive to the lodge. The rains hadn't started yet and the bush was extremely dry and drab.
It was just after 13:00 (lunch time)and upon our arrival we received a refreshing welcome drink and were promptly led to the dining veranda where the other guests were already seated and eating entrees. We met our guide Wayne, and joined the group we were to share a vehicle with over the next 24 hours for a cooked meal (fish & shrimp starter; for main course there was lamb, crumbed chicken, potatoes, carrots, squash and salad; berry cheesecake for dessert; tea and coffee) while watching a variety of birds sorting out the pecking order at a nearby feeder, and the swimming pool looking very inviting indeed!
After lunch Wayne showed us to our air-conditioned room (strangely no key was issued or used/needed throughout our stay) which is modest but of a nice size. The soaps on the mosquito-netted bed were shaped like a lion's footprint – nice touch! Also supplied were tea & coffee facility, insect repellent and –killer. The bathroom (shower, basin, toilet), accessed by a flimsy sliding door, is small but clean and nicely decorated bar for a bit of peeling paint around the basin.
At 15:45 we returned to the veranda for tea, coffee, sandwiches and someone's birthday cake. Let it not be said you'll go hungry at Tshukudu Game Lodge.
On to our first game drive! I should say Tshukudu is not 100% "wild" because in winter they set out hay for the animals, which are very habituated to people and their vehicles. Also, because of the guides' familiarity with the animals, the excitement and unpredictability is absent. You will never see a guide get out of the vehicle in a truly untouched wilderness to attract the resident crocodile with bait and play a short game of "tug of war" with it (at least, I hope not!). But there is a place for Tshukudu, for sure. They allow you the opportunity to get close to wildlife – and it's much better than a zoo.
Back to the game drive.
It wasn't long before we saw some kudu in the road ahead and as all our attention was focused on them, we almost failed to notice the monitor lizard a few metres from the vehicle in the bush beside us. Wayne promptly jumped out of the vehicle and tried to get a hold of the reptile. Why, I'm not sure. I think it was to demonstrate that they are difficult to get hold of. Anyway, the lizard "won" and we proceeded along the somewhat bumpy dirt road.
Here and there a bird was perched or in flight and the beauty of the African bush, even in its starkness, once more succeeded in bringing peace and contentment over me.
We continued to a spot next to the water, where we met the local elephant herd, with whom Wayne is on close terms – it made for a very intimate (but safe) encounter indeed! Not far away two white rhinos were munching away to the hay which we learned during our stay was a popular spot to find various animals, for obvious reasons.
Before we left for the game drive, we got to choose a drink for sundowners, and we stopped to enjoy them in a scenic spot near where Savanna, the resident cheetah, was last seen.
After dark we returned to the lodge, seeing a few nocturnal animals like a large spotted genet in a tree right next to the road.
Dinner in the boma was a splendid affair. The chef announced ostrich fillets with volcano potatoes (a delicious mash and cheese dish) which was served buffet style along with other tasty dishes. The various groups joined by our rangers chatted away… the company of a tame African wild cat and the fire in the center of the circular boma providing the perfect atmosphere.
After dinner we were given the opportunity to go for a drive, just around the corner really, to see if the porcupines would come in to feed on vegetable scraps. As we waited in (human) silence, a few jackals skirted the edges of the camp and vehicle lights in search of scraps and small prey.
The porcupines came. If you have never seen one in real life, you'll be surprised at their size. It's hard to believe that they are rodents. Five of them graced us with their presence and beautiful quills, munching away not unlike pot-bellied pigs.
Bruce & I returned to the boma for an Amarula night cap (what would a safari be without one?) and called it a day.
24 September
A morning at Tshukudu must be the highlight of anyone's stay… it certainly was one of mine.
Guests from the various accommodations on the property get together on the veranda for tea, coffee and rusks (another safari tradition) and then set off on foot to walk with the resident lion cub, Aquila.
She was 7 months old when we were there and we were told that the length of time they would keep her to walk with guests depends on the temperament of the individual lion. In their experience the males stay "tamer" for longer than the females. It's still a lion, king of the jungle, after all!
We were also joined by Prince, a Labrador who helps raise Aquila. It was quite amazing to see the interaction between the two and it was clear that the lion cub enjoyed the dog's company as they played.
Bruce found out that he's allergic to lions. He is allergic to cats, and when he stood videoing the approaching Aquila, she promptly continued to walk right between his legs, the skin of which developed a rash which lasted for most of the day!
A few times during the walk, Aquila would plomp herself down on the dirt track – time for her daily photo session. Guests then get the opportunity to touch her under the close guidance and watchful eyes of the staff.
Although Aquila could be seen as a "tame" lion, it was clear that she knew what she was and I loved watching her walk furtively through the tall dry grass as she showed interested in a nearby flock of guinea fowl and as she sharpened her nails on a fallen tree log.
During the walk we also saw a crash of rhino (well, only three but I love that term!) who were resting nearby and looked like they didn't even notice us.
Back to the veranda for a full hot and cold breakfast (yoghurt, cereal, delicious mango and other fruit juice, scones, toast, cheese, biscuits, bacon and eggs to order).
We got on the open-sided safari vehicle with Wayne, this time in pursuit of another star resident: Savanna the cheetah. She was elusive the day before and I was beginning to think that seeing her wasn't as sure a thing as I thought it would be. I'm very pleased that she is not caged but roams around as it should be.
After some time and conferring between the rangers on the two-way radios, we found her lying next to the road and looking very regal indeed, despite the collar.
This time it wasn't only Wayne who got out of the vehicle, but all of us were invited to do so, for the chance to touch Savanna and have your picture taken by your travel companion if you so wished. I never realised a cheetah's purr is so loud. Bruce got to feed her water from a bottle.
After the game drive, we popped over to Tshukudu Tented Camp for a look-see and decided should we ever return, this is where we would stay – partly because personally we are more budget-orientated (and don't usually eat 3-course meals for lunch!?). These permanent tents looked really nice, each with its own en-suite bathroom, and arranged in a semi circle all overlooking a little water hole. Or, you could sit at the swimming pool sipping a cold beer while watching kudu and warthog pass by. There is a communal kitchen which seemed very well equipped (microwave oven, stove & oven, cutlery, crockery, kettle), and lounge with pool table and TV.
We passed the rehab camps in between the 3-star lodge and the tented camp, where we saw a young leopard and a wild dog. I don't know the story behind these particular animals as we didn't have time during our short stay to chat to the staff about their wildlife rehab program.
As we left Tshukudu, we found Savanna lying in the road, near the fence to the neighbouring property where a small herd of impala was grazing peacefully. We had no luck in being recognised or even acknowledged by our "new acquaintance" … she only had eyes for her inaccessible lunch.
* * *
Overall, I would recommend Tshukudu to those who would like to see wildlife up close and personal, but would add that you should not miss out on a "proper" safari in the Kruger or other larger and more free bush environment. The staff is certainly fantastic and made every effort to make us feel welcome and "part of the family".
* * *
Sightings list:
Kudu, monitor lizard, Nile crocodile, hippo, elephant, white rhino, waterbuck, steenbok, African wild cat, large spotted genet, black backed jackals, porcupines, lion cub Aquila, warthog, Cape buffalo (please note! water buffalo don't occur in Africa!), impala, blue wildebeest, giraffe, vervet monkey, cheetah Savanna. There are roaming lions but we didn't see them.
Birds which I noted down: southern yellow-billed hornbill, red-billed hornbill, red-billed buffalo weaver, glossy starlings, pearly spotted owlet (unconfirmed), little bee-eater, brown-hooded kingfisher, vultures, Egyptian geese, helmeted guinea fowl.
More South Africa Safari Reviews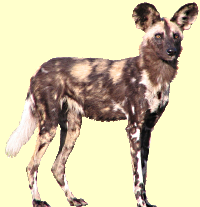 Join in and write your own page! It's easy to do. How? Simply click here to return to South Africa Safari.