Wildlife Safari and Whale Watching Combo
by Margie Kerr
(U.S.A.)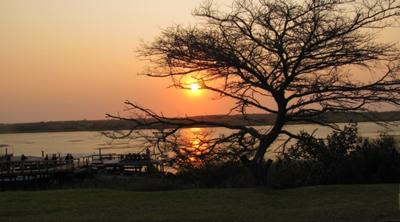 The boat ride itself was probably the highlight of my trip, other than the wildlife. It was a thrill ride just trying to get out to see the whales. You board the boat on the beach.
Safari Operator Performance
We attended a Whitetails Unlimited dinner and the trip was auctioned off. It was a Zulu Nyala Photo Safari.
It was a wonderful experience. Everyone was very helpful and kind. The Game Lodge was very clean and beautiful.
The guides were knowledgeable and made sure that you got to do and see what you wanted to do and see.
Accommodation
The first night we stayed at The Zulu Nyala Country Manor in Johannesburg, South Africa.
We then stayed at the Zulu-Nyala Game Lodge located between Mkuze, Hluhluwe and the St Lucia regions for 6 nights.
We also visited Phinda (
trip reports for Phinda
).
Food
All the meals were buffets. Usually, I do not like this but it has been wonderful because it gave me a chance to try many different types of food.
Breakfast had fruit, omelettes, sausage, bacon, croissants, cereal, yogurt, granola and juice. There were other items to choose from that varied from day to day.
Lunch had various fruit, vegetables and meat to choose from.
Dinners were great. They had the freshest baguettes. I had to have one every day. There were a variety of potatoes and vegetables. One night we had kudu and another night we had impala. Both were very good.
There were so many desserts to pick from that I am sure I gained weight the week we were there. Every meal had an assortment of cheeses and fruit.
My favourite meal was the night they grilled chicken and lamb chops.
Wildlife
The first time we went out we saw a mother cheetah feeding her cubs. We got there around 30 minutes after she killed an impala. It was a great way to start the week.
We also saw impala that were on alert. We never saw it but was told that a leopard was in the area.
Every day we saw nyala and warthogs. The second day we saw an ostrich.
We were trying to see a rhino and her baby. They were startled and started running toward our vehicle. They were white rhino. The baby runs in front of the mother. It was amazing watching an animal that large run so fast.
We saw crocodile, giraffes, waterbucks, and wildebeest.
There were many African Cape buffalo. They were blocking the road and then we watched them drink at a watering hole.
We saw hippos, mongoose, monkeys, zebras and many amazing birds.
It is so hard to say what the highlight of our wildlife spotting was. It was all so amazing to me. Seeing the cheetah feed her cubs and watching 2 elephants drink from a water break were both highlights.
Typical Day
We would eat breakfast and then go out for 2 ½ hours or so to observe wildlife. Our ranger would ask us the day before when we wanted to go out.
We would come back, delete pictures and write in our journals. It was so peaceful and beautiful.
After lunch we would sit in front of our room or at the pool and read.
In the late afternoon, we would go again for 2 ½ hours.
Then we would eat with the other people who were assigned to the same ranger as us. They were very nice and we would have a long enjoyable meal, talking about our day and our lives.
Other Activities (including Whale Watching)
One day, we went to St. Lucia to go whale watching but it was too windy and it was cancelled. We were also in St Lucia to take a cruise on the St. Lucia Estuary.
Since the whale watching was cancelled, we walked on the beach of the Indian Ocean. A wind surfer was surfing. People were riding horses on the beach. We did a little shopping.
After a good lunch in St. Lucia, we went on an Advantage Cruiser and saw many hippo, crocodile, a lizard and various types of birds. It was a peaceful, educational, relaxing trip with many photo opportunities.
The next day, I went whale watching with other people from the game lodge that wanted to go. We got a flat tire on the way there. I thought I would never see a whale.
There were 2 humpback whales. They never totally jumped out of the water but we could see their backs and tails.
The ride in was wild when you landed, because the boat just thudded on the beach.
On another day, our ranger suggested that we visit Phinda because they had lions and more elephants. It was a great 4 hour trip.
In a matter of 30 minutes, we saw between 30 and 50 elephants. You did not know which way to look, they were coming from everywhere. There was a baby elephant and some very large elephants. We were all thrilled.
At Phinda, we also saw a lioness sleeping by a nyala that she had killed. Her cubs were older and we found them by themselves. They were just lying around. We went to visit them again later and their mother had joined them.
Photography
The "Better Safari Photography" e-book helped me decide which camera to purchase.
I also learned how to position the wildlife correctly in the frame.
The e-Book was helpful in telling how to transport your equipment through the airports.
Tips and Advice
My friend gave me a leather fanny pack. All I could think of is how uncool my children would think I am. It was very useful because it had so many compartments. I could carry batteries, sunglasses, binoculars and anything else I thought I may need.
The trip exceeded my expectations. The only regret I have is that we did not split the flight up. It was very long. The advice I would give to anyone planning a safari is plan your trip so you are not on the same plane forever but definitely, plan a trip. You will not regret it.
Margie's Safari Details:

Rating: 10/10

Safari company used: Zulu Nyala (make an enquiry)

Parks visited: Zulu Nyala properties, Phinda in South Africa

Date of safari: 20 August for 8 days

More South Africa Safari Reviews