Jackalberry in Thornybush is Tops
by Jordi Serra
(Spain and U.S. )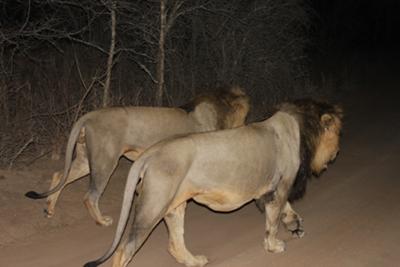 It was a highlight seeing 2 male lions at night within 2 feet of the car at Thornybush
Jackalberry Lodge in Thornybush was one of the best run operations. Their guides are extremely friendly, tried incredibly hard to find the big 5 for us and then got very, very close to it. A definite 10.
Safari Operator Performance
We went with Kudu Safaris in Chobe, Botswana; Southern Eagle in Kruger and Jackalberry Lodge in Thornybush game reserve - South Africa.
Overall grade 8 on a scale of 1-10. Very friendly & knowledgeable. Price - very good.
Accommodation and Food
For Chobe we stayed at Victoria Falls hotel in Zimbabwe and made a day trip. Livingston room was extremely well appointed and the hotel is extremely well run.
Kruger National park is not so clean and not so efficiently run.
Hongonyi in Kruger was very friendly, great food.
Breakfast was mostly buffets; lunch a helter-skelter of rest stops-restaurants; dinner was excellent at Jackalberry and Hongonyi.
Wildlife
Here's the list: Baboon, Vervet monkey, Blue Wildebeest, Jackal, Buffalo, Bushbaby, Crocodile, Eland, Elephant, Genet.
Also Giraffe, Hippo, Impala, Kudu, Lion, Mongoose and Monitor lizard, Nyala, White Rhino, Sable antelope, Hyena, Steenbok, Red Letchwe, Warthog, Waterbuck, Zebra, African vulture, cormorant, Fishing eagle, Francolin, Goliath heron, Helmeted Guinea fowl, Lilac breasted Roller, Blue eared Starling, White fronted Bee-eater and Kori Bustard.
As well as Doves, Bateleur eagle, Tawny eagle, Black chested snake eagle, Grey go-away bird, Egyptian goose, Hamerkop, Ground Hornbill, Southern yellow-bill hornbill, Red-crested Korhaan, Secretary bird, Magpie, Saddle-bill stork, etc.
Another highlight was when we saw 2 lionesses within 10 feet in Chobe.
We missed the Leopards, but then again there's no guarantee of what you'll see.
Typical Day
Cup of coffee, drive 3-4 hours looking for game, breakfast, rest, lunch, evening drive.
Other Activities
Walker Bay whale watching was awesome. Driving to Cape Agulhas was beautiful and fulfilling, the penguins at Boulder beach amazing,
Victoria Falls
inspiring.
Photography
I used some of the tips I had read in the free
Better Safari Photography e-book
. I had bought the camera just a week before the trip.
Tips and Advice
The guides take extremely good care of you. Stop worrying, get a great camera with a good telephoto lens. Take a pair of
binoculars
if you have them. (My binoculars and camera were the most useful items in my luggage.)
Take
malaria pills
(just in case).
Make sure your passport has enough pages for all the visas you'll need. If you plan on going in-and-out of Zimbabwe get a multiple visa when entering the country.
Our TomTom GPS was stolen by the baggage handlers at Johannesburg. SAA was extremely unhelpful. Ended up renting a GPS which is what I should have planned on doing.
Jordi's Safari Details

Rating: 9/10

Safari company used: Kudu safaris in Chobe, Southern Eagle in Kruger, Jackalberry in Thornbush (make an enquiry)

Parks visited: Chobe in Botswana, Kruger & Thornybush private game reserve in South Africa

Date of safari: 18-29 October

More South Africa Safari Reviews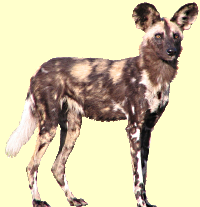 Join in and write your own page! It's easy to do. How? Simply click here to return to South Africa Safari.