Perfect Safari Lodges
by Rod & Patti Shultz
(USA)
The trip to South Africa far exceeded the expectations of my wife Patti and me and the safaris were absolutely perfect! When you are surrounded by a herd of fifty elephants or charged by a rhino, it gives you a whole new perspective on life. It was also fantastic staying in the beautiful picturesque out in the bush lodges.
Safari Operator Performance
Ebright Travel was the travel agent, in association with Monique Vally from Rhino Africa Safaris in Cape Town.
Connie Ebright from Ebright Travel was absolutely outstanding in the planning of our trip to South Africa. She found the best airfares for us through African Travel and selected the most fantastic and correct choice of lodges for us to stay.
Connie visits Africa frequently herself and is very familiar with the lodges in the parks. She constantly updated us with information in the year prior to our trip.
On our return flight from South Africa we missed our flight from Dulles to Kansas City due to a refuelling delay in Senegal.
Neither airline on which we travelled wanted to take the responsibility for getting us on another flight to Kansas City. We called Connie at home early Sunday morning and she had the problem solved within a couple of hours.
All the transfer drivers to the various camps and the airports were always on time.
Monique Vally From Rhino Africa Safaris in Cape Town also did an outstanding job in organizing the local arrangements in country.
Our guide in Cape Town – Carel Kemp - was excellent. He was at the airport waiting for us when we arrived and we had a wonderful time with him on the tours of Cape Town. Very knowledgeable and a very pleasant young man.
Accommodation and Food
In Cape Town we stayed at the beautiful Table Bay Hotel. Wonderful!!! It is right on the waterfront. Luxury! Luxury! Luxury!
I have never seen such a fantastic breakfast buffet in my many years of international travel. They had food which would appeal to visitors from any country in the world.
Our first safari camp was Exeter Dulini Lodge
(Sabi Sands)
which has only six private lodges so it is very intimate. It was truly wonderful. Each lodge has its own private pool. The staff were very attentive and helpful. Amazing rooms, beautiful setting, great food and great game drives.
Our second safari camp was Ngala Tented Camp which consists of exclusive tented safari suites which were unbelievable. Very romantic!
Each tent has air conditioning and/or heating, beautiful hard wood floors, beautiful indoor bathrooms with tub and shower. This was the true, deluxe in the bush African experience. There are only six tents so it is very private.
On the last night at the camp the floor, the bed, and bath room were covered with rose petals. A bubble bath had been drawn for us in the tub. Very romantic!!!
The food at all the places we stayed was exceptional!
Wildlife
We saw the big five on our first day of safari plus many others. There was an abundant number of animals at both camps.
The highlight of animal spotting was coming across two male lions eating a giraffe at night.
Typical Day
The day would start with us getting up at 5:45 having a cup of coffee and morning biscuits and then at 6:15 off on the game drive for several hours.
In the middle of the game drive when the sun would come up, the ranger would stop the Land Rover and set up a table and we would have refreshments, coffee, hot chocolate, you could have Amaretto or Amarula Cream liquor added to you coffee or hot chocolate.
When the morning game drive was over we would come back to the camp for a large hot breakfast around 10:00.
We would then relax in the lodge or tent until three at which time we were served a very large and wonderful lunch. After lunch we would start on our evening and night game drive.
These were always very exciting since you would be driving through the bush in the dark with the tracker using a spot light to locate the animals. You would go around a sharp bend in the road and there would be a large pride of lions or herd of elephants crossing the road.
Again in the middle of the night drive you would stop for refreshments. On the night stop you could have beer, wine, mixed drinks, coffee or hot chocolate. The rangers and trackers at both camps were superb!
Other Activities
In Cape Town, we took a day trip to the Cape of Good Hope and saw the penguin colony.
We also took a day trip through the wine country with a visit to Stellenbosch and Franschhoek.
Tips and Advice
Go in the months of July or August which is the winter season and it is cool and there are not many leaves on the trees. The bush grass is short and brown and it is easy to spot the animals. You also don't have to
worry about the mosquitoes
as much.
I found long underwear and a knit cap for the early morning game drives most useful.
Safari packing list...
This was truly the trip of a lifetime for Patti and me. We have travelled all over Europe, Egypt and the Far East. This trip tops them all. Many thanks again to all the wonderful people who helped in the planning and execution of this fantastic vacation for us.
Rod and Patti travelled together with Bernie and Cynthia Amyot, who also sent us a trip report...
More Sabi Sands Safari Reviews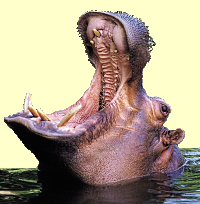 Join in and write your own page! It's easy to do. How? Simply click here to return to Ebright Travel.