Ebright Travel
Add Your Own Review
Share your own safari experience to help others still planning to go on a rewarding trip like this.

Ebright Travel Reviews
Click below to see contributions from travelers who have been on an Ebright Travel safari in the past...

Facebook Reviews


&nbspJoey Overholt&nbsp&nbspLeopard Sighting Highlight
My 12 days in Africa were from 8-25-12 to 9-5-12 in Southern Africa including Makalali game reserve and Rhino Plains camp...


&nbspMike Pepe&nbsp&nbspLife Changing Experience
Two years ago, my wife and I went on a once-in-a-lifetime South African safari. It was such a life changing experience that...


&nbspKacey Conti-Davis&nbsp&nbspRare Gorilla Twins Seen
It was my husband's dream to be gorilla trekking on his 50th birthday, so that is just what we did. We contacted...


&nbspFred Shahrooz&nbsp&nbspA-ha Safari Adventure
If you are lucky, you may find yourself on a vacation ... where you are in bliss and awe of what you are experiencing.
---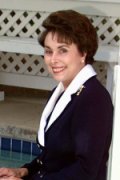 Connie Ebright is a US based travel agent that has specialized in African safaris for more than a decade.
She is passionate about Africa and returns at least once a year to do site inspections of hotels, game camps and lodges, guides, rangers, food and quality of the gaming at each reserve.
She is certified by ICTA (Institute of Certified Travel Agents) as an Africa tour operators specialist as well as being a master specialist from the South Africa Tourist Board and the Kenya Tourist Board.
*Per Person Per Night