Up Close and Personal Safari
by Bernie & Cynthia Amyot
(U.S.A.)
We saw everything! We had no idea that we would be so up close and personal with the animals – what a privilege to have had this experience with nature.

My highlight was seeing the babies – we saw a one day old giraffe that still had the umbilical cord attached. We also saw a "stand off" between a pride of lions and a group of hyenas.
Safari Agent Performance
Ebright Travel was the travel agent, in association with Rhino Africa, the ground operator in Africa.
Ebright Travel was fantastic! I would recommend them to anyone. The easiest way for me to communicate is via email and Ebright Travel was always very prompt in replying back.
Ebright sent many useful documents on travelling in South Africa, how to pack, things to think about, etc. Her itineraries were fantastic, very detailed which I greatly appreciated.
I could not imagine trying to plan this kind of trip on our own, this is the only way to go.
We use Rhino African Safaris once we arrived in Cape Town. Our guide, Karl, was fantastic, really knew his history of South Africa and Cape Town, was just wonderful. We enjoyed his easy style.
Accommodation
Table Bay Hotel – fantastic in all ways – location, room, food, service.
Dulini Private Game Lodge and Ngala tented camp – treated like kings and queens. Everyone was so kind.
Food
Oh my goodness, we had wonderful food everywhere we stayed. We did try some of the game and also some of the fish.
Typical Day
Started out with a game drive early morning. Stopped while out on safari for a snack then returned to camp for breakfast. Had time to self until lunch.
Once lunch was complete it was time to prepare for the evening game drive. Loved the sun downers – such fun camaraderie with fellow travellers. Returned from evening game drive to a wonderful dinner.
Wildlife and game drives were the highlights. We were in awe of the beauty of Cape Town and really enjoyed our full day tour down to the Cape of Good Hope – seeing the penguins, etc.
Tips and Advice
Use a travel agent – don't try to plan on your own. We have planned many of our own trips internationally; this is not one that I believe could be done easily.
I think it's important to pack appropriate
clothing
so we were always warm when we needed to be.
Bernie and Cynthia travelled with Rod & Patti Shultz, who also sent us a trip report...
More Kruger Park Safari Reviews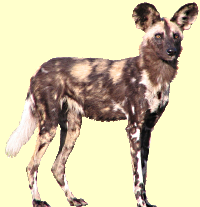 Join in and write your own page! It's easy to do. How? Simply click here to return to Ebright Travel.