Dream Safari Come to Life
by Anne Lovold
(USA)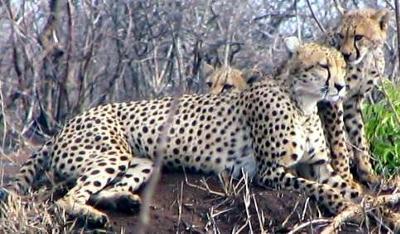 Cheetah mum with cubs
On our way to the Serengeti, in our small plane, it was overcast as we flew out to the western corridor and really could not see anything but fog. But as we flew into the Serengeti the fog cleared and wow, the view of the Serengeti was incredible - I knew WE HAD ARRIVED! Beautiful view - green, brown, gold striped ground, the trees and the expansiveness of the countryside.
Safari Operator Performance
I booked my trip with Ebright Travel. I learned about them from www.african-safari-journals.com The local operator was Naipenda Safari.
Our safari experience was incredible. This was my dream trip and everything was wonderful.
I would have to say Naipenda and Ebright Travel did an excellent job in putting together our trip and taking care of us while we were in Africa.
Our guide made the difference, he was so knowledgeable, warm and friendly, he made every day better than the day before. Very personable, Monsour continually met any needs we had - he knows his stuff - was a delight to spend a week in a jeep with.
I would highly recommend Naipenda,
Ebright Travel
and Monsour. Great accommodations.
Accommodation
Mbalageti Camp - Western Serengeti
Mbuzi Mawe Camp - Central Serengeti both camps were incredible - loved both, Mbalageti, we were part of the migration, Mbuzi Mawe - so very peaceful - top notch accommodations, the staff at both were so warm and friendly, Ngorongoro Serena Lodge - rim of the crater, a little older lodge, but very nice - warm and friendly staff for a larger facility, close to the crater for the game drive.
Everywhere we stayed was clean, wonderful service and Mt. Village Lodge - very beautiful.
Food
The food is very good, more options that you need, and more food than you need, you will not go hungry! Very English, more formal than you would expect.
African food - usually on the buffet and/or on the menu of choice - an African dish would be offered - great fried chicken for your box lunches.
Wildlife
Wow! We saw it all - all big 5, some of the highlights - a pride of over 20 lions, just resting, a mother cheetah with her 2 cubs just hanging out, moving to hunt. We watched and followed her for about 40 minutes - incredible.
Being part of the migration, a 100,000 wildebeest and zebra moving all around you, and at our first camp they graze below your hut, and you fall asleep hearing their grunting.
Spotting a leopard in an Acacia with her kill.
Meeting a group of elephants just strolling along, the 3rd day on our way back to camp.
In the crater - getting to view the black rhino and also watching an elephant stroll along, waking a sleeping lion near the water.
I loved the giraffes and loved photographing them, they almost pose for you. The birds and the antelope, gazelles, the hippos, we saw everything and I can't forget the baboons!
Typical Day
My husband sums it up this way - if you are from the Midwest - it is somewhat like road-farming with no beer… but actually you are up and ready to go - my camera was always shooting…just a great way to spend 9 days!
Out touring, shooting, watching, listening, back to camp, warm friendly faces greet you, relax, great food and wine, rest and start again the next morning with the sun coming up.
Other Activities
Stopped at Ol'duvai Gorge - interesting. You get a better idea of how the Massai live but I was there to photograph the wildlife and that is what I did.
Regrets
None, other than I didn't get to stay longer - and it was time to go home.
It was just an incredible experience and we will be back.
Tips and Advice
Enjoy your time in Africa and do not overpack - my husband and I did this trip with carry-on bags.
The most useful items in my luggage were a light weight vest and a scarf.
More Ngorongoro Safari Reviews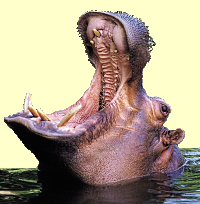 Join in and write your own page! It's easy to do. How? Simply click here to return to Ebright Travel.