Safari Engagement
by Al Behr and Jennifer de Percin
(USA)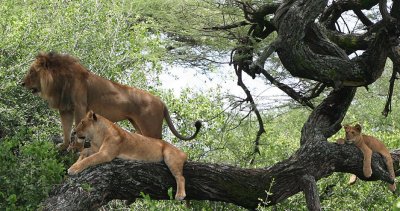 Tree Climbing Lions
We saw elephants and lions in a tussle which made me a little nervous, giraffes fighting, a gazelle born, cheetahs and lions with fresh kills, and ate breakfast amidst 9 very lazy lions. But the highlight of our trip was the fact that we got engaged (hard to top that).
Safari Company Performance
Africa Dream Safaris was fantastic!
The uniquely individualized treatment trip itinerary planned by them, places to stay as picked by them, customer service and communication before and after the trip was all superb.
We truly enjoyed our guide who was very friendly and knowledgeable!
There is nothing we did not like about the service provided by Africa Dream Safaris.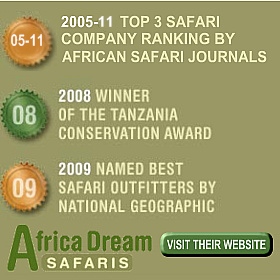 Food and Accommodation
We enjoyed private luxury camping at Ndutu Lodge, Ngorongoro Serena Lodge, Plantation Lodge, and Arumeru River Lodge.
Everywhere the food was great. We had local fare when camping as well as at one of the lodges.
Typical breakfast included coffee, tea, boiled eggs, fruit and bread.
Typical lunch - lots of food - usually included fruit, yogurt, some sort of sandwich or casserole, soda and dessert.
Dinners were a choice of many things that were served at the lodge restaurants.
All of the food was very enjoyable.
Wildlife Highlights
I think it would be easiest to describe the animals we didn't see!
The only animal we did not get to see was the Leopard (and we think we may have seen the top of one's ear through some tall grasses).
The timing of our trip allowed us to be right in the center of the migration which was amazing.
We saw zebra and wildebeests as far as the eye could see, along with hyenas and cape buffalo.
All of the animals had young babies (again, great timing of the trip), including the rhinos, which were probably the most difficult to find and see.
We also saw lots of beautiful birds which I cannot all name now. Elephants, elephants and more elephants!
The Ngorongoro Crater was magnificently beautiful.
Typical Day
We'd get up and meet our guide before dawn. The safari truck was always immaculately cleaned after the previous days driving for our new day.
We would drive for a little while and find a spot - perhaps by some lions - to breakfast.
We would then travel around whatever area we were to see that day (this was always left up to us but we deferred to the guide and ADS's itinerary suggestions which worked out perfectly).
When we got hungry our guide would find a spot for us to have lunch and make sure there were no lions around to dine with us or ON us; he would set up a table, tablecloth, and chairs, open our lunches and invite us to eat.
This was always a nice respite. We would continue driving for the afternoon until we were ready to retire.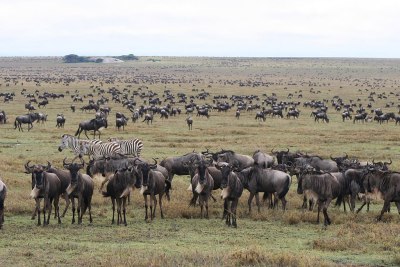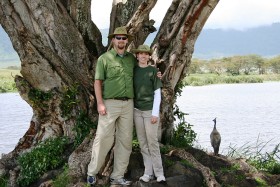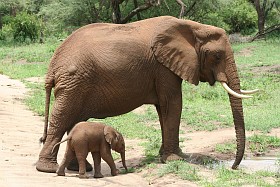 When staying at the campsite the first couple of nights we would be greeted at the vehicle with fresh hot towels and a cocktail!
Snacks and drinks were always available to us during the day and bathroom stops were never a problem.
Other Activities
We visited a Masai village. This was not our favourite part of the trip and we would not do it again.
We certainly appreciate the people and we were very interested to see the village and learn about them.
However, when visiting the village it felt very awkward and 'set up'. We recommend skipping it.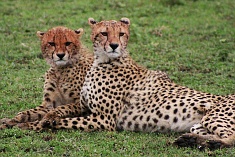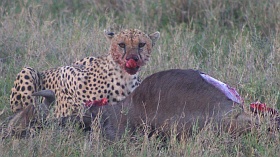 Disappointments
Absolutely none!
Tips and Advice
I would highly recommend the use of Africa Dream Safaris as well as to go during the wet season (as we did).
The preparations as suggested by ADS were perfect. We got all the medicines to take with us but fortunately did not have to use any of them.
The one mistake I made was not bringing shoes that were good for mud; I had tennis shoes but the ground was often quite muddy from all the rain and I wished I had some hiking shoes or something.
Most useful items to take along were a jacket and sunscreen. Those mornings and evening were quite chilly for us.
Al and Jennifer's Safari Details:

Rating: 11/10

Safari company used: Africa Dream Safaris (make an enquiry)

Parks visited: Northern Tanzania: Serengeti, Ngorongoro Crater, Lake Manyara, Tarangire.

Date of safari: March 19 - 27 for 9 days

More Africa Dream Safaris reviews »

More Ngorongoro Safari Reviews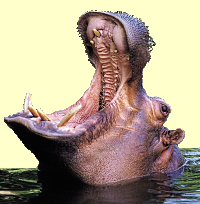 Join in and write your own page! It's easy to do. How? Simply click here to return to Safari Tanzania.