Lions Mating in the Ngorongoro Crater: Overseas Adventure Travel Review
by Juanita Monette
(Hermosa Beach, CA, USA)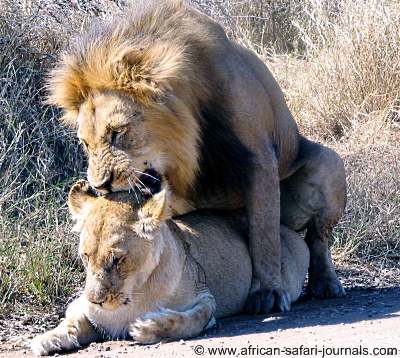 Mating Lions
Everything went exactly as planned and the food was great. We saw elephants and zebra adults and young. So beautiful. Also cheetah, lions and lions mating which was very exciting.

There were wildebeest migrating by the thousands with zebra intermixed with them.

Lots of giraffe, jackals, gazelle, impala, dik dik, beautiful birds and baboon families. We also saw leopard in a tree. I was so excited to see so many beautiful animals so close.

We stayed in two lodges that were beautiful. Very clean rooms and very comfortable beds in all places that we stayed.

We stayed in a permanent tent camp in Tarangire and in a mobile tent camp in the Serengeti. The mobile tent camp had flush toilets and hot showers and we could hear the birds and animals outside. Wonderful.

Some advice for prospective safari travellers is to follow the trip lists and bring all the toiletries and medications that one might need.

Pack light for clothes. I found that my nylon hiking pants and shirts were perfect for a Safari being easy to wash and dry.

Bring lots of cash in case your credit cards do not work in the machines.

Bring lots of camera cards and batteries. I took a lot more photos than I thought I would. Taking pictures was one of the most fun things of the trip - to take all the animals home with me and the beautiful landscapes, and photos of the guides and the Masai people are great.

It's good to be in good physical shape as the trip is very physical, even in the Range Rovers as it is bumpy but fun to ride in them.
More Ngorongoro Safari Reviews