Tented Camp Tanzania Safari
by Brian and Anya Singleton
(San Diego, CA USA)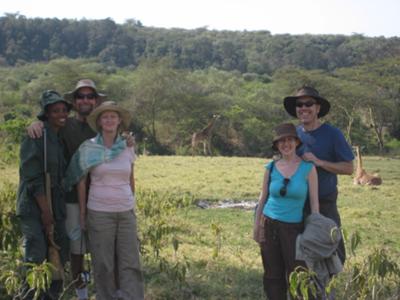 Walking with giraffes in Arusha National Park
Meeting Masai people, Datoga tribe and going hunting with bushmen were all highlights. Staying at Rhotia lodge was very special also. It was in a beautiful setting and we got to see how an orphanage functions, as well as how the locals live. Also, just having dinners at our host house was very fun and informative.
Safari Operator Performance
I found Flash Safaris through reading African Safari Journal on the internet.
We really enjoyed having them as our tour company. It was a great match to us. They are very personable. We were getting very quick email replies to all our inquiries before the trip.
We enjoyed staying at their house and having dinner where we could talk about the country we were visiting.
We loved how they made the places and experiences very diverse. There was always something new and exciting, every stretch of the way. Our hosts were always checking up on us and when one time our vehicle didn't run well, our driver was able to call the main office right away and was advised on what to do.
Our guide was also an excellent fit to our group of 4. He was very knowledgeable about the wildlife, parks and the local culture. He always listened to what we wanted to do and answered all our questions. He took care of us and was very careful in dangerous spots. He was also a careful driver. We became friends with him and had a lot of fun together.
We felt very fortunate that we found both African Safari Journals and Flash Safaris as there a lot of safari companies to choose from.
We didn't want big luxury but wanted to be able to do what we want and feel like we will be taken care of if something happens. We also felt that the best way to go is with 4 or so people so you can have your own vehicle and be on your own schedule. At the same time it is fun and also splitting it between more than 2 people brings the cost down.
Accommodation
We stayed in tented camps. Migunga in Lake Manyara, Mopito and Ikoma Lodges in Serengeti, Rhotia Valley Tented near Ngorongoro Crater, Tindiga Tented lodge at Lake Eyasi.
We loved all of them, each with different character but nice, with hot water most of the time.
Staying in tented camps seems way more fun than the hotels. You get to be part of nature and it is not unusual to have dinner and be able to observe some wildlife going by.
In Zanzibar Island, we stayed at Zanzibar Palace hotel which had a great atmosphere and perfect location, just watch out for high dinner prices. At the Zanzibar east shore, we stayed at a Shooting Star resort. It was also very nice and relaxing, a good finish to the trip.
Food
The food was plentiful and good. We were never hungry or thirsty. We loved the soups that often came with dinner.
The box lunches were usually pretty good, consisting of a boiled egg, some chicken and/or a burger or sandwich, with juice boxes and something for desert. It was always filling, but more fruits and vegetables would be a good addition.
Dinners were always delicious, consisting of soup, salad, main course, and desserts. Wine and beer were always available and not very expensive.
Wildlife
We saw lots of giraffes, zebras,
water
buffalos, warthogs, wildebeest, lions, hippos, elephants, monkeys, ostriches, flamingos, beautiful birds.
Also, saw a leopard in a tree but far away and one rhino also far away.
Loved it, our favourite spots were Arusha park because we could go for a walk and saw a lot of flamingos, Lake Manyara for the surroundings, and Serengeti for vastness and lots of wildlife. But, really, all parks had a lot of wildlife.
Typical Day
Had breakfast, packed our day bags and went for a drive. In the evening, we would always have fun gatherings at the restaurants, sometimes socialising with other guests or locals.
Other Activities
Our most fun activity was hunting with the local bushmen at Lake Eyasi. We also went hiking in Arusha park and got really close to giraffes, went walking around our tented lodge by Ngorongoro Crater and saw how locals live. We also did some good snorkelling on Zanzibar island.
Tips and Advice
I think the tour companies can warn their guests of outrageous initial prices on souvenirs and that through bargaining you can bring down the price 4 or 5 times on some items. We paid way too much for our first souvenirs as we didn't feel like ripping off the locals in case those souvenirs indeed cost a lot but we did become smarter along the way. So, bargain for souvenirs.
Also, perhaps, better
suggestions on clothing
. We were expecting warmer weather and only brought a couple of long sleeve shirts and pants but needed them most of the time.
It is difficult to do laundry along the way so we would recommend to bring enough clothes that would last the whole trip. However, packing light is also good as your luggage goes on top of the vehicle. If you are going in winter, bring more than 1 pair of long sleeve pants/shirts.
In winter, there are not too many mosquitoes. Bring mosquito repellent but it will not be too bad. We still took
anti malaria medication
Malarone as did most of the people on the trip. We didn't feel at risk for any other illnesses. However, we did take some immune system vitamins just because catching even as something simple as a cold can make your trip less enjoyable.
Warn your relatives that you will not able to e-mail them every day. However, we were able to send text messages from most of the places.
If the taxi driver goes too fast, don't feel bad about asking him to slow down.
Have fun with the locals as they like to meet and chat. As long as you have great attitude and interest in the local culture, you will have fun no matter how many things you forgot to bring with you.
The most useful things we took were sunscreen, wet wipes, antibacterial lotion, flashlight, toilet paper,
hats
.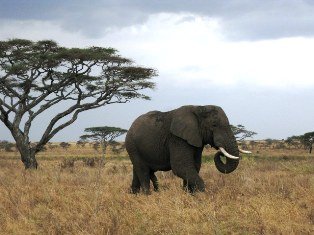 More Ngorongoro Safari Reviews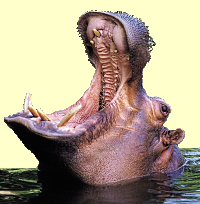 Join in and write your own page! It's easy to do. How? Simply click here to return to Flash Safaris & Photography.