DETASA Review
by Carl Anderson
(Cottage Grove, Minnesota, USA)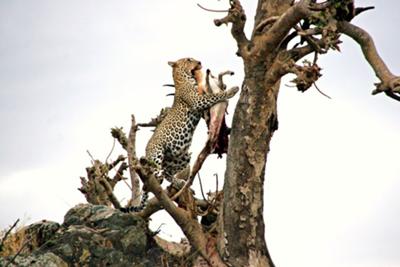 Leopard with prey
Our guide was excellent. Very knowledgeable about the country, animals, plants etc. He let us make the determination on when to move on and always shut the engine off when we were taking pictures.
Safari Operator Performance
We found Destination Tanzania Safaris (DETASA) through my travelling companion's travel agent.
They provided excellent service. We set up our own itinerary with the help from the guide service owner. We had our own group.
Accommodation
1st night Arusha – Kibo Palace Hotel (excellent)
Bouganvilla Safari Lodge – 2 nights (excellent)
Tarangire Safari Lodge – (excellent)
Kisimangeda Tented Lodge – (excellent)
Camped –
Central Serengeti Campsite – (poor facilities, too many campers)
Northern Serengeti Lobo Campsite (excellent, best one for camping)
Ngorongoro Simba Campsite (OK)
Empakaai Crater Campsite – (Primitive, no facilities at all, but very nice area)
Food
When at lodges they supplied either breakfast or dinner. Box lunches were made up for us.
When camping, our cook did all the cooking for us, including box lunches.
Breakfast & dinner – always had porridge or hot soup. Traditional breakfast, lots of cold chicken for lunch. Dinners – varied.
All of our meals had some local food with them. Over all our food was very good.
Wildlife
We saw the top 5 African animals. Elephant, Leopard, Lion, Buffalo and Black Rhinoceros. Besides the top 5 we saw just about all of the major animals, including birds and one snake.
Typical Day
After each meal, we were on safari, seeing animals, landscapes, museums, until we reached our camping site or lodge, an hour or so before sunset each day.
Other Activities
We did a Hot Air Balloon Ride with Serengeti Balloon Safaris, (excellent)
We hired a Park Ranger for 2 days to hike the Empakaai and Olmot Craters. (excellent)
We also had a special guide when we visited the Datoga & Hadzabe tribes. We went hunting with the Hadzabe tribe for two hours. (excellent)
We also visited the Masai tribe. (excellent)
Visiting the various tribes and being able to spend time with them was one of the highlights of the Safari.
Other highlights worth mentioning: no mosquitoes or bugs; weather was great - not hot at all.
Tips and Advice
Limit the number of people in your vehicle to no more than 4 plus your driver.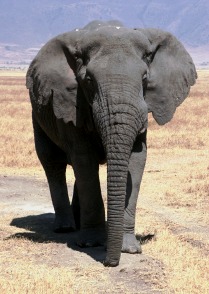 Request a vehicle with hard top, not just an opening to stand up in.
Research
animals/tribes etc before you arrive in the country.
Make sure to have a seasoned guide, not just a driver.
Be able to plan your own itinerary, not what the Safari Guide Services wants to do. Work very closely with your Guide Service outfitter.
The most useful item(s) in my luggage was my camera equipment.
Another week would have given us time to visit the Western part of the Serengeti Park.
Need a day of down time before leaving the country. We had 20 hours of flying time to go home.
More Ngorongoro Safari Reviews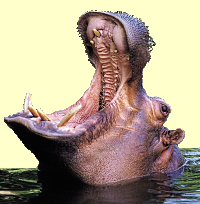 Join in and write your own page! It's easy to do. How? Simply click here to return to Safari Tanzania.