Tanzania Private Select Safari Ltd
by Keith Caverly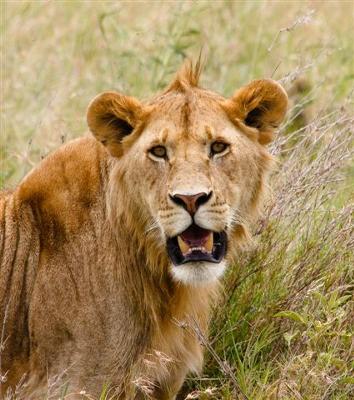 In full size, the eyes on the young male lion are absolutely mesmerizing.
We saw the big five, and myriads of other animals. The highlight was a leopard in a tree with its kill lodged in the trunk.
Safari Operator Performance
They provided exceptional service and outstanding food.
There were four staff looking after 3 travellers.
Accommodation
Speke Bay, tents, Sopa Lodge in Ngorongoro.
Food
Breakfasts were eggs, bacon or sausage, toast and trimmings.
Box lunch (excellent).
Dinner was always full course with outstanding cuisine.
Typical Day
Breakfast at 6:30AM, game drives all day every day, relaxing dinners and chat around campfire.
We had hippo, lions, baboons, buffalo roaming through and around the tents at night - a phenomenal experience.
Tips and Advice
Take a good camera, good
binocs
, and enjoy.
Don't forget to pack Deet and sunscreen.
Take precautions against malaria »
PHOTOGRAPHY TIPS:
Learn to use manual focus on your camera. On the first day I lost several great shots due to auto-focus picking up background instead of subject.
I took with me a Rebel XSi and lenses:
28-135 3.5-5.6 ISUSM
17-40 F4L USM
70-300 4-5.6 ISUSM - all with hoods
I used the 17-40 on a number of occasions, the 70-300 almost never left the camera body and the 28-135 never left my camera case. I probably could have used the 28-135 on occasion but the 70-300 really covered pretty much everything I needed.
Very little tweaking was needed on any shots. I worked a very little bit on the left-hand (shaded) side of the buffalo. The wildebeest with calf is pretty much untouched.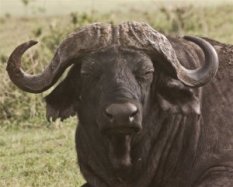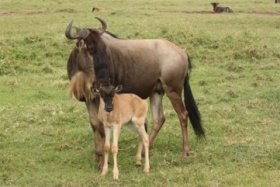 More Ngorongoro Safari Reviews