Observe Animals in Silence
by Malgorzata & Piotr Piotrowski
(Poland)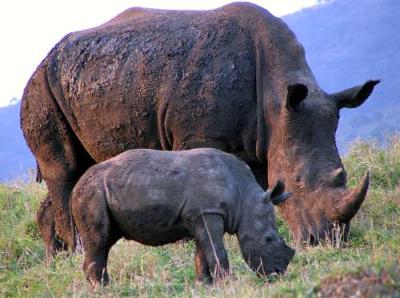 Baby and mother rhino
It was wonderful observing different animals' behaviour for a long time in silence rather than spotting the actual animal. Also, we loved the beautiful landscapes of Ngorongoro Conservation Area and Serengeti, meeting Masai people and watching traditional life of Zanzibar people in the east coast.
Safari Operator Performance
We visited Lake Manyara, Ngorongoro Conservation Area & Ngorongoro Crater, Serengeti, Tarangire: total 6 days; Ilkidinga village cultural tour, Arusha National Park: total 2 days – all arranged by Flash Safaris & Photography whom we found through the Internet; own arrangements in Zanzibar: total 4 days.
Magda Vrijs from Flash Safaris was very flexible in creating the offer. She responded quickly by e-mail, taking into consideration all our suggestions and answering all questions and doubts.
Our private safari has been perfectly organized. Safari car (Land Rover) was well maintained and comfortable.
Overall we find Flash Safaris to be very professional and customer oriented company.
Safari guide (Isaac) exceeded our expectations: having knowledge not only about popular animals, but also great knowledge about birds and plants.
He was tactful, always on time, flexible to start and finish the day according to our needs, answering all the questions and telling interesting stories about the visited parks, animal life and people.
Everything went perfect and according to our plan. The whole trip was excellent.
Accommodation
15 Jan 2011: Nairobi;
16-21 Jan 2011: Northern circuit safari;
22-25 Jan 2011: Zanzibar;
26-27 Jan 2011: Arusha;
28 Jan 2011: Nairobi;
total 14 days
We stayed at Migunga Forest Camp (Lake Manyara), Ndutu Lodge (Lake Ndutu), Bougainvillea Safari Lodge (Karatu), Roika Lodge (Tarangire); - we find Ndutu Lodge, Bougainvillea Lodge and Roika Lodge as extremely nice, caring about details and having great character. Migunga also satisfied us, but was missing something compared to above lodges.
Other accommodation: Flash Safaris guesthouse (Kimandolu/Arusha); Kilima Kidogo guesthouse in Zanzibar (between Paje and Jambiani) – both nice and satisfying.
Food
Apart from Migunga Forest Camp, where food was average, it was really good in all other places.
Breakfast was usually European style with fresh fruits and eggs in a preferred form.
Lunch was taken as a picnic box with a variety of food (fruit, chicken, pancake, hamburger, desert, etc) – tasteful and always consumed in the nice picnic place.
Dinner was always tasteful and included starter, soup, main dish (meat and veg) and desert. Wine and other drinks were extras which completed our evening meal.
Personally we preferred set meals as they were always served fresh and nicely presented. The service was excellent and the staff was very helpful.
In the Flash Safaris guesthouse we had tasteful meals eaten together with the owners or other guests. We also experienced there very traditional Tanzanian meal which we found great.
Wildlife
Apart from "big five" we saw a lot of other mammals, reptiles and birds which we were happy to observe and also memorize them making fantastic photos.
Among the best was:
- migration of herds of wildebeests and zebras in the Ndutu area,
- herd of over 300 buffalos gazing at us being alone,
- group of lions in Serengeti resting and trying to hunt,
- cheetah sipping water and walking around our car,
- leopard resting in a tree,
- weaver building a nest for a female,
- flamingos "running" on the lake surface, etc –
... we'll keep all these in our memory.
Typical Day
Early morning wake up, breakfast in the lodge (or taken as a box in order to depart earlier), 7 am departure for safari, game drive, picnic lunch at a nice spot, game drive continued, 6-7 pm arrival at the lodge, next day planning, shower, dinner … sleep.
Seems boring – but we were excited each and every day.
Other Activities
In Nairobi: Karen Blixen museum, Sheldrick's Elephant Orphanage;
During safari: visit to Olduvai Gorge and Masai Village;
Ilkidinga cultural hike – half day walking through countryside and villages;
Arusha National Park - 2 hours walking safari;
4 days in Zanzibar: Stone Town and relaxation in the east coast.
Tips and Advice
Good planning before the trip is the key to success. Try to do that basing on other travellers experience and with your safari company. Agree detailed itinerary and list all services which are included in the price. Remember about details like drinking water during safari, possibility to charge camera batteries, etc.
Do not underestimate distances in the parks.
Check the reviews of camps/lodges in the internet. Remember that some of them are catering big groups and other - rather individual travellers. Fit accommodation to your needs and your budget.
During safari plan each day with your guide. Do not rush trying to see too much, let yourself observe interesting situations and animal behaviour in silence.
The most useful items in our luggage were AC splitter, sunscreen lotion, deet repellent … many other things are supplied by safari company or lodge.
Get to know as much as possible about the country and area you are visiting to be sure what you want to see and do.
Malgorzata & Piotr's Safari Details:

Rating: 10/10

Safari company used: Flash Safaris & Photography (make a direct enquiry)

Parks visited: Tanzania - Lake Manyara, Ngorongoro Conservation Area & Crater, Serengeti, Tarangire and Zanzibar

Date of safari: 15-28 January for 14 days

More reviews for Flash Safaris »

More Ngorongoro Safari Reviews