Ngorongoro Safari Experiences, Facts and Advice
The Ngorongoro crater is an amazing conservation area in Tanzania that rightly ranks as one of the natural wonders of the world.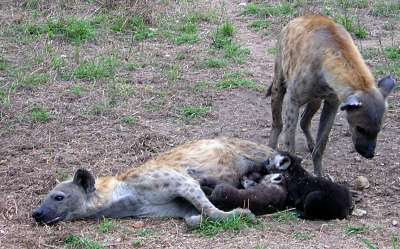 Wildlife and Bird Viewing

There is always wildlife to be seen here because of the permanent water and sweet grassland on the crater floor. Many of the animals travel from the Serengeti to graze and drink and there are over 30 000 of them here forming one of the most dense game areas on earth.
You are likely to see lion, buffalo, hyena, bull elephant, black rhino and many of the plains animals such as wildebeest, zebra, Thompson's gazelle and thousands of flamingos and other water birds like plovers and avocets wading in Lake Magadi.
You won't see many herds of elephant, giraffe, impala, topi or orynx because they all favour the highlands as it provides them with more to eat.
The Best Time To Visit
It can be surprisingly cool at the top of the mountain even in summer so be prepared with a pullover. Thunderstorm activity occurs in November - December and saturating rains fall from March to May.
Highlights and Activities
The crater which forms part of the Ngorongoro conservation area is a must see.
The Olduvai Gorge, where numerous fossil specimens have been discovered, is a canyon about 50km long and 90m deep which runs to the north-west of the crater.
Engaruka is a tiny village on the eastern edge of the conservation area which is famous for the nearby ruins of a complex irrigation system with terraced stone housings estimated to be 500 years old.
Lake Eyasi is a salt lake lying at an altitude of about 1000m on the southern end of the conversation area.
Facts and Accommodation
Size: The conservation area covers about 8,300 square kilometres.
Accommodation: There are no camp sites inside the crater but there are nine special campsites dotted throughout the park and Simba Camp on the crater rim.
For lodge accommodation on or near the rim of the crater, try the Serena Safari Lodge, Sopa Lodge, Crater Lodge, Wildlife Lodge and the Rhino Lodge.
Best Safari Operators
There are a large number of safari operators in the Ngorongoro but you can make an informed choice between them by using the Top Three Ngorongoro safari companies list which is compiled from written trip reports by previous safari travellers to the area.