Tanzania Safari With Nature Discovery
by Prudence Bell
(Wales UK)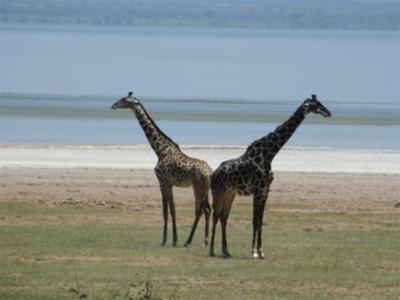 Griaffes at Lake Manyara
My most heart stopping moment was seeing a herd giraffes wandering along the lake side at Lake Manayara. For my husband it was seeing a Leopard in a tree with the remains of a Reedbuck up the tree with him. But every animal and bird has its own pleasure.
Safari Operator Performance
We used Nature Discovery who was recommended in Rough Guide to Tanzania. They are a small company based in Arusha in Tanzania.
Pre booking online we exchanged lots of emails as we worked out a price and itinerary that suited us. They were very helpful.
Had to pay a deposit into their bank from the UK that cost us £25 in bank charges!
Our guide met us at the small airport in Arusha, took us to our hotel, someone came from headquarters to discuss our programme and see what we wanted over the next 5 days.
They booked a bus for us from Arusha to Nairobi at the end of our safari and it was included in the cost. Although we had not asked for this in advance. They phoned us in Nairobi to check we had arrived safely.
We also discovered that the company could have booked our other internal flights for less than we paid online. You learn!
Our guide - he'd been guiding for about 12 years - was about 45, had been in the army and had interesting background knowledge of the country, its politics and people.
He kept everything very clean and tidy.
We felt we had more than value for money when we compared other companies. We felt well served.
Accommodation
We had 5 days 6 nights and then realised it was not enough, we covered some of the Serengeti, the Ngorongoro crater and the Manayara park.
We stayed in tented lodges and were very surprised by the high standard of what were meant to be standard camps.
1. Musunga Forest Camp Lake Manyara - in the forest on the edge of the lake, short walk through the forest to the lodge. Hot water, good shower, and comfortable beds - all very clean and safe.
The food was very acceptable and served in a dining room with pleasant outlook and space; although the place was busy it didn't feel crowded.
2. Ikoma Camp - just outside the Serengeti NP (North East). Owned by a Dutch firm. Even better then the last! Positively romantic. We were very well looked after... had two nights here.
Washing done for a minimal fee. Sitting areas outside with perfect views for the sunrise and breakfast. Longish walk to tented lodge but through very atmospheric surroundings.
Heard one young couple seriously complaining about the noise at night from the hyenas, could the staff do anything about it!!!!!!!
3. Bouganvilla Lodge was an unexpected 5* lodge, just outside Ngorongoro. It even had a swimming pool. A lovely place to spend our last evening.
Food
Didn't keep a very good record of the food, but it was all acceptable and plenty of fruit.
We had packed lunches everyday which were more than enough.
The guide always made sure we had plenty of bottled water which came with the package.
At the last lodge the food was very good. I remember a lamb dish (may be goat!), fresh vegetables ... all beautifully served.
When we arrived back in Arshua there was a very special lunch laid on in a beautiful garden restaurant where we able to wait until were time for our bus for Nairobi.
Wildlife
We saw the big 5. 36 different mammals, 7 reptiles, 49 species of bird that were what we recorded anyway.
Typical Day
We got up about 6.0, breakfast at 7.0, away by 8.0, usually a drive to get to planned place but kept stopping when we saw wildlife.
As we were only 2 we could stop when and wherever we wanted (as you advised). Our guide Mbisi, was very keen to show everything from the smallest plant to the biggest animal and we felt he worked hard on our behalf, so we could see as much as possible in the time.
He avoided taking us to the popular places so only a few times were we with other groups.
Depending on where we were, we stopped between 12.30 and 1.30 for lunch all in places where we could watch more wildlife.
We arrived at the evening destination about 6.30, dark by then.
Time to shower and change, very dusty by the end of the day.
About 7.30 for supper.
Spent time writing journals, sorting photos and belongings, bed by 9.30 exhausted!
Other Activities
The only adventurous activity, other than the safari, was flying from Zanzibar to Arusha in a tiny twin prop plane, with only 2 other passengers.
Looking down over Tanzania for 1.5 hours. Feeling a bit light headed because of the altitude! And wondering if we were going to arrive as you could see through the gaps in the fuselage!
Disappointments
Biggest disappointment was that I reacted to the Malarone
anti malarial drug
. It caused me to feel quite sick most of the time.
Photography
Taking a bean bag that attached to my camera (a Fuji FinePix S8000fd with an 18x magnification which was very useful) was a tip picked up from the free
e-book
. It proved invaluable with the zoom for getting clear shots. I use it back home now as well. Magbag 1100cc Trek-teck £10 (with a magnetic catch).
Tips on positioning when taking animal shots.
Full of useful reminders for the experienced and less experienced photographer. I was very glad to have read it preparation for the trip.
Tips and Advice
As our vest to Tanzania was primarily to visit friends working in the community of Morongoro, we did all the local and cultural stuff before we went on safari. This had prepared us very well for much of what we saw.
Don't try to cover so much ground, looking back I think the safari company tried to warn us, but we didn't really see it. If we ever get the opportunity again we would either take longer and not be so rushed, or cover one area. As it was we did see the Big 5 and lots else beside and had a trip of a life time.
Our most useful items were the bean bag for my camera and a small canvas shoulder bag for all my 'things'. For my husband it was his
hat
, journal and your spotters list.
I found a lot of the information
you
gave very useful and we used the 'what have we seen' check list and added a lot to it. Without that we would have forgotten so much. The '
what to take list
' was equally helpful. And we both kept a journal. Thank you for all your help and advice. Your
site
was a good find on the net.
We had an amazing time and took 100's of pictures.
My husband never likes to go back to the same place twice. But with this trip he can't wait for another opportunity to go on safari. He has caught the safari bug! We both have. We live in a wonderful world.
More Ngorongoro Safari Reviews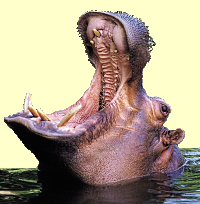 Join in and write your own page! It's easy to do. How? Simply click here to return to Safari Tanzania.