Expert Providers Ensure an Excellent Safari
by David & Toni Sonnega
(USA)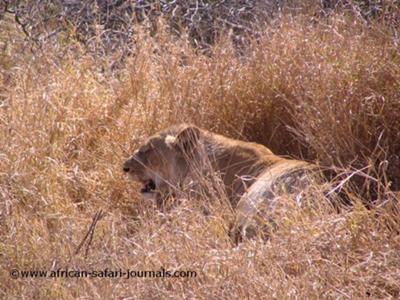 We saw numerous lions
Even the weather cooperated. We experienced one short period of rain, but that was after we had just arrived at our "tent" in Bushtops and were sitting on the viewing couch, enjoying a glass of wine and watching the game near us. The rain simply added to the breadth of our experience.
Safari Providers' Performance
Ebright Travel was the travel agent, and the safari operator we used was Naipenda Safaris.
Everything was first rate.
Connie at Ebright walked us through all of the preliminary steps of prepping for our journey.
She was constantly in touch with us, making sure that we felt at ease with our planning.
Israel Mwanga the head of Naipenda in Arusha was also critical in getting our lost checked luggage to us five days into our safari.
We can't say enough about our guide Shadrack. Knowledgeable, sociable and a very good safe driver thru the 1572km we travelled together.
Not only did he find the game we were seeking; he also found ways to get good photo angles. We recommend him highly.
All of our expectations were met or exceeded.
Accommodation
Kibo Palace Hotel in Arusha, Kikoti Camp at Tarangire Park, Gibbs Farm, Ngorongoro Sopa Lodge, Mbalengeti lodge on the western Serengeti and Bushtop Serengeti Camp located in the northern Serengeti.
All facilities differed in their offering, but were first class in accommodations and the care of their guests.
Our preferences were the "tented" camps. I use the term tented loosely as they greatly exceeded my preconceived notion of where we would be staying. Clean, safe and with minimal critters.
On the subject of safety, with the exception of the Kibo Palace Hotel, all facilities required you be accompanied by their armed personnel when going between your tent and the common area after dark.
It was reassuring as some of the walks were quite lengthy.
We even saw a savannah buffalo grazing on the other side of the rail just a few feet from where we were walking on our return from dinner at the Ngorongoro Sopa lodge.
On the subject of the Sopa lodge, my wife had a minor ailment and the lodge has a nurse that we were able to get some meds. She must be paid by the lodge as all we provided was a tip in appreciation.
Food
We did not have a bad meal during our travels. They were, in fact, much better than we had anticipated.
Breakfast buffets were common with fruit, dry cereals and eggs cooked to order. Coffee made with a French press was not uncommon.
The eggs Florentine served at Bushtops was totally out of the realm of the ordinary (hardly a traditional dish).
A box lunch was always served on the road at a stop in one of the parks. Food was plentiful and good, often ordered the night before (Mbalengeti and Bushtops).
Others travelling with different groups even commented on the table cloths and quality of our setting.
We had at least two choices for dinner at all locations. We did try the traditional food which was usually made with chicken or fish. It was quite good.
Wildlife
All of our wildlife sighting goals were achieved.
That includes seeing the big five in our first three days, the crossing of the wildebeests on the Mara and numerous encounters with lions.
We also saw leopards and cheetahs, many at close range.
Typical Day
We'll skip the personal morning ritual items and begin with what was normally an excellent breakfast (if we weren't going out early).
We were on the road by eight or eight thirty, looking at game until lunch and back on the hunt afterwards heading back to camp late afternoon.
Because of the many camps we visited, we often headed to our next lodge instead of returning to the previous night's camp.
Our return was followed by a chance to have a cold beverage and discuss our adventures with others before dinner.
Dinner was excellent and the service was first rate.
Even going to bed offered a surprise or two with two of the lodges, Ngorongoro Sopa and Bushtops providing hot water bottles between the sheets to keep you warm through the cool nights.
Other Activities
We visited two villages during our holiday: a Maasai village and a fishing village on Lake Victoria. Entrance to them required a contribution, but was worth the expense.
We particularly liked the Maasai village. We were greeted with a welcome song(s) first by the women and then by the men.
They also invited us into their homes and their children's school. It was also a good place to buy souvenirs.
The fishing village was much larger and we were taken out in a boat and caught some fish, most of which were less than the size of a person's thumb. They were kept and I'm told would be consumed.
Being in a fixed location the school was in much better shape that that of the Maasai. We found it interesting that English was being taught. We were also greeted by each of the children. Very nice…
Tips and Advice
At the recommendation of
Connie
, our agent at Ebright Travel, we packed two to three days of clothing into our carry on luggage (as well as the critical items).
This turned out to be a key element in our travel as our checked luggage was lost following a plane cancellation and was not delivered to us until we were five days into our safari at the Ngorongoro Crater.
A special note of appreciation goes out to Naipenda Safaris for taking the extra effort to get it to us from the airport in Arusha.
While still cameras are fine, we also took a high definition video camera with anti-shake feature and decent optics. Once some fundamental editing was done (with some still pics included), we find ourselves looking more at our videos than the stills when we want to kick back to the fond memories of our trip to Tanzania.
David & Toni's Safari Details:

Rating: 10+/10

Safari agent used: Ebright Travel (make a direct enquiry)

Parks visited: Arusha, Tarangire, Lake Manyara, Ngorongoro Crater and Serengeti National Parks plus Gibbs Farm - Tanzania

Date of safari: 13 October for 11 days

More reviews for Ebright Travel »

More Tarangire Safari Reviews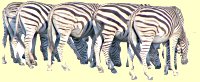 Join in and write your own page! It's easy to do. How? Simply click here to return to Ebright Travel.