Thomson Safaris Review
by Michael Rubenstein
(PA, USA)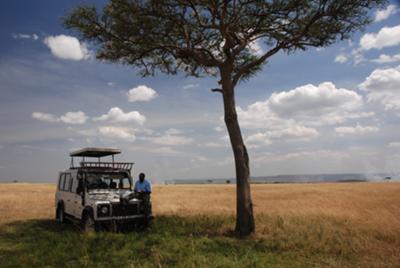 Leonard sitting on the Rover at a lunch spot
I really believe the safari was made that much more special because of Leonard and the fact that we had a private trip so that the three of us could really spend quality time with him and we didn't have to worry about whether we were keeping everyone happy.

We have Africa in our blood now and I'm sure we'll be going back.
Safari Operator Performance
The trip was fantastic and went without a hitch. Thomson Safaris put together a solid experience that we were quite happy with and I don't think they could have done much else for us short of finding us a black rhino in Ngorongoro, but it wasn't for a lack of trying as our guide spent several hours in the afternoon searching and was on the phone with all the rangers trying to find one. It turned out to be a windy day in the crater and apparently they don't like being out in the wind very much.
Thomson set up a tour of TAWIRI (Tanzania Wildlife Research Institute) at our request for the first afternoon which was nice, but not too exciting which was fine since we were pretty cooked from our flights.
We met up with our guide who ended up being perhaps the best part of the trip for us. He was a 15 year veteran with Thomson and a former wildlife researcher in the Serengeti. In fact, he's the guide they have pictured and quoted on page 13 of their brochure. The other nice thing we had was that they had the three of us and our guide in a stretch Land Rover for the entire time we were in Tanzania which gave us lots of freedom and tons of room for our gear.
I can't say enough good things about Thomson given how well they took care of us. Leonard was an absolute joy and given his wildlife knowledge it was a real treat for my daughter considering her interests in wildlife conservation. We didn't see everything, but we saw lots and I can honestly say that other than that black rhino I'm not sure I can think of anything we missed or would have done differently.
Accommodation & Food
We spent seven nights in their tented sites - three of the nights we were by ourselves in camp (I think all of the camps had 14 or 15 tents each total) so it was just the three of us, Leonard Temba (our guide) and the camp crew. Three of the other nights we had a extended family group in camp with us who we were a day behind on our tour.
All but one of the nights they actually set me up in my own tent which wasn't part of the deal as they hadn't priced in a single supplement for me so as to cut the cost down and the plan was for me to stay in the tent with my two kids which would have been fine. I must say, though, the extra room and privacy was appreciated and I know my kids didn't miss my snoring on those nights. I believe it was Leonard who requested the separate tent when he spoke with each camp prior to our arrival.
The camps were great and the food was delicious every meal. Our favorite camp by far was on the Ngorongoro rim where we spent two nights and the fact that it dipped down to 40°F didn't bother us in the least.
In Karatu we stayed at the Bougainvillea Safari Lodge which was quite nice and very comfortable.
We flew from Lake Manyara airport to Arusha, then drove to KIA to catch a plane to Nairobi. We arrived in Nairobi during the height of rush hour and stayed at The Stanley downtown. We were supposed to have stayed at the Fairview, but they upgraded us to the Stanley which was OK since we were there for only the night. It was too plush for us.
Parks and Wildlife
Our first park was Tarangire; the elephants there were amazing. It was a great park to start with. The following day we drove out of Tarangire and then up to the Ngorongoro camp and a visit to a Maasai boma nearby.
We were in the crater early the following morning and spent from a little after eight until close to six on the floor - we just made it out on time since Leonard was trying hard to find that rhino until the very end. We saw three lion kills - no attacks, but we arrived each time shortly after the kill. We saw only one cheetah in Ngorongoro, but two serval and lots of lions there.
We drove out of the NCA in a thick fog and on to Oldupai Gorge then on to the Serengeti. On our game drive the next day we drove for several hours past Maasai Kopjes all the way to the Barafu Kopjes and got a good feel for the vast reaches of the Central Serengeti.
The camp was just outside of Ikoma Gate and the next day we drove outside the park across the Grumeti and back in at Tabora Gate to the northern camp.
That afternoon we drove north of the Mara River to check out some of the early Wildebeest herds. We didn't get to see anyone crossing the Mara, but we did see a bunch of crocodiles feasting on one poor wildebeest the following day. There were lots of hippos just above the Mara Crossing.
There was a fair amount of burning going on in the Northern Serengeti and up into Kenya. It was pretty smoky at times, but I don't think you can do much about that other than not go up there at that time.
The following day we spent all north of the Mara and drove up to the Kenyan border and then drove parallel to the border for several hours with great vistas into Kenya and the Maasai Mara. We didn't get to see many cats up there, but did spot some bat-eared foxes which was a treat. The scenery at the border, though, was spectacular and you could see forever.
We did see two leopards in trees along the river back in the central Serengeti so that was good.
Our final afternoon in Karatu Leonard volunteered to drive us down to Lake Manyara just for a few hours (I paid for it separately since it wasn't part of our itinerary, but it was well worth it since we were there) and we got to drive through the northern portion of the park and though we didn't see any of the tree climbing lions we got to see lots of other wildlife.
Other Activities
They flew us from the Mara airstrip to Lake Manyara for our trip to Karatu for the volunteering portion of our trip. Leonard drove the Rover all the way back from the Mara airstrip and met us the following morning in Karatu and stayed with us while we did our work at a small primary school that Thomson is funding outside of Karatu.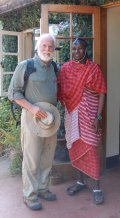 The day before we had lunch at the Gibbs Farm which was a real treat. We all agreed that we were glad we didn't stay there as it was to luxurious for the likes of our trip and we would have felt guilty staying there and then doing the volunteer work.
We spent 1.5 days at the school and also got to visit a few places in Karatu and specifically one clinic that I am really planning on returning to next year for a visit and to volunteer my services for a few weeks.
I also met a wonderful Maasai traditional healer at the Gibbs Farm who I want to visit with when I go back to learn some of his practices to apply in my medical practice.
The three days volunteering in Karatu were very special and very different than our safari days; it really worked out well.
Photography
I took the Nikon AFS VR 70-300 which was great, but not quite long enough at times and wished Nikon had updated their 80-400 before my trip.
I used both my D80 and a new D90 (which I very much like and has some good improvements over the D80) so having both cameras on the Land Rover seats to swap with the 18-200 on the D80 and the 70-300 on the D90 for most trips worked rather well.
More Tarangire Safari Reviews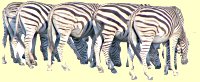 Join in and write your own page! It's easy to do. How? Simply click here to return to Safari Tanzania.