Arunga Expedition Review
by Tomas Hemmer-Hansen
(Denmark)
Our safari was excellent, and Arunga Expeditions provided us with a really good guide and chef - everything was great. I give Arunga my highest recommendations. We saw almost all types of animals and had a very good experience.
Safari Company Performance
I read about Arunga Expeditions on the internet. They were very professional and everything worked well.
I can only recommend them in the best possible way. Their guides were friendly and knowledgeable and made sure we had the best possible experience.
Our guide and chef were very caring and kind - a highlight of the trip.
Accommodation
We stayed at Arusha Tourist Center Inn or something like that.
We booked it through Arunga Expeditions, and it was fine.
Food
Typically, they served healthy food.
Breakfast often consisted of pancakes, bread, jam, fruit also. Very nice.
Lunchboxes were a bit dull (especially after being served the same on our climb up Kili), so we asked the cook to make different and warm food - he was very friendly and cooked some very nice warm meals for lunch after that.
For dinner he always cooked great food. Rice was a common ingredient. On the last night he cooked a Tanzanian specialty with a lot of meat and veggies - great stuff.
Wildlife Highlights
We saw lions (only females) with cubs, leopards, cheetahs, impala, different bucks, elephants, giraffes, rhinos, jackals, warthogs, a lot of different birds (the guide knew them all), lizards, zebras, ostrich, different types of gazelles, eagles, vultures, different rodents, hippos, flamingos, different monkeys, a green snake and more.
Typical Day
Usually we got up around 7am, ate breakfast and then went for the first game drive.
We then got back for lunch and then had a second game drive.
On transfer days, the second game drive was en route.
Dinner and then chitchatting and off to bed quite early to be ready for an early start.
Other Activities
We visited a Masai village, and even though it wasn't cheap ($20 USD/person) it was a good experience that I would recommend for others.
A bit of local culture.
Tips and Advice
Just follow the advice from the guide - they always know more than yourself. And never get bored, even though there are times when it's only zebras and impalas.
You probably have none of these animals back home, so enjoy every moment.
Allow yourself to have this experience - you won't regret it, I guarantee that.
My camera was the most useful item I took on safari.
More Tarangire Safari Reviews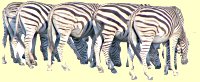 Join in and write your own page! It's easy to do. How? Simply click here to return to Kenya Safari.