Camping Safari Tanzania
by Ralph & Gonnie Bertram
(The Netherlands)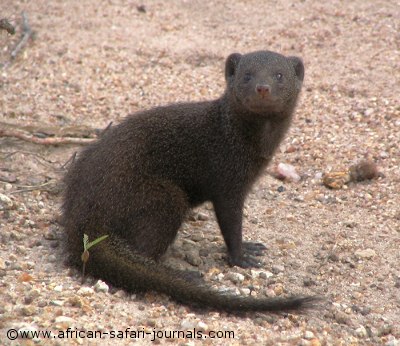 Dwarf mongoose
We visited Lake Manyara, Tarangire, Serengeti and the Ngorongoro Crater. Tarangire was a highlight; it really is a beautiful park besides the animals that live there.
Safari Operator Performance
We went with Flash Safaris. We heard about them from friends.
Everything was arranged well.
Our guide was a very good mix in giving you time to see what you want and pushing you to see more. He knew a lot about the parks and the animals and how to find them.
Accommodation
We spent 1 night at the beginning and 2 nights at the end in Il Boru Lodge in Arusha. It is a nice place with a big swimming pool, good food and good service.
We were 2 nights at Manyara campsite near Manyara park. It was a very nice campsite.
We were 2 nights at a campsite in Serengeti park. It was basic, but good enough.
Then we were 2 nights at a campsite in Ngorongoro reserve. Also basic, but good.
Then we had 1 night at a campsite near Lake Eyassi. Nice place with a small river.
There were toilets and showers (not always warm water) at all campsites.
Food
Breakfast consisted of roasted bread and eggs (fried or scrambled) sausages, fruit, tea, choc drink and coffee.
Wildlife
African Elephant
Giraffe
Zebra
Blue wildebeest
Hartebeest
Topi
Impala
Gazelles; Grant and Thomson
Steenbok
Oryx
Waterbuck
African buffalo
Kirk's dik-dik
Hippos
Warthog
Hyraxes
Vervet monkeys
Blue monkeys
Baboons
Mongooses; dwarf, banded and black
Hyena
Jackal
Rhino
Leopard
Cheetah
Crocodile
Marabou stork
Flamingo
Secretary bird
Ostrich
Crown crane
Our highlight was a lioness feeding her 2 cubs at a distance of 2 meters. She did this after an inspection between the jeeps that were parked at the road.
Typical Day
Breakfast, into the jeep, trying to find any game and take pictures, lunch, looking for more animals, dinner, bedtime.
Other Activities
We also went to Zanzibar for diving.
Disappointments
The only bad thing that happened was that our hotel at Zanzibar burned down during our stay. Happily almost all our things came out and they found us another hotel to stay the rest of the week.
Tips and Advice
Don't take too much with you. Just take a lot of pens with you to give to the children.
And a camera with telephoto lens.
Safari packing list...
Though it's a very expensive holiday, it's worth every penny!!!
More Tarangire Safari Reviews