Flash Safaris and Photography
by Bas and Marianne Smouter
(The Netherlands)
Elephants drinking at the swimming pool at Tandala tented camp
The lodges were like a fairytale, meeting people was very warm and special. Everything was wonderful and organized very well. This was the holiday of our lives!!
Safari Company Performance
We heard about Flash Safaris and Photography from other clients. They were very satisfied.
Magda Vrijs, representing Flash Safaris, is a very warm person. She is very interested in the kind of person you are and she discussed all the things you like to do or to visit. The result is a very personal safari.
The guide we had, was a wonderful man. He knew everything about the environment, the animals and culture. During the safari he was part of our family and that was a very good time.
Accommodation and Food
We stayed in the guesthouse of Magda Vrijs, camping Ngorongoro, Lake Eyasi Bush Camp, Tarangire Rivercamp, a hotel in Dodoma, Tandala Tented Camp, Vuma Hills Tented Lodge, Sleepinn Hotel Dar Es Salam and White Sands Beach Hotel at Zanzibar.
Typical meals were -
Breakfast: fruit, eggs, bread etc.
Lunch: fruit, chicken, pancakes, pizza, salad, etc.
Dinner: soup, chicken or other meat or fish with vegetable and rice or potatoes, fruit
Each meal was very good.
Wildlife
We saw all kind of birds, crocodiles, elephants, lions, all kind of monkeys, zebras, wildebeests, buffalos, ostriches, antelopes, rhino, hippos, cheetahs, all kinds of gazelles, snake, giraffes, etc. etc.
In Zanzibar we saw dolphins and all other kind of fishes.
The only animal we didn't see was a leopard.
To choose a highlight...
everything
was a HIGHLIGHT!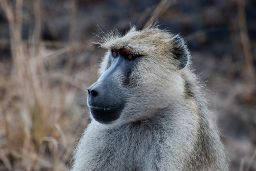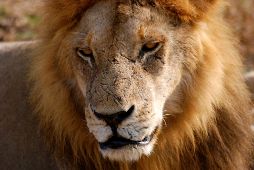 Life on Safari
A typical day would be like this:
Wake up


breakfast


game-safari as long as we wished, the guide stopped as long as we wanted and we searched with him for the most beautiful spots and animals


lunch during the day on a picnic-place


going back to the lodge or tent


freshen up


dinner


coffee or something else to drink and


then to bed again.
Some other activities we did during the safari was hunting with bushmen, visiting rock paintings near Kondoa, hiking and tracking in the rainforest. At Zanzibar: visiting Stonetown, snorkelling, spice tour, beach (swimming and reading a book).
Tips and Advice
Bring warm clothes (Africa is not always sunny).
The most useful items in our luggage were good shoes, a good travel guide, photo camera and
binoculars
.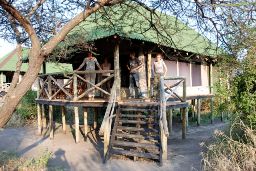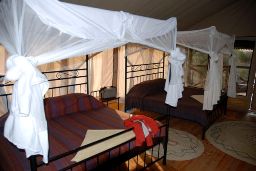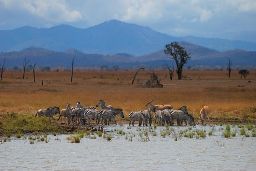 Bas & Marianne's Safari Details:

Rating: 9.5/10

Safari company used: Flash Safaris and Photography (make an enquiry)

Parks visited: Tanzania - Arusha NP, Manyara NP, Ngorongoro Crater, Lake Eyasi, Tarangire NP, Kondoa, Ruaha NP, Mikumi NP, Udzwunga NP, and Zanzibar Island

Date of safari: 21 July - 11 August (3 weeks)

More Flash Safaris reviews »

More Tarangire Safari Reviews