Tanzania Private Safari
by Andrea Greenlees
(England)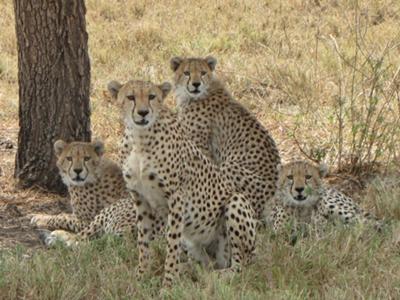 After much searching Hezron spotted a group of four cheetah lying in the grass not far from the track. When they became aware of us they arranged themselves into the most perfect composition imaginable for a perfect photo opportunity! A mother and her three nearly grown up cubs. Utterly beautiful.
Safari Itinerary
We went to Tanzania which we chose after reading about the countries in Africa where the major national parks are situated.
Tanzania appealed because it is peaceful and stable with no recent history of tribal warfare, low levels of crime; it has a very welcoming approach to visitors and it contains some of the most important and dramatic parks and game reserves in Africa.
We also wanted to finish our holiday with a few days on a beach and Zanzibar is only a short hop away.
Safari Operator Performance
Having carried out extensive internet research and considered a number of different options, and also looked at the brochures of a couple of larger tour operators, we chose a small private owner-operated company, Across Tanzania Expeditions, on the basis of the outstanding reviews by previous travellers on
African Safari Journals
and the praise they heaped on the safari guide Hezron Asunga.
We realised we wanted a private safari with just the guide, my husband and me in the vehicle. We wanted to follow our own agenda and not be cooped up for hours on end with strangers. It is clear that you can spend considerably more and yet have a far less personal experience.
We also liked to think any profit on the holiday was Tanzanian profit. This approach however creates a certain amount of anxiety - Could the whole thing be a complex internet scam? How can we recover our money if things go wrong? I sought reassurance by personally telephoning a former client who was so thrilled with her own experiences she now actively promotes Across Tanzania Expeditions in the US.
Although I was very excited about the trip, right up until the moment we were met at Kilimanjaro Airport I still had my worries! Only then was I able to I relax and let events unfold.
This is one of the reasons I am completing this review - to give future readers and travellers confidence in Hezron and his company and to vouch for him and confirm that in every way we had the most fanatastic safari experience with Across Tanzania Expeditions.
There had been some problems and errors in the final weeks finalizing our itinerary which had caused me concern but Hezron had stepped in and sorted them all out in time.
We were however disappointed to find on arrival that he had substituted another guide instead of himself for the first 3 days of our holiday which was because his previous clients had persuaded him to take them on into the Serengeti for a further 2 days.
There were no problems at all with the other guide, Tobias, who works for Hezron and who was lovely and knowledgeable, and I can't fault him in any way, but any unexpected change to agreed arrangements is unsettling.
Hezron arrived on the third day, when we had reached Gibbs Farm, apologized for disappointing us and promised us the experience of a lifetime, and it was.
As a guide Hezron is matchless; he placed us in situations where we saw the very best of everything. He is extremely experienced and is clearly held in high regard by other safari guides for other companies, many of whom he trained. His English is perfect; he has a great sense of humour and he is extremely easy to be with, which is important when you spend very long days together.
It was a perfect private safari.
Accommodation
For the first night we stayed near Arusha at the Serena Mountain Village Lodge which has lovely tropical grounds and was very comfortable - a delightful introduction.
We spent 2 nights at Roika Tented Lodge, individual large tents on raised platforms under thatched roofs from where we went for 2 all day game drives in Tarangire National Park.
We spent a wonderful night at the glorious Gibbs Farm which is in a fantastic setting amidst coffee plantations and merits a longer stay. They grow all their own vegetables in beautifully laid out gardens. It was good to have a chance to use our legs again after 2 days in the vehicle and we took a guided walk into Ngorongoro and to the Elephant Caves. Gibbs Farm is a unique and special place and I highly recommend it.
We moved on via the fascinating Olduvai Gorge to the Ngorongoro Crater and stayed 2 nights at the Ngorongoro Sopa Lodge which is spectacularly located with incredible views. It was very cold on the crater rim but they provided an electric heater on request, and hot water bottles! Superb powerful hot showers. Wonderful home-made 'Sopa' muesli at breakfast, full of nuts and fruit.
We then had 2 brilliant nights in the wonderful Exclusive luxury camp in the Serengeti. This is a mobile camp that can be moved to different locations at different times. What fun it was! We had 20 litre hot showers from a canvas bucket suspended behind the tent on request. Enjoyed delicious food - in an open dining tent in the middle of the bush! Watched lovely sunsets from the campfire. Herds of zebra grazed yards from the tents. Listened to all kinds of animals nearby during the night. This kind of accommodation is very exciting and makes you feel, literally, close to the ground.
This was followed by 2 nights in the Serengeti Sopa Lodge and whilst I think it would be a big mistake to only stay in Sopa type lodges they are nevertheless very comfortable for some of the nights on safari and quite welcome when you arrive in the evening caked with dust and grime from a long day bumping along rutted tracks.
We then had 2 glorious nights at the Mbuzi Mawe luxury tented camp in the Northern Serengeti. A wonderful experience. Real tents but with permanent constructed elements on a fixed site. Beautifully furnished. Good entertainment in the evenings - music, singing and acrobatics. Highly recommended.
Our last night on the way back to Arusha via Lake Manyara was spent at the E Unoto Maasai Lodge which is reached after passing through an unpromising desolate barren area that suddenly becomes a tropical forested paradise. Round thatched individual rooms are stepped up the hillside amongst the trees; it had the most comfortable beds, duvets and bedlinen of the entire trip, and a very clean refreshing pool.
All the accommodations were very spacious - including the tents - and comfortable. Mosquito nets were provided everywhere except the Ngorongoro Sopa which did not require them at that altitude. We really enjoyed experiencing a variety of accommodation and starting our game drives from different locations every 2 days. The staff in all the camps and lodges are local people and without exception were courteous and friendly.
I regard the quality of the accommodation, food and service as critical for the success of any holiday, no less so a safari, and I had researched all the accommodation as far as I could online. Hezron made proposals in his initial itinerary and also responded to include suggestions of my own in the final itinerary.
Part 2 ...
More Tarangire Safari Reviews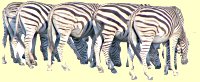 Join in and write your own page! It's easy to do. How? Simply click here to return to Safari Tanzania.