Tarangire Tented Safari
by Tom Mahan
(Brevard, North Carolina - USA)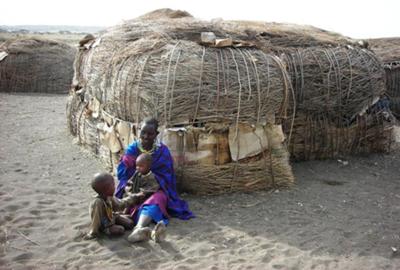 Maasai Village
What really made our adventure so great was the terrific preparation and sense of friendship that preceded our departure. I think that Connie Ebright and Lynn Newby-Fraser made our safari the once-in-a-lifetime experience that it was.
Safari Operator Performance
Connie Ebright was a gem - knowledgeable, sensitive and very prompt in all her responses.
She put us in touch with Africa Dream Safaris and their talented Lynn Newby-Fraser who also became our daily communication person for months prior to our departure.
Those two women created a wonderful sense of both comfort and adventure. They were outstanding.
The ADS persons in Tanzania continued the high quality of concern, expertise and caring.
I am amazed at the detail that they take - the greeting by Peter at JRO who rescued us from all of the confusion everybody else of the 400+ passengers who disembarked from the KLM 777 went through (and again guided us through our exit from JRO) showed wonderful planning and caring.
Wilfred Fue, our driver guide, was beyond words - unbelievably knowledgeable and extremely committed to assuring that we saw and did everything.
I cannot praise either Ebright Travel or ADS enough. I am confident that they are the tops in quality, service, and caring.
We recognize all of the little things - the anniversary cake, the good-bye cake, the going away gift and the greeting gifts, the chanting by the staff at Belila that came with the cake - all of those touches grow in retrospect.
Accommodation
First came the Arumeru River Lodge, a great place to begin, nice accommodations, good food, very friendly.
Next came a disappointment even though it was very nice. We had been bumped at the last minute from our reservations at the Mbuze Mawe Tented Lodge because of overbooking and ADS found substitute lodging at the upscale, fancy Bilila Lodge which was elegant, but we had planned on the tented camp. It was very gracious of ADS to make that arrangement, but we missed the tented camp until our last night in Tarangire.
Next we stayed at the Ngorongoro Serena Lodge. It was adequate, nothing special except its nearness to the crater.
From there we spent the night at Bougainvillea Lodge, nice cottage setting, good food, excellent courtesy.
Our final night was in the Tarangire River Camp where we finally stayed in a tented setting. It was our best night. We would have preferred multiple days there rather than at the Belila Luxury Hotel.
Food
We wondered if the English had corrupted the culinary tastes. The food was good everyplace, but rarely exceptional.
Breakfast tended to be American-type food (eggs, bacon, etc). Our lunches were all in the "bush" and consisted of fried chicken pieces, vegetable mix, salad and (hurrah) a chocolate bar. We did eat one breakfast in the bush as well, when we were at the crater.
The only approach to gourmet dining was at the Bilila Lodge. On a few nights the fare was buffet, not my favourite approach to dining. We did have a couple of dishes that were touted as African, but they were not unique.
Wildlife
We saw wildlife of all types - thousands of zebras and wildebeests; hundreds of gazelles and elephants; at least 40 giraffes; a dozen lions; 3 leopards; several cheetah; hippos; a half dozen crocodiles; ostriches; dik diks; impala; cape buffalo by the dozen; hyenas; caracal, eland, waterbuck; hartebeest.
I'm sure that I have forgotten some. Many of these were seen almost within touching distance including elephants, LIONS AND GIRAFFES.
Our most intriguing experience was to watch a herd of elephants frolicking in a watering hole when a lioness appeared on the ledge above. One of the large, female elephants marched up and shooed her away. Who is the queen of the jungle?
Typical Day
Up about 5:30 and a quick breakfast. Off with our guide about 7:30 into the bush. Animal sighting all day long.
Lunch in the bush about 1:00 and then more riding, sighting, picture taking. About 7:00 p.m. return to lodging (or go to new lodging). Dinner about 7:30 pm, chat with fellow travellers after dinner.
Retire to room around 9:00 to read, plan for next day, and then to bed. We slept very well in all of our settings.
Other Activities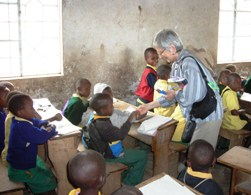 We visited a primary school of 1300 kids outside of Arusha where we distributed some school supplies that we had brought. A great experience.
We visited a very remote Maasai village on the way to the crater and had a very interesting talk with the English speaking elder who told us about the traditions and practices (some rather brutal; some unusual; some very charming).
We were glad that we visited the Massai village, but it was a blow to our romantic image of that lifestyle.
The school in the village was such as to break one's heart, and there was not a single girl in the classroom. The school building was a primitive structure. The walls were occasional sticks that did not cover anything.
The huts in which the villagers lived were as primitive and cramped as any I have ever seen or heard about.
Then we also visited a medical clinic (FAME supported) which was very interesting followed by a visit to a spokesperson for the Iraqw tribe whose views of the Maasai were not kindly.
Disappointments
The loss of our reservation in the Serengeti tented camp was a disappointment, but ADS did all possible to make the disappointment disappear.
I am sure that ADS took actions that they meant as treating us special. I only wish that they had talked to us before spending their money on Bilila when we were walked from Mbuzi Mawe. We were expecting to have our anniversary celebration kind of in the wild. Alas, we were in the lap of luxury.
We recovered and rate the overall experience as terrific. We want ADS to know that ... we really appreciate all the work that Connie and Lynn did to get us the tented camp arrangements and we were dumbfounded to find that what we felt was a contractual arrangement could be tossed aside by the Serena organization. Live and learn (even at 80).
Other than that, everything about our adventure far exceeded our hopes and everybody with whom we interacted was a joy.
Tips and Advice
Don't just go, plan and explore for months with guides like those two women.
The most useful items in my luggage were long sleeved
shirts
.
Rating
10+ out of 10.
Travelling to Africa and seeing the animals in the wild had been my wife's dream from childhood. I had never thought about going to Africa. Her dream was more than fulfilled and I have to say this was the best and most interesting journey of many in my long life. We returned home refreshed from our terrific safari.
Apart from wildlife, the visits to the school outside of Arusha and the visit to the Maasai were highlights. Both were great learning experiences and opened our eyes to new perspectives.
We had wonderful experiences in the "bush" and learned much.
Tom's Safari Details:

Rating: 10+/10

Safari company used: Ebright Travel (make an enquiry)

Parks visited: North and Central Serengeti, Ngorongoro Crater & Tarangire National Park - Tanzania

Date of safari: October 5-15 (8 days)

More Ebright Travel reviews »

More Tarangire Safari Reviews