Safari Review - Animals Everywhere
by Danell Beede
(USA)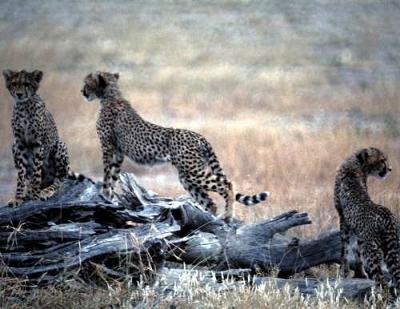 Given the (VERY) last minute planning of our trip, I really can't say there is anything truly disappointing about any of the trip. It went VERY smoothly, and we couldn't have had a driver more suited to our own personalities! Connie was REALLY wonderful in all her communication to plan and customize our trip so that it really suited our needs! I can't wait to go back!!
Safari Agent Performance
Ebright Travel was the travel agent, in association with Naipenda Safaris the US tour operator.
Connie at Ebright was EXTREMELY helpful in arranging the trip to suit my needs, especially considering that I was booking so last minute.
The guide (Nassoro) was WONDERFUL - very patient and accommodating.
I would gladly book another trip with Ebright Travel!
Accommodation
Kia Lodge - ok, people were nice - nothing to see. Nice easy transport distance for airport - served its purpose.
Arumeru River Lodge - very nice - close to town - easy for trips to see the schools, etc..
Plantation Lodge - beautiful, EXTREMELY nice, people were wonderful - great food! Very very nice and relaxing. Luxurious! Staying here made me feel very pampered!
Sopa Lodge - Ok accommodations... View, however, was great. Beautiful sunset over crater. Close proximity to crater.
Kikoti Camp - Tarangire - AWESOME AWESOME AWESOME camp. LOVED the accommodations and the people were wonderful. Perfect mix of luxury and the outdoors! I could stay here for months!!! Very friendly staff made the place feel like home : )
Ikoma Tented Camp, central Serengeti - LOVED the tents - felt like how I imagined a safari. Friendly staff. Liked the campfire every night and hearing the animals right outside the tent. Game drives from this location were the BEST!!! Saw everything you could imagine. Wish we had stayed longer !!!
Mbalgetti - Western corridor Serengeti - luxury tents!! Top of the line and BEAUTIFUL views from the tents and bar area. Saw the most beautiful sunsets. Magnificent views from the bar/dining area…a great place to sit with
binoculars
and just watch the animals in the valley.
In summary I really loved Ikoma and Kikoti camps — a very comfortable alternative to camping and feeling a part of the environment: Mbalgetti was a wonderful place to stay if you were looking for luxury at its best!!
Food
We were careful about what we ate as to not get sick.
I was always happy to see oatmeal if that was a choice. Cooked chicken at most places was also pretty good.
Wildlife
We saw pretty much everything except a rhino. We saw 36 lions, tons of zebra, minimal wildebeest (they were in Kenya), elephants, the list goes on - animals everywhere!!!
Typical Day
We did full day game drives most days with a picnic lunch… I would probably do the same given the choice as it gave me the most time to photograph the animals and because time constraints in the parks are very strict!
Other Activities
We visited an orphanage (wonderful), Masaii village and a school - all were much, much more rewarding than I would have expected!
I would not leave any of these out on a future trip as they really gave me some insight on the Tanzanian people who are WONDERFUL!!!!
Tips and Advice
Skip Arusha park, spend two full days at the crater and an extra day or two at the central Serengeti.
The most useful item I took would be my camera. Second most would be sunscreen and sunglasses. Third most would be lightweight roll up or zip off pants.
Surprisingly, the mosquitoes weren't bad at all!!
This was a great first time safari! I can't wait to do it again! Next time, however - I will book earlier to do more camp-like tents and less lodges. I love the feeling of being out in the bush!!
GO TO AFRICA! YOU WONT REGRET IT! If you need help planning your trip, book through
Connie
at Ebright Travel! I have never used a travel agent before (and I travel A LOT), and she really made the entire trip SO SO easy and fun. She was VERY thorough in what exactly to bring that I didn't have to worry about anything. What a great and easy way to travel!
More Tarangire Safari Reviews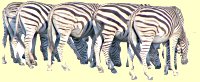 Join in and write your own page! It's easy to do. How? Simply click here to return to Ebright Travel.