Cheetah On The Roof
by Carole Look
(USA)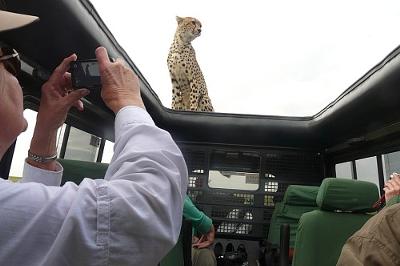 Celebrity Cheetah
A one year old male cheetah jumped on the hood of our landrover and then onto the roof and sat down. We were astounded! He looked down at us through the open top and we didn't dare move. We were busy snapping pictures left and right. Our experienced guide said this was only the second time it had ever happened to him.
Safari Company Performance
Africa Dream Safaris (ADS) was SUPERB.
They had company contacts waiting for us at the beginning and end of each leg of our trip so that we were never in doubt of our next move.
We never had a "lost" feeling except in the bush, even when we WANTED to feel "lost".
EVERYTHING was likeable about this company. Our guide for the duration of the safari was THE BEST ever.
I will definitely ask for him when I go back. We thought he had telescopic eyes.
He would say he saw a lion (or whatever) and we would drive over the horizon, it seemed, and there would be the animal he said he saw.
He was amazing, so knowledgeable and also fun to be with. We wanted to stay with him longer.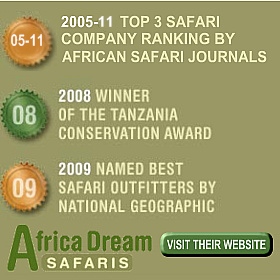 Accommodation
We were at: Arumeru River Lodge in Arumeru near the Kilimanjaro Airport, Mbalageti Serengeti in Central Serengeti, Ndutu Safari Lodge in (Ndutu) East Serengeti, Sopa Lodge in South Serengeti, Ngorongoro Lodge on the ridge of the Ngorongoro Crater and Echo Beach Lodge in Zanzibar.
ALL THESE PLACES WERE TOP NOTCH and comfortable. We particularly liked the Mbalageti.
It is a fabulously beautiful place with scenery to match. We loved our accommodations - tent-like rooms.
We had to zip ourselves in and out of our door, and the windows were mesh screens, so we could hear the animals at night and see the baboons running around early in the morning.
However, this was the scene at all of the accommodations as far as hearing the animals during the night.
All the private bathrooms in each lodge were well appointed, large, and very nice - just like home or better.
Food
Breakfasts consisted of more than I could eat!
All of them were buffet style and offered everything from bacon and eggs, to hot and cold cereal, waffles, yogurt, always fruit and juices and coffee and more!
Lunches were more than adequate. We had a lot of boxed lunches (or breakfasts) because we "lunched" out in the bush.
These were usually quite a bit similar: hardboiled egg, wiener in a bun, piece of fruit, bread or crackers and cheese, dessert, and more.
We simply could not eat it all and would make up a box (everything was individually wrapped) of untouched items for our guide to give away.
Dinners consisted of everything we would typically have in the USA. We had a variety of everything from fish to beef to chicken and vegetables, salad or fruit and bread (lobster in Zanzibar).
Wildlife Highlights
We saw it ALL. It might be easier to tell what we did not see!
We kept a record on the page that listed all the animals. We were amazed at how many we checked off.
There were so many highlights but one will stand out above all others...
We were out in the bush (on a grassy plateau in the middle of nowhere) and parked to watch a cheetah and her 5 one-year-old cubs.
They were sitting shoulder to shoulder with mom in the foreground as we drove slowly up.
It was as if they were at the photographers' studio waiting for their portrait to be taken.
The next day, our guide took us out to find the family of cheetahs again. It took a while, and we were astonished that he could find them again.
There weren't any landmarks that we could see! He turned off the engine and we sat to observe all 6 of them again.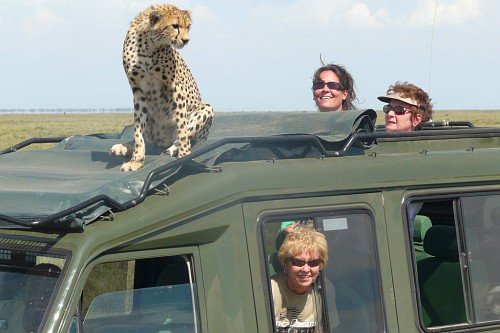 As if on cue, the same male jumped on our vehicle again, and this time he walked the perimeter of our open top. None of us breathed.
I guess we finally exhaled later that night. He was so beautiful and allowed us to take many pictures and one of our foursome even touched his tail which she said was stiff, not soft like it looks.
We were so excited and in awe of wildlife. Nothing will ever compare to that experience.
Typical Day
We started with breakfast in the main lodge or either out in the bush.
Then we drove around the area looking for wildlife that was always in abundance.
After we viewed hippos bathing in a river and the crocodiles lying in wait at the water's edge, we stopped to watch vultures fighting over the remains of a kill.
We watched various animals all during the day, including giraffes, zebras, elephants, gazelles, hyenas, cape buffalo, wildebeest, and many lions which looked like big lazy cats.
Each day held its own excitement and we were ready to head to the lodge even mid-afternoon or a bit later.
We enjoyed our cocktail hour in the main lodge with others from all over the world. One such group had just climbed Mt. Kilimanjaro the day before.
After dinner, we were more than ready to hit the sack.
Other Activities
I loved the airplane flights over the Serengeti. It was a thrill, although scary, to land in the middle of nowhere on dirt landing strips!
It gave us a chance to see the "lay of the land" and just how beautiful and varied the topography is.
In Zanzibar we went swimming with the dolphins, but it was not satisfactory. As soon as we would jump into the water close to them, they would leave.
We could never catch them long enough to swim with them. But we thoroughly enjoyed the beautiful white beach at our Zanzibar lodge.
There was no other activity or accommodations readily visible, and that made it very nice! We had the beach to ourselves.
We did visit a Maasai village in Tanzania which was most interesting.
Our guide also took us to another "village" where a very intelligent "tribesman" talked to us and explained his tribe's traditions and history.
It was not on a regular tour and we felt very special having this man give us all his attention.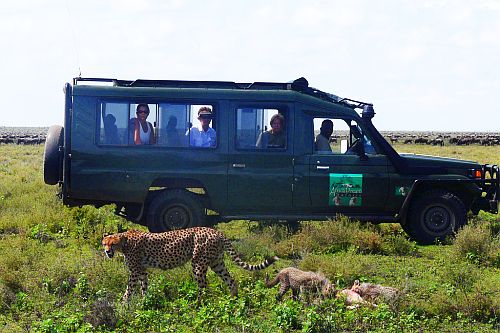 Tips and Advice
Read ALL the material sent to you. I must admit I didn't keep up with it and was sorry later.
I think some of the information would have been helpful or at least made my trip a tiny bit more interesting. We are all too busy.
When packing, remember that "less is more."
We weren't bothered by insects very much, but sun screen is critical. We were there in late January and early February so it was very warm at midday.
I wore Croc flip-flops EVERYWHERE - including into the shower as well as in the bush.
Carole's Safari Details:

Rating: 10/10

Safari company used: Africa Dream Safaris. (make an enquiry)

Parks visited: Northern Tanzania: Serengeti, Ngorongoro Crater, Lake Manyara and Tarangire

Date of safari: 28 January for 14 days

More Africa Dream Safaris reviews »

More Tarangire Safari Reviews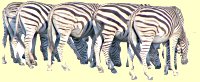 Join in and write your own page! It's easy to do. How? Simply click here to return to Safari Tanzania.