Tanzania Green Season Review
by Katy Yocom
(Louisville, Kentucky, USA)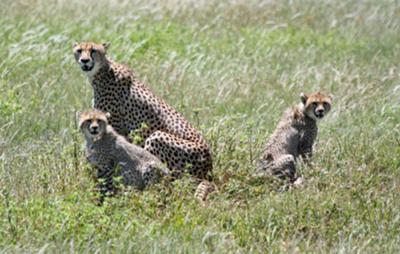 A cheetah mother and cubs in the Serengeti National Park.
Often, we were the first or only jeep at a sighting. One day as we were driving cross-country in the NCA, he spotted two cheetahs. A few hours later, we came across some other jeeps and Hezron offered to guide them back to the cheetahs. I thought he couldn't possibly do it. But sure enough, he drove right across the plain to the cheetahs! He told us that he navigated off a mountain on the horizon.
Wildlife
We went in February, so the land was green, the animals fat and healthy, and the wildebeests giving birth.
I was captivated by the elephants. You could always see some element of the social order playing out. I loved watching 4 elephants, including a TINY baby, wallow in the mud at Tarangire.
On our drive to camp the first day, we rounded a curve and found our path blocked by a bull elephant. He was angry at our sudden appearance, and he pawed the ground as if he might charge. Hezron backed the jeep off, but when the elephant didn't budge, Hezron turned the jeep around so we were facing away and told us, "Now stand up and clap your hands at him." So we poked our heads out the top of jeep, clapped our hands and said "Shoo! Shoo, elephant!" I felt ridiculous and slightly terrified. Hezron told us the clapping would irritate the elephant so he would either go away or charge. If he charged, we were prepared to make a quick getaway. In the end, the elephant decided he would let us pesky humans through. Whew.
Other highlights: a cheetah mother and 4 cubs; two leopard sightings; lionesses hunting cape buffalo; lion cubs rolling and pouncing on each other; lions mating. Elephants almost close enough to touch. Yellow-billed cranes that sounded like fighter jets when they came in to land.
We also saw impala, dik-dik, gazelle, zebra, wildebeest, giraffe, eland, hartebeest, waterbuck, warthog, hippo, reedbuck, rhino, hyena, jackal, banded mongoose, baboon, vervet monkey, blue monkey, ostrich, and many types of birds.
Safari Operator Performance
Across Tanzania Expeditions was excellent!
I traveled with my mom, an active 75-year-old. Hezron met us at the airport. It was a relief to see him; I had been nervous about booking with a company I knew only through Internet recommendations. It was a leap of faith, and I was so worried at one point that I called a client of Hezron's who now works with him from the U.S. She put my mind at ease.
Still, I knew I wouldn't feel totally comfortable till I was in Africa. Meeting Hezron made my nervousness vanish. He is a kind, generous person and a hugely knowledgeable wildlife guide with amazing eyes. Once he pointed to a tree far off in the distance: "Something is there." We drove toward the distant tree and sure enough, there was a lioness with a zebra kill, and two young cubs up in the tree.
Unfortunately, halfway through our safari, Hezron was called away because his daughter had been hurt in a bus accident. He waited with us for 4-5 hours until another guide arrived. (Hezron emailed after we returned home, saying his daughter was out of the hospital and back in school.)
So, for the second week, Mohammed was our guide. Unfortunately there was no avoiding comparing him with Hezron, and it was clear that Hezron was more experienced, better at spotting animals and supremely respectful of them. We enjoyed Mohammed's company, sense of humor, and guiding skills, but he just wasn't Hezron.
Accommodation
We stayed in most places 2 nights. Some lodgings were my pick, after doing research. First was Mawe Ninga, an isolated tented camp at the back of Tarangire NP. The accommodations were beautiful, with an endless view over lake Buruki. We were the only guests; it was like we had the park to ourselves.
I also requested Gibbs Farm. We adored it, and in retrospect I wish we'd built in a day to stay on the farm and enjoy it, and maybe take a village walk. Gibbs Farm is a coffee plantation and organic farm in the Ngorongoro Highlands. The view over the fields was like Tuscany; the guest cottages were set amid tropical botanical gardens. Idyllic.
From Gibbs Farm it's +-1 hour drive to the Ngorongoro Crater. We could have stayed at one of the rim lodges, but I would make the same choice again.
Next was Ndutu which made up for its less spectacular landscape (on the plains in the NCA) by way of its abundance of cats. One day, we sighted 17 cats! We stayed at the Olaado mobile camp. Although it wasn't as glamorous as Gibbs Farm or breathtaking as Mawe Ninga, I developed a soft spot for it. Again we were the only guests. We were out in the bush, the stars spectacular, and at night we heard the lions roar as they walked past camp. Dinner was served in a tent, with china and glassware, napkins folded into the shape of birds.
We spent one night at Olduvai Camp, built around a kopje with a close-up view of Mount Lemaguruti. Spectacular setting; I wish we'd had a second night there.
Serengeti Sopa Lodge was the largest place we stayed, filled with tourist groups. It was a bit of a shock after the tented camps and the homey charms of Gibbs Farm. I understand lodging in Serengeti is limited, so I don't think we had much choice. There was nothing to complain about; they did a top-notch job.
Finally Bougainvillea Lodge, near Lake Manyara: a beautiful collection of cottages built around a swimming pool. It's family run and the excellent food is served family style.
Tips and Advice
Bring a GOOD hat with a chin strap. Long sleeves for sun protection. Convertible pants that zip off into shorts. I shopped in camping supply stores. Leave the cotton clothes at home and ask for the "technical clothing" section.
I brought a ThermaRest full-length air mattress (it inflates to about 1" high). My back sometimes gives me trouble, and I was glad I was able to put it on top of some of the mattresses. Definitely worth the luggage space.
Bring a washcloth, 3-4 pairs of quick-drying underwear, a clothesline and Camp Suds, 2-3 pairs quick-drying socks, a flashlight.
I'm an avid photographer, and I brought a good digital SLR camera with a long zoom lens (70-300mm) and a standard short lens. Next time, I would leave the short lens at home and just bring a good point-and-shoot camera for the shots that don't require a zoom. Every time I changed lenses, I worried about exposing my camera innards to dust. Also, bring 2 2-gallon Ziplock bags for your camera - you'll want one (plus a spare) to protect your gear from all that billowing dust.
Free Safari Photography e-Book...
Invest in a good pair of
binoculars
if you can. I brought a small, cheap pair and regretted it. Our guide had a fancy Zeiss pair with amazing clarity, and I got in the habit of borrowing it.
I regret not making time to make contact with the local people. We could have visited a Masai cultural village, but I'd read that other visitors had felt pushed to buy the crafts, so we skipped it. I'm not sure that was a good idea. The Masai know the tourists have money and naturally enough are motivated to be entrepreneurial in one of the only ways they can. So, maybe we should have done the village visit after all.
Next time, I would add a few days to volunteer at an orphanage. After 12 days in Tanzania I began to feel regretfully like a tourist who had come just to consume the beauty of the country without bothering to interact or even learn much about the local people. Also, I began to feel that some of the locals only wanted to get me to part with my money. Tanzanians are widely known to be friendly and hospitable, but if you don't make the effort to be anything but a passing tourist, the opportunities for friendly, meaningful exchanges will be limited.
At least try to spend an afternoon hanging out in a bar where your guide can help you socialize and chat with some locals. Wouldn't it be fun to have a beer with some old guys and shoot the breeze? Some people we met had exactly that experience when they took a guided walk offered by the Gibbs Farm employees. I don't know whether Hezron would have felt comfortable setting up that sort of experience (we didn't ask) but it's something the Gibbs Farm people do.
I loved Tanzania. Next time, I've promised myself to make contact with the locals.
More Tarangire Safari Reviews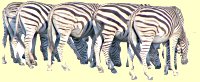 Join in and write your own page! It's easy to do. How? Simply click here to return to Safari Tanzania.