Machame Route With Arunga Expedition
by Chieh Ming, Lai
(Singapore)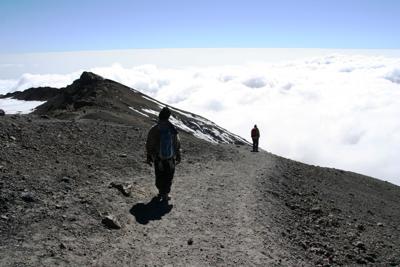 Above the clouds on Mt Kilimanjaro
I managed to summit, thank God. My guide Stanley was very good and he took care of me very well prior to summit day, as he was aware that I usually get AMS, but I didn't get it in the end. I nearly gave up at Stella Point but he encouraged me to go on to complete it!
Operator Performance
I managed to negotiate a good deal for a safari and Kili trek combo with Big Time Safaris. They operate a branch office at Kenya International Airport.
What they did was that I took their taxi and they recommended some hotels to me. And of course later, they would invite me to their office to 'talk'.
I told them that I was looking for a safari but I intended to head to Moshi on my own to find my own Kili trek.
They presented me with a 3-day Masai Mara and 1-day Lake Nakuru combo, for $440 for a tent without toilet (Masai Mara) and $520 for a tent with attached toilet.
I asked for the $440 option, and they tried to make me book my Kili Trek with them too.
I told the boss to make me an offer I couldn't refuse, so he said USD$1600 for everything, including return transfer Nairobi-Arusha and 2 nights' accommodation at Arusha Backpackers' Hotel. He also gave me the option of a tent with toilet (to share with someone else of course).
My Kili trek was done by
Arunga Expeditions
, a company based in Arusha. They were good.
I was picked up on Bobby Shuttle from Nairobi and upon arrival I was picked up by Benjamin who brought me to Da Costa Hotel.
The next morning, they sent a vehicle to pick me up (I was the only paying customer in the group), together with my guide Stanley, and the crew: Livingstone (assistant guide/server) and Paz (chef).
My guide, Stanley was very good and friendly and spoke good English.
He was able to give be an overview of the vegetation and we also had many good conversations about Kilimanjaro, his past interesting experiences with climbers, education in Tanzania, and much more.
Livingstone and Paz were also very good with the serving and the cooking, and Swaleh, a porter whom they hired at the gate when the original guy they engaged had a last-minute emergency which he had to attend to, was very hardworking and had lots of initiative.
They were a good team and looked after me very well with regard to food and also my concern that I was likely to get AMS (which I didn't!). They took the effort to chat with me and made me feel like part of the team, and I felt like I was climbing with friends even though I was on my own.
The equipment was good, and before I left for the trip (in Nairobi) I was given a checklist of essential equipment and asked if I needed to rent any equipment.
I ended up renting a pair of waterproof pants and a sleeping bag. All my other equipment was okay as I had done my
reading up
before I came.
Food
Breakfast usually consisted of pancakes, with the usual array of jam, margarine, tea, coffee, Milo, etc) with sausage, fried omelette, sliced tomatoes and cucumber, and fruit.
Lunch was packed to go: just a sandwich, a hardboiled egg, a banana, packet drink, and a piece of fried chicken (and maybe something else, but I can't remember).
Tea was peanuts & popcorn.
Dinner was usually the best meal of the day, with soup (really delicious!), bread/chapatti, rice (I stated my preference) tomato-based vegetable sauce (and sometimes with meat and potatoes in it).
Physical and Mental Preparation
I exercised about twice a week (cycling and then something else).
That was about it but I wasn't really in good shape physically because I had been travelling for about 5 weeks prior to that and two weeks before I left I had a major bout of flu for about a week which kept me bed-ridden much of the time.
I just made sure that I ate well and rested well. Mentally, I guess reading up all I could about the various routes possible, getting the medications (especially Diamox) and my first-aid kit ready, as well as all the equipment I could get prior to the trip, gave me a sense that I had prepared as much as possible for the trip.
I knew it was going to be hard, but it was actually harder than what I expected.
Conditions On The Mountain
I chose the Machame Route because it offers 6 days instead of 5 (Marangu Route) – one more day for acclimatisation and higher chance of a successful summit.
The weather was pretty good.
I was trying to arrange my trek so that the ascent day would coincide with the full moon on 16 September (for good visibility), but summited a bit later. The full moon lasts for a few days however, so there was still enough light from the moon, I didn't need to use my head torch.
This was supposed to be a good season to climb, but sometimes it was pretty cloudy, so visibility was poor.
The facilities on the mountain were all right and the squatting toilets in the cubicles (yes! with the smell!) were what I expected on a mountain trail.
The Challenges And Highlights Of The Climb
I did the safari first and I was quite tired by the time I started the trek.
The last stretch up to Stella Point, on the loose scree, was the hardest part of my climb. That was crazy. I knew it was going to be hard, but not this hard.
I usually got AMS when I went to other places on my travels, so I was extra cautious on this climb. I made sure I ate well, slept well and walked slowly, and took my diamox as prescribed.
In the end I had a slight headache sometimes but no AMS for me...yayy!
The highlight was Summit Day, when I wanted to give up at Stella Point and my guide Stanley and Livingstone kept me going all the way to Uhuru Peak. Stanley himself was having some abdominal pain and he got Livi to summit with us just to make sure that we had backup if any of us was not feeling well.
After making the summit, we proclaimed Psalm 121 and Psalm 19 in both English (my bible) and Swahili (Stanley's bible) on the crater rim. It was an awesome experience, and I really thank God for sustaining me all the way up there. They had to help me for some of the way down the scree slope back to Barafu camp as I was too exhausted already.
Tips and Advice
Don't worry too much. Just prepare as best as you can, and when you get there, enjoy the scenery and go slowly.
Eat well, sleep lots, and walk slowly. Be aware of yourself and your pace and when you are walking at a pace where you start panting, it's time to slow down.
Taking lots of stops to rest is not a good idea too, because it seems so much harder to start again. Go slooowwwww....and keep going.
My packet of wet tissues was the most useful item in my luggage. It helps loads in washing up, especially in the mornings.
Rating out of 10
I would rate it an 8.
I didn't expect it to be SO hard! But it was well worth it, and no regrets!
Thank you for all the help you've given me. Mt Kili is a place of stunning beauty.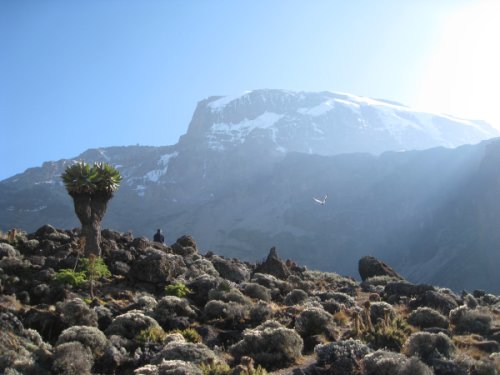 Chieh Ming's Climb Details:

Rating: 8/10

Trekking company used: Arunga Expedition & Safaris (make an enquiry)

Route Climbed: Machame Route

Date of climb: 14 - 19 September (6 days)

More Mt Kili reviews »

More Machame Route Reviews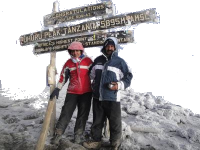 Join in and write your own page! It's easy to do. How? Simply click here to return to Africa Tour Operators Reviews.