Climbing Kilimanjaro Review
by Shyam Sreekaram
(Botswana)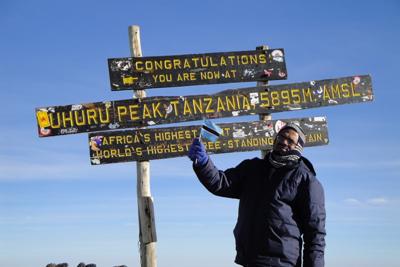 I was 53 years and thought I should do something exciting and challenging without putting my life at risk. I can always be proud of myself that I could do it. Good for self esteem and be a hero to my child and wife.
Operator Performance
I got Climbing Kilimanjaro on the net.
It was alright, but nothing really special. They were nice people, but could be cleaner.
The information given was excellent.
Food
The food was not great, but again I was Asian and vegetarian, hence had very little to choose from. I survived on oatmeal breakfast, bread, fruit and vegetable soups. I wouldn't have minded chillies and pickles.
Route
I did the Machame route and got to the start by a Land Cruiser.
It was a eight day trip with 6 days of trekking.
Preparation
I trained for six months on treadmill, being an accountant and desk job person with no physical training. By the end I could walk 15 kms on the treadmill at varying speeds up to 7 kms am hour.
I did some upper body training but it was not enough, as my shoulders pained during the ascent. I also climbed a local hill in Gaborone which is a 3 km climb up and 3 km down every Sunday.
Weather and Facilities
The weather was good; the facilities on the mountain were poor especially the toilets.
Challenges
The hardest part was the day of climbing the summit and the long walk to descent and to camp. The highlight of my Mt Kilimanjaro climb was of course also the summit. I began to cry involuntarily at the top and tears would swell up if any one asked "how was your trip?" for several days.
The luggage arrived late and I started the trip with out my pickles, socks, medicines or clothes.
Fortunately I didn't have altitude problems.
Tips and Advice
Go for it. There are several people that are going on this trip after meeting me.
There was this huge heavy windcheater which I thought saved me a lot of trouble with the weather.
Kilimanjaro gear - what to pack »
More Machame Route Reviews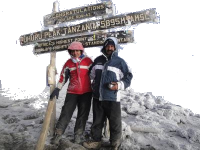 Join in and write your own page! It's easy to do. How? Simply click here to return to Kilimanjaro Climb.