Chagga Tours Review
by Aaron Grossman
(USA)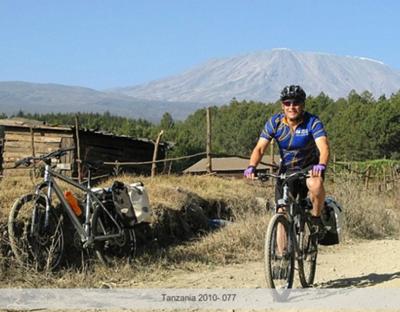 The 6 day endurance bike ride around Kili I did as an intro to the region
I used Chagga Tours, Moshi, Tanzania for my climb of Mt Kilimanjaro. They did fine – the guides, food, equipment, and porters were all good. I chose them because they also do mountain bike tours.

The tents were fine (the only equipment provided); their equipment list of what was needed for the climb was thorough and effective.

No complaints - I was very pleased with the trip.
Food
They provided a good variety of tasty and healthy meals: meats, vegetables, fruits, cereals.
Route and Facilities
I did the Machame route – that is where the tour went; it was scenic & not too rapid an ascent.
Besides the beautiful scenery and glacier remains on top of Kili, the cloud-filled high valleys with mist-fed vegetation were very scenic and a highlight of the climb.
Outhouse toilets were adequate, usually not too bad.
Preparation
I hiked a 13,000 foot mountain in Yosemite twice, did some local hikes, then mountain biked around Kili.
Weather
Mostly good fair weather, with light rain on the final day.
Challenges
The long descent was hard on my knees; altitude was no problem.
Rating - the climb up was 10/10; but the descent was 6/10 – my knees were tired, and I had to borrow hiking poles.
Other Activities/Safari
I went on a safari which was great!
Dawn hot-air balloon over Tarangire Park expensive but magnificent, then slow drive through lots of wildlife.
Next day in Ngorongoro Park - also great.
Tips and Advice
Good, lightweight, and comfortable shoes and socks are a must for the Mt Kilimanjaro climb.
Learn pressure breathing to lessen altitude problems – hold the air back with tight lips.
The most useful item in my luggage was a new Kindle! 20 pounds of books, including travel guides, in a handy 9 oz device; I even downloaded Hemingway's
Snows of Kilimanjaro
and checked email at 13,000'.
More of Aaron's trip pics »
Kilimanjaro gear - what to pack »
More Machame Route Reviews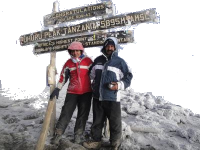 Join in and write your own page! It's easy to do. How? Simply click here to return to Africa Tour Operators Reviews.