SOK Adventures Climb
by Anne Silver
(USA)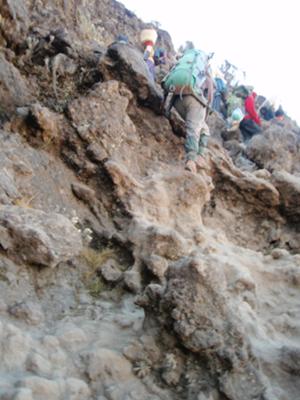 Don't put off climbing Mt Kilimanjaro and don't think that you are too old. I went with my grown children and I am in my mid 50s, but I had the least problems with altitude or the physical attributes of the climb. I am NOT a jock, but in reasonable good condition.
Operator Performance
We used SOK Adventures; my daughter found them through some volunteers in Tanzania.
They were excellent, the food was great and the guide was experienced and competent.
There were less guides than we expected however the service was excellent. For our group of 4 there was only one main guide and a helper. The main guide spoke English, but the rest of the crew had little English except the all knew P-O-L-E. We had one porter per climber and a cook and helper.
The equipment provided was substandard. The tents had problems with their zippers and although we were told we would have three season sleeping bags the ones provided were lightweight and not sufficient. We were provided a list of other necessary equipment.
I rate the climb a 9. It would have been a 10, but those darn sleeping bags and tents took off a point!
Food
Food was excellent. More than sufficient food was provided.
A meal had a meat, vegetarian substitute and a bread of some kind. Breakfast had eggs and a porridge.
Route
Machame Route - we decided to climb a little longer less crowded route.
We did 6 days instead of 7 on the Machame route, but that worked well for us. I think the extra day wouldn't have added much.
The summit was the highlight. Seeing the sunrise from below as we reached the peak was incredible. I loved hiking through the different zones of vegetation as well.
The company we used took us directly to the mountain from the hostel we stayed in.
Preparation
I currently live in Guyana, a tropical country that is below sea level. I was concerned about altitude sickness, but had no mountains to train on.
Instead I did lots of pranayama (yoga breathing exercises); rode my bike about 6 miles every day and walked on a flat path in the National park for about 4 miles x 4 days per week.
We took a four day safari prior to the climb to get a little acclimated. I had no problems with either the altitude or the hike.
Weather and Facilities
We had excellent weather. There was no rain and the mountain was clear.
The toilets were acceptable.
Challenges
I had no altitude problem, but one of our group did on the summit day.
For me the hardest part was the decent. My knees do not like going down.
Other Activities/Safari
We went on a safari with SOK Adventures before the climb. It was four days and went to Lake Manyara, The Serengeti and Ngorongoro Crater.
The guide on that was fantastic and was soon the one who spotted everything and radioed the other guides. We saw everything imaginable and more. He was still excited himself about viewing animals and very patient. His spirit added to the trip.
Tips and Advice
I give the trip a two thumbs up although I wish I had brought my own sleeping bag or made sure it was a warm one. It would have been nice not to freeze every night, but other than that no regrets.
I would like to try another route at some time in the future during a more rainy season. I bet the wild flowers are spectacular at that time.
My hiking poles were the most useful item in my pack. This was the first time I have ever hiked with poles. At the advice of a friend I bought some good ones. The company we hiked with did provide poles, but I loved having my own.
If you're planning to climb Kili, don't worry about it, just make sure you have good shoes and a good attitude. Everything else can be fixed.
Kilimanjaro gear - what to pack »
More Machame Route Reviews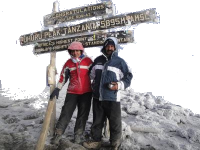 Join in and write your own page! It's easy to do. How? Simply click here to return to Kilimanjaro Climb.