Pure Afro - Kilimanjaro Review
by Andrej Gazvoda
(Slovenia)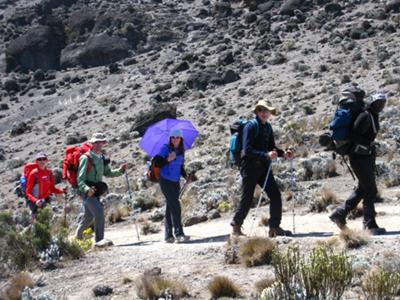 We chose the Machame route for the ascent and Mweka route for the descent, because it's a scenic route and good acclimatization. The trek was with Pure Afro. Friends from Slovenia had a good experience with them.

Everything went well; they were professional and friendly and they informed us about the things we need.

The guide Jeremy is a legend on the mountain and a very charismatic person. The best tour guide so far.

The porters and assistant guides also performed well.

Practical information:

- the transport from Arusha to Moshi was a van

- tents were big enough (2 persons in a tent for 3 persons)

- the food was typically western style (the guys asked us all the time what we want to eat). We ate a lot of rice, potatoes, also eggs for breakfast.

- toilets in camps were ok (we didn't expect luxury)

- weather was great, sunny most of the time. It was very cold the last day.

To prepare for the climb, we trained in our mountains to get good physical condition. Mentally - with gathering as much info as we could get, reading a lot...

Our group experienced altitude problems on the last day - 3 members didn't make it to the top.

For other people who want to climb Mt Kilimanjaro:

- good will and physical condition are very important!

- acclimatization is very important (we climbed Mt Kenya before Kilimanjaro)

- drink (water, tea - not alcohol!) as much as you can!

- take warm clothes; I forgot overgloves!

Kilimanjaro gear - what to pack »

We also went to the Masai Mara for 3 days. Great relaxation at the end of our 3 weeks journey and successful climbs on Mt Kenya and Kilimanjaro.

Overall it was a great experience, worth every cent!


More Machame Route Reviews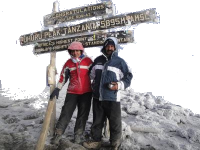 Join in and write your own page! It's easy to do. How? Simply click here to return to Kilimanjaro Climb.