Machame Route Climb
by Neha Bhooshan
(USA)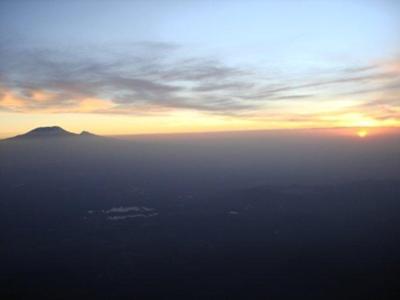 Meru summit
We were very lucky in that we didn't experience altitude sickness on Kili. We were also very lucky in having good weather (despite the winds while summiting Kili).

Those two facts I think helped us have such a great time and were key in our success in summiting which also made the trip great.
Operator Performance
We booked through EWP which partners with Zara tours (I found the company online and when comparing prices with other companies, theirs was the cheapest.) We did a 4-day Mt. Meru trek and a 6-day Machame trek with the company.
Overall, we were very satisfied with them. Our guides were great and very knowledgeable.
We were provided with a comprehensive list of items to bring and we were also able to rent equipment (such as sleeping bags, hiking poles and headlights). The company provided the rest of the equipment and it was fine.
Food
The food was great. It was clearly Americanized food, not Tanzanian food.
But it was very filling and since I was vegetarian, they were good in making vegetarian food for me.
I also brought protein bars which I ate while walking.
Mt Kilimanjaro Route
6-day Machame.
We definitely did not want to do the Marangu route since it's easy and crowded.
The other routes were more expensive so we decided Machame had the best combo of difficulty, scenic views, and price.
Preparation
I was pretty fit to begin with (I run an average of 3 miles daily) but I would go on the treadmill and walk 1-2 hours at a steep grade.
EWP told us that to prepare, we should to high-altitude trekking. However, I live in Chicago and the Midwest is completely flat so I couldn't do that. I thought about making a trip out to Denver for a weekend but didn't have the time. I did bring Diamox.
Facilities
On the Mt. Meru trek, there were lodges with bathroom facilities.
On the Kili trek, there were a variety of facilities: portable toilets, outhouses, and actual bathroom facilities (although they were not that clean).
All were sufficient.
Challenges
My cousin persuaded me to do the Mt. Meru trek beforehand since he figured, we were already there, let's do another trek.
Very luckily, it was also key in helping us acclimatise (I don't think we realized that benefit when we decided to do it). As I mentioned earlier, I couldn't do any high-altitude trekking beforehand to prepare.
So we experience some altitude sickness on Mt. Meru – I got dizzy during the last 100 ft of the summit and my cousin got a pretty bad headache. But we started Kili right after Mt. Meru and we didn't get any altitude sickness…honest!
I tried using Diamox but it made me go to the bathroom 4 times in an hour when trying to sleep so I stopped it. So I think we were lucky in that aspect.
The hardest part was the Kilimanjaro summit. It was physically one of the hardest things I've ever done.
On our summit night, it was incredibly windy…our guides said that they had never experience such wind before. So it was tough going uphill, battling the wind. And it was really really cold.
But it was so worth it in the end.
Other Activities/Safari
We also did a 5-day safari with Team Kilimanjaro. We visited Lake Manyara, spent a day hunting with the bushman near Lake Eyasi, Serengeti, and Ngorongoro Crater.
Overall, it was also fantastic. : ) Our guide Marcos was great…he could spot a leopard or a cheetah like a mile away so we saw a lot of animals.
Our cook Rashid was also very good. TK's campsite near Lake Eyasi was beautiful. I would definitely recommend them.
We did consider them for the trek but their prices were higher than EWP but for the safari, they were comparable to EWP so we went with TK because of the option with the bushmen.
Disappointments
The tipping is confusing; I wish they would just include tipping in the price since it's a hassle to bring the extra cash.
I would also be clear on which meals are provided. We were not given dinner on our last days of both treks when I assumed we would.
Also, be careful when booking separate operators; Zara was based in Moshi but TK was based in Arusha so we had to pay an extra transfer fee when starting our safari.
But those are minor things…overall, it was a fantastic experience : )
Tips and Advice
Hmm…do your homework and compare companies. It can be bewildering since they are so many but it seemed that other trekkers with other companies were also having a good time.
Definitely bring hiking poles and headlamps (not just regular flashlights). I didn't realize how important they were.
Also, bring warm clothes and your own warm sleeping bag or learn how to use one if you're renting. My sleeping bag turned out to be too big for me so I was freezing one night. But one of my fellow trekkers who had much more camping experience than me showed me the proper way to sleep (stuff clothes at the bottom of the bag so your body has less air to heat) and I was fine the next night.
My cousin bought a SLR camera just for the trip and also got an extra hard drive to store pictures which was really handy since we kept taking so many pics.
Kilimanjaro gear - what to pack »
Overall Evaluation
There were so many highlights!
Obviously, summiting was just a surreal experience. Standing there on top of Africa's highest mountain and knowing that I got myself up there was just an incredible feeling.
But I also enjoyed the trek itself…what's so wonderful about Kilimanjaro is that every day is a completely different landscape. You wake up in a different world each day…the first day is the rainforest, the next day is the moorland, the next day is the alpine desert, and on your last, it's like you're walking through Mordor in LOTR (as one of the other trekkers said).
The safari was great afterwards…after all that trekking, we were glad to just relax and watch the animals.
But it was amazing how close the animals would come near us...some lions just sat in the shadow of our jeep for shade…so cool!
And where else but in Africa would you come out of the showers at your campsite and find a bull elephant blocking your path?
I would like to add that this was my and my cousin's first time ever trekking so we were ignorant of some basic trekking knowledge but because of our guides and porters and our fellow trekkers (who were much more experienced than us), we still had a great time.
It was great meeting the other trekkers. There are a lot of different nationalities and since you're just trekking all day, it's great to learn about and hear stories from other people from around the world.
More Machame Route Reviews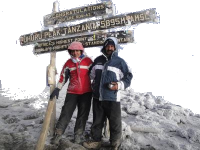 Join in and write your own page! It's easy to do. How? Simply click here to return to Kilimanjaro Climb.