Kiliwarriors Review
by Brai Dinu
(Romania)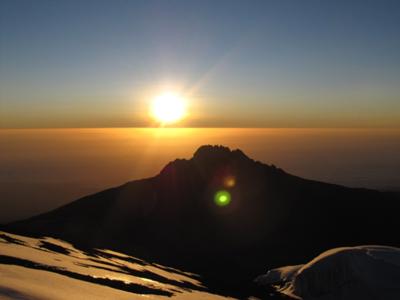 My decision to choose a good guide and porters team was taken in Arusha after I met other guides and porters teams. It was difficult for me to choose a company by internet, so I decided to spend 2 days in Arusha for making a right choice.
Operator Performance
I dealt my trip with Kili Warriors Company in Arusha. Before deciding to choose Kili Warriors I met other 6 agents from different tourism companies.
The Kili Warrior manager presented me a guide (Amani) who work for Great Masai but working under contract with Kili Warriors.
I prefer to know and see who are the people which are going with me 7 days on the mountain than to be in trust with internet sites recommendation.
For me and my buddy (2 persons) the company provided 1 guide, 1 assistant guide, 1 chef and 5 porters. This team has discipline and their job was well done. I noticed their services with A+ and I can reccomend this giide and his team to anyone.
I had my personal gear except the tent. They have all equipment which is required and you can rent from them what you need. The equipment was not new but in good condition.
The trip price was 1800$ per person (2 persons) for 7 days on Machame route. We paid tips 300$ each person for 8 porters.
Food
The food was great and exactly what I need for a mountain trip.
In the morning: fruits, coffee, tea, cereals, eggs, cheese, ham, bread.
For the lunch: chicken breast, soup, fresh vegetables salad, dessert.
For dinner: soup, steak, potatoes, cereals.
The meals were very good and fresh. I had no problem with my stomach or digestion.
Route
We climbed the Machame route.
Kilimanjaro is a natural park. On your route you have cabins, toilet with hygiene paper. Some of them are clean and other are dirty.
There is no shower but our guide provided hot clean water for washing every morning and evening.
The hardest part of climbing was the distance between Stella Point and Uhuru Peak. The altitude affect in some way to everybody. Our guide was very good and how to push and motivate me to go forward. A big part of your success depends on your guide.
The happy moment was in the morning (after one full night climbing) when I reached the top at sunrise at 05.50 hrs.
Preparation
I followed a fitness program which are on specific sites on the internet.
Other Activities/Safari
I went on a safari trip from Arusha to Lake Manyara, Ngorongoro and Serengeti. The trip was dealt with same company (Kili Warriors).
The only complaint what I have is they changed the car (new one with everything inside) which they showed me when I was dealing for the trip with an old one (Toyota Land Cruiser with 345700 km on board) after payment.
The driver was very good and professional.
Tips and Advice
I have no complaints about my trip. Everything was I as expected. The only recommendation what I have for the others is to choose a time for travel when it's full moon on the sky. In the night time the view of Kili is amazing.
I advise people to be aware of scamming. For the same trip as me some people paid double price. I was asking them why they paid so much and the only explanation was there are 2 or 3 company which intermediate your trip and take money for this. The real price you can get only if you find a direct operator otherwise you will be charged because you choose an intermediate company by internet.
Stay away from scamming company. Most of the people whom I met on the mountain did their trip with other company than the one which they made the payment to.
There were many useful things in my luggage. I advice people to see the complete
list for gear
which is required on the mountain. Sleeping bag should be at least for -30°C. Good head flashlight is required. Spare batteries for your camera also. Thermo recipient for water is good to have for last part of the trip. I recommend under suit for mountain condition, gloves, boots, hat, goggles, etc.
More Machame Route Reviews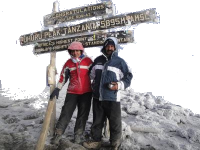 Join in and write your own page! It's easy to do. How? Simply click here to return to Africa Tour Operators Reviews.