Sunny Adventures Kilimanjaro Climb
by Kal Tiwana
(Canada)
To Karanga Camp
We climbed Mt Kilimanjaro successfully. It was a trip of our life, in particular for my wife because it was her first time visit to Africa. We booked every adventure locally in Arusha and Moshi which worked out cheaper and very well organised. Additionally, we paid in Tanzanian shillings which was an advantage.
Operator Performance
We climbed with Sunny Adventures who provided excellent service. A friend recommended them to us in Arusha.
We had an excellent guide with good command of English Language and friendly porters.
We needed minimum equipment like tents. We were fully equipped with our own equipment. Their tent was not new but in a useable state.
Food
Food was well cooked and typically there was soup and chicken, pasta, spaghetti, toast and porridge with tea in the mornings.
At lunch there was pack lunches made to our choice of food.
Route
We climbed Mt Kilimanjaro via the Machame route. The highlight was reaching the Uhuru Peak.
Toilets were very smelly and very poorly maintained. This was the worst part of the climb.
Preparation
We keep fit in our daily life and climb local mountains in Canada regularly.
Challenges
Descending to Barranco camp after Shira camp and the final descent from Uhuru peak was very tough on the knees.
We had no problem with altitude.
Other Activities/Safari
The safari was excellent. Four days and three nights in Ngorongoro, Serengeti and Manyara.
Tips and Advice
Keep fit and go on hikes.
Take good hiking boots.
We were not pleased about the tipping culture both for the climb and the safari. The employees of the tour companies are paid wages, and yet they beg for tips. The guide was at most times very patronising in order to get a good tip, and became angry and aggressive because the tip was not 150 USD. For me that was most disappointing as we do not give that kind of tip in North America, where tipping system is the norm.
Kilimanjaro gear - what to pack »
More Machame Route Reviews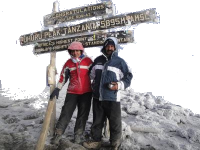 Join in and write your own page! It's easy to do. How? Simply click here to return to Africa Tour Operators Reviews.