Kilimanjaro with Sunny Safaris
by David Gervais
(Montréal – Canada)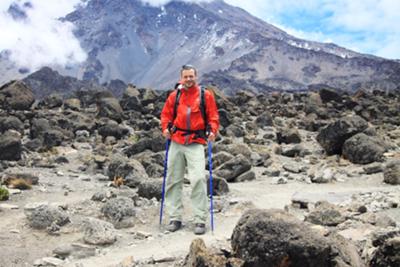 I guess like everyone, the highlight was reaching the top!! I didn't really feet the altitude, except that I vomited on the final stretch, which is apparently normal.
Operator Performance
I used Sunny Safari for my climb. Everything was perfect.
My guide was great, he never pushed us too hard. We were always the first to leave camps in the morning.
The porters were amazing, really strong and fast.
The equipment provided by the operator (boots, winter jacket, gloves, sleeping bag) were really used, but still usable, maybe a weak point for them.
Food
Rice and noodles for lunch and dinner. Porridge and bread for the morning.
I took the cheapest tour, so I couldn't expect too much for the food, but it was ok.
Route
Machame because I heard it was one of the best climbs with a nice challenge.
The operator took us to the mountain from Arusha.
Preparation
I didn't prepare myself for the climb. I kept doing my normal sport activities before the climb (I play a lot of squash) and that's it.
Weather and Facilities
The weather was nice at the beginning and at the end.
In the middle, we got 2 days of light rain, but our guide knew it so well that we left even earlier in the morning so we could get to the next camp before it started to rain. We never got cut by the rain while walking.
The facilities were perfect.
Challenges
The hardest part was to climb back down. I had injured my knee a week before and going up was no problem, but going down was a different story. I took me 3-4 more time then my team mates to climb down. My guide provided me with walking sticks.
Other Activities/Safari
I also did a safari (Serengeti and Ngorongoro) which was great.
Tips and Advice
Just do it. Kilimanjaro is not Everest, almost anyone can do it. I met many people who were scared to climb it, but really if you take your time you can do it.
A warm sleeping bag is a must. It's really useful to get proper nights of sleep, instead of shivering in your tent for hours.
Kilimanjaro gear - what to pack »
More Machame Route Reviews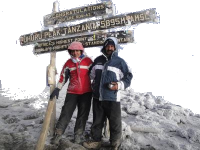 Join in and write your own page! It's easy to do. How? Simply click here to return to Kilimanjaro Climb.