Zara Tours Review
by Lee Glowacki
(USA)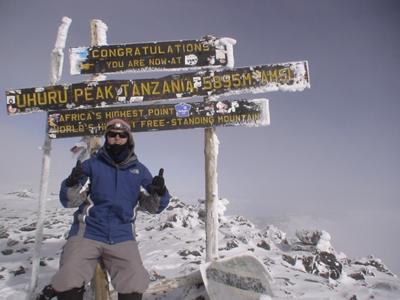 I MADE IT
My highlight has to be the same as everyone else, reaching the summit with my three friends. So much preparation and determination went into this once in a lifetime climb and it was such an emotional journey.

When you work so hard at something and reach your goal, nothing can be more fulfilling.
Operator Performance
We chose Destination African Tours which turned out to be Zara. I was surfing the internet and it popped up quickly and caught my eye.
The company and guides were terrific. Each member knew what role to play.
The food was incredible and we felt very comfortable. We were treated very openly and felt like we were in good hands.
Michael and Julius were the most amazing guides. We later found out they were brothers and did a fantastic job of leading us.
We were never discouraged because they kept us calm and focused the entire way. It was very evident they had climbed many times.
Food
The meals really were spectacular.
Each morning we had eggs, oatmeal and lots of juices.
In the afternoon we had prepared lunches which mostly consisted of chicken, breads, fruit and nuts.
In the evening soup, rice and a variety of main courses were given to us. They consisted of meats, chicken or vegetables.
Everyone in our group continually remarked of the high quality food we received.
Route
We chose Machame because we heard it was the best way to acclimatize and one of the more scenic routes.
A transport from our hotel picked us up the morning of the hike to get to the starting point.
Preparation
I followed the recommended work out program provided to me from the website.
I spent a few months getting my upper body in shape and for the last 4 months, my lower body. I would go to the gym daily and spend about two hours with intense work outs.
I would rotate days. The first day would consist of stair-climbing, treadmill, cycling and elliptical. The opposite day would be spent doing leg-lifts, curls, presses, crunches and leg lifts.
Again, mainly sticking to the provided work out program was extremely helpful to keep me focused.
Mentally I thought about the goal ahead of me. I knew I had to keep my wits about me secure to not give up or let something interfere with the mission.
My companions were a great help, but nothing was going to prevent me from reaching the top. I dreamt about that moment for a long time so just staying the course was really important and listening to the guides.
Weather and Facilities
The weather was terrible. It rained every day and that was why I was so disappointed in not bringing a better rain jacket and pants.
The rain eventually turned to hail and then snow.
I actually enjoyed climbing in the snow under freezing conditions in the middle of the night. It made things that much more challenging and rewarding once we reached the summit.
The facilities were very minimal. It wasn't something I was used to, but also understandable. Once you adapted, it was accommodating.
Challenges
The toughest part of the climb was the night before reaching the summit. Walking for hours under harsh, cold, windy conditions is not something you can really adapt to. Not to mention the fact that you really can't see because it's pitch dark out.
My friend and I had altitude sickness from the second day on. We took aspirin which made us feel better, but it was really tough to not feel one hundred percent and keep pushing on. We had trouble eating, sleeping, breathing, but continued to push ahead.
I've never felt so miserable and yet so determined at the same time, truly a rewarding challenge.
Other Activities/Safari
My friend and I did a three day safari after the climb to relax and enjoy the sights. We spent time in many areas and really enjoyed the crater. We saw so many animals in their natural habitat and got some really nice footage.
If you have some extra time after your climb, I would highly recommend this.
Tips and Advice
I brought a camelback which wasn't necessary, but very useful in my opinion.
My really good pair of boots was without a doubt the most important item for this trip.
Most of my crew followed the standard check list that was provided which really came in handy. My only regret was not bringing a better rain jacket and pants since it rained so much while we were there.
One of my fellow crew members did not bring aspirin which was much needed from the altitude sickness. Luckily, most of us were well stocked and supplied him with the medicine.
Kilimanjaro gear - what to pack »
Like it says in the literature, it is not only physically challenging, but mentally as well. You really need to push yourself, so don't take it lightly. If your mind is set and you're determined, you can make it an adventure of a lifetime.
I would give the climb an overall rating of 9. If I could have prevented altitude sickness and the weather would have been nicer, it would have been a 10. A part of me actually enjoyed the sickness and weather because it showed me how I can overcome tough challenges. I don't know if I would want to change a thing.
I don't have anything negative to say about the trip at all. I would recommend this to anyone looking for some high quality adventure.
If this is something that interests you, set your mind to it and do it. When you complete the challenge, you can look back on those moments as something that will stay with you forever. You will be one of a small percentage of people who can ever say they conquered such a tough challenge.
More Machame Route Reviews