SENE Review
by John Hansen
(WA, USA)
Our group of 6 just returned from climbing Mt Kilimanjaro, and except for summiting in the worst weather of the 2 weeks (Tues, 10 Feb), it was a truly amazing experience.
OPERATOR PERFORMANCE
I feel it important to share our experience with Simon Mtuy's company, SENE. Although there are literally hundreds of outfitters for the mountain, it's interesting to compare and contract once you are on the mountain.
Several disappointing aspects of Kilimanjaro. First, the American and British trekking companies who bring along a Western guide. We witnessed several of these outfitters and the clients would always gravitate and socialize with … the Western guide. This is only natural, of course, since you are paying a premium to have the comfort of a Western guide. All of the Western outfitters, of course, are subcontracting to one of the local outfitters, but they hide this from their clients. It was sad to see the clients barely even talk with or socialize with the African guides and porters. Please try to encourage everyone to save money and go with a Tanzanian outfitter – there are many good ones.
Second, it looks like Tusker Trails has now officially overdone themselves on the mountain. The blatant commercialization of their outfit was sickening – from their 20 foot flags, to bright branded tents, to huge branded dining flys, to guides and staff with branded equipment, I would have been embarrassed to be part of their group. Zara at least uses subtle colored branded tents, but keeps the marketing to a minimum. Please don't encourage this over branding excess on the mountain.
Third, the trash. What happened to the encouragement and law by TANAPA to enforce outfitters to carry out their trash? The big camps, of course, were the worst, especially Barafu Camp.
Now, about SENE. The experience of staying at Simon's family farm house in the Mbahe Village was priceless. We did several acclimation hikes around the village, and met the people and schoolchildren of the village. What a rich experience. You still had the Western comforts and safety, but you witnessed the culture up close and personal. This experience almost trumped the actual climbing of the mountain. As we walked around the village, we met some of the crew for our trek – porters and cooks. A majority of Simon's crews come from his village, which creates a family atmosphere among the crew. One of our lead guides was Simon's older brother, Felix. Also, we had several cousins along as porters and kitchen staff.
COMPARED TO OTHER OPERATORS
Now, some of the differences:
All 3 guides carried trash bags on the outside of their packs, and along the trail, every day, they would pick up trash – any and all trash. They would scamper off the trail, and pick up trash. During the entire 7 days on the Machame route, I never saw any other outfitter staff nor guide pick up trash, even when their own clients "accidentally" drop a wrapper.


Every evening when we came into camp, the staff sang a welcome song to us. They included you in the dancing and singing, which helped your muscles de-compress. Clients from other groups would wander over and take pictures of our group. A nice touch.


There was no elitism among the staff. The guides and cooks and porters were like family, well, I guess since they are family, that helps. But I witnessed other outfitters where there was a clear pecking order – guides to cooks to porters. As a result, as clients, we never felt the porters were mistreated. We would interact and talk with all of them. Interesting, the guides also carried their own heavy backpacks. No porters were hired for the guides, unlike other groups.


The safety touches were important – gamow bag, oxygen canister, advanced large first aid kit. These weren't optional, but just part of the group equipment. Prior to summiting, the guides gave a demonstration of the equipment, when and how to use it. In addition, SENE uses the Katadyn expedition filter for all of their water use on the mountain.


As most outfitters on the mountain now, the food was great, plentiful, and fresh. Nothing like having fresh fruit and vegetables at 15,000'.


With Simon's personal US and UK experience, he knows what Western clients want and need. He knows how to make you comfortable, while not cheating you of the great African experience it is. The guides spoke impeccable English, which is truly amazing.
John's Climb Details:

Climb operator: Summit Expeditions and Nomadic Experience (SENE) (make an enquiry)

Route climbed: Machame Route, Mt Kilimanjaro, Tanzania

Date of climb: 5–11 February (7 days)

More SENE reviews »
More Machame Route Reviews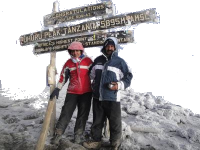 Join in and write your own page! It's easy to do. How? Simply click here to return to Africa Tour Operators Reviews.