Private Safari Review: Tanzania
by Kieran Perkins, Kath Green
(England)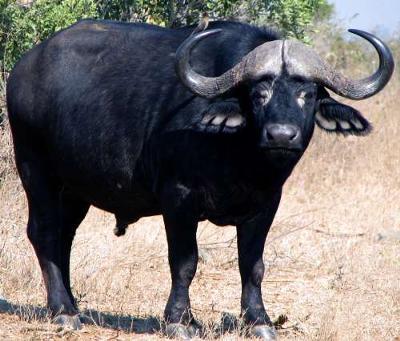 Buffalo bull
One of the things I liked most was eating dinner with our guide each night. It was a totally unexpected bonus to sit with him and chat about Tanzania and Africa as a whole, and he was very interested in the UK.
Safari Operator Performance
We used Ziara Safaris, recommended by my girlfriend's parents.
They performed very well on the whole. From the beginning we felt like everything was clear and we were well taken care of. Before we even got to Tanzania, the sales rep was very responsive and always replied to our questions promptly.
I particularly liked the fact that the safari was private.
It meant we could be flexible each day, and we really got to know our guide well. He was fantastic! Amazing eye sight, unbelievable really. We saw all the Big 5, plus cheetahs, loads of birds, hyenas really close up, three different kinds of vulture etc.
Aside from the wildlife he was also very knowledgeable on Tanzania as a whole (politics, education, culture, other contemporary issues).
And he was full of questions about the UK. This meant that we had interesting discussions each night over dinner, and we felt we learnt a lot about Tanzania just from these chats with him.
Accommodation
Rhotia Valley Lodge (Karatu) – such a great lodge! All the rooms were little individual tents set on wooden platforms overlooking the valley. The view was so lovely, especially in the morning. The bathroom was great and the shower was really hot and powerful.
The food was really nice, but it seemed like there was a mix-up in the kitchen, and there was no vegetarian option prepared for my girlfriend. This was odd as the manager has asked which of us was vegetarian when we arrived. This was only a small niggle though.
There was a cozy bar area with open fireplace which was a nice place to sit and chat after dinner.
Rhino Lodge (Ngorongoro Crater area) – very nice and, it seems, also affordable in comparison with the other options in the surrounding area. It didn't have the gorgeous view that Rhotia Valley had, but it was just a short drive from the crater rim, and surrounded by very dense and spooky looking forest. It was very atmospheric!
At night we saw a lot of buffalo who had wandered up to the lodge very close. And I mean close! We could literally hear them munching on the grass as we walked by. We liked this a lot as it felt we were really out in the wild.
The rooms were simple but comfortable and the bathroom was fine (clean, tidy, running water fine etc). There is a little veranda outside each room but we didn't really get a chance to sit out there.
The food is served buffet style. It was tasty and there was plenty of it. You could help yourself to tea and coffee in the mornings. In the dining room there was also a nice open fireplace and red couches. This, combined with the open wooden beaming in the ceiling, made the place feel a little like a European ski chalet!
Staying there was a very nice experience on the whole.
Mapito Tented Camp (Serengeti) – This was the accommodation we splurged on the most. This was the place with the most authentic and remote "wilderness" feel. It is just outside the borders of the national park but you can see the plains around you everywhere you turn. It was extremely still and tranquil. A very nice place to sit and listen to the birds.
The rooms were very spacious. There was a big double bed with lots of mosquito netting around. There was also a small work desk, an open rack to hang clothes, and a luggage rack. At the front was a private veranda with table and chairs, where they brought us our morning coffee as part of our wake up call!
The bathroom was the best bit though. It is completely outdoors and open, but there is a tall stone wall surrounding you, so it is private. It is a really unique experience to shower under the open sky though! The stones trap the heat from the sun and they radiate heat in the afternoon. We loved it.
The food at Mapito was our favourite on safari. It was served buffet style, and there was always a choice of mains, choice of sides, a "local special", and a nice desert. Soup was also served to start, with nice bread or popadums.
Food
Each place offered fresh fruit, juice, coffee and tea, cooked options (eggs, sausage, omelette, pancakes, French toast etc), toast, cake/pastries and jam.
Lunch was a lunchbox out in the bush each day, except for one day when we stayed back at Mapito to have lunch in the bush just outside the camp. This was lovely and we're so glad we did it. We came back from our morning game drive and our own private table had been set up in the shade of a tree. There was a buffet table laid out too with pasta and sauce, salad, pineapple for dessert, tea/coffee, and bottled water. It was a nice change to have a long relaxed lunch like that.
Wildlife
All the Big Five (lion, elephant, leopard, buffalo, rhino), hyena (very close up!), four cheetahs (brothers), lots of vultures just at the side of the road eating the carcass of something (gazelle we think), flamingos, giraffe, zebra, wildebeest, hartebeest, warthog, baboons, vervet monkeys, so many kinds of birds I can't remember what they're all called! We did see at least three kinds of hornbill though.
We also saw lots of baby animals which were very cute (zebra, giraffe, wildebeest, warthog and even a leopard cub!!). The warthog babies were especially cute.
Typical Day
Early start (sometimes very early). Go down to breakfast and re-cap with our guide about what we will do that day.
Head off to our next safari destination, morning game drive until lunch (usually a picnic, once at the lodge, see above).
Afternoon game driving until it was time to leave and head to our next accommodation.
We would then head straight to the bar! Or my girlfriend might have a quick nap if it wasn't too late. Then we'd have dinner with our guide. After dinner our guide would normally go over our plans for the following day before saying good night. We would then sit in the lounge or bar for a drink before bed.
Other Activities
We went snorkelling at Mnemba Island, Zanzibar the week after the safari and it was absolutely amazing! Saw all kinds of fish swimming around the coral reef, including trumpet fish and the good old 'Finding Nemo' style clown fish.
Disappointments / Regrets
No regrets or disappointments at all! In fact everything surpassed our expectations really. The safari car was huge and comfortable, the open roof was great and we even had an electric cool box in the back to keep our water cold. The accommodation was all fabulous and our guide was just amazing. It was the best holiday we've ever had.
Tips and Advice
Bring a pen and paper to write down your notes and thoughts that you don't want to forget.
And bring a bird guide, and mark with a pencil all the birds you saw. This was a really nice way to spend our evenings spent at the bar!
Bring good quality
binoculars
– we can emphasise enough how much this enhanced the experience.
And don't forget sunglasses and a
hat
!
If you're thinking about going on safari, just do it. It was the best holiday we've ever had.
More Ngorongoro Safari Reviews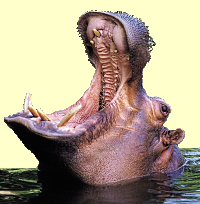 Join in and write your own page! It's easy to do. How? Simply click here to return to Africa Tour Operators Reviews.