Tanzania 2000 Adventures Review
by Deepa Thomas
(India)
One morning, we headed down into the Ngorongoro Crater and had a very eventful safari viewing and managed my Big 5 (Black Rhino, Lion, Leopard, Elephant, Buffalo). Also saw lions walking in our midst and even saw two large male lions being chased by a Buffalo.
Safari Operator Performance
I used Tanzania 2000 Adventures. I found them online. They were very good.
I fell sick with amoebiasis at the first Arusha hotel and found it difficult to travel on bumpy roads and long distances so they helped moved my entire itinerary around to accommodate this.
My guide Jerald was extremely good at animal spotting, a safe driver and very caring about ensuring I got enough vegetarian food.
Accommodation
Arusha: L'Oasis (Nice lodge rooms on a stilt, decent food & ambience) but I ate some ice-cream there which got me pretty sick and I needed to see a doc for amoebiasis medicines.
Lake Manyara: Migunga Forest Camp (Tented camps, nice location with rain trees, ok food) Tents located close together but not too close.
Ngorongoro Crater: Rhino Lodge (Lodge, cheerful rooms, good food, no insects due to altitude)
Serengeti National Park: Ikoma Bush Camp (Tented camp, ok food, good staff, too many insects & spiders in the tent), tents located far apart and no lights to guide you to the restaurant but askari walk you back.
Tarangire: Tarangire Elephant Camp (Lodge cum tented camp, ok food, some insects)
Arusha: Mt Meru Game Lodge (Lovely boutique hotel, charming rooms, animal sanctuary on location, ok food)
Food
Food was very so-so as I am a vegetarian and do not eat meat or fish.
Breakfast was usually toast and egg and juice.
Lunch was normally a box lunch (sandwiches, juice, cake or biscuits) and dinner was rice & curry, pasta or veggies.
Wildlife
Lake Manyara National Park is an interesting park as 100 of the 200 sq km park is a massive lake pink rimmed with thousands of flamingos.
Had a great safari at Lake Manyara National Park and spotted many baboon troops, the Blue (Sykes) Monkey, Zebras, Giraffes, Hippos, Wildebeest, Impalas, Warthogs, Elephants, Mongoose, Bush Buck and Dik Dik. Spotted a very far off lion with binoculars. Fell in love with the graceful zebras & giraffes.
Ngorongoro Crater: Saw Buffalos, Bushbucks, Ostrich, Giraffes and Zebras. Was fascinated by the giraffes and loved them doing a front split to get to the tasty grass at the ground level.
Apart from the big 5 mentioned earlier, I also saw a hyena hunt and kill a baby wildebeest, jackals, Thomson's & Grant's gazelles, antelopes, hartebeest & waterbuck besides many wildebeests & zebra herds. Had a tasty lunch at the Hippo Pool watching them chill in the water.
Serengeti: Visited the Simba Kopje and spotted a male lion napping on it. Saw many animals I had seen at the other parks and felt like I was starring in a wildlife movie. In addition, saw the small rock hyrax who is actually related to the large elephant.
The second day was a big cat sighting day - three cheetahs, two leopards and many lions, lionesses and cubs. An interesting sighting was of a male lion with a buffalo skull.
We headed to the Hippo Pool where I saw an exciting hippo fight, lots of open jaws, whirlpools of water and lots of splashing. One of them defending their territory from the other. In another corner, a Mama and Baby Hippo were spotted and when a crocodile came calling, the Mama Hippo chased him away.
Also spotted Red Buck & Topis and dozens of interesting birds (Secretary Bird, Marabou, Fish Eagle, Vultures, White, Black & Yellow Billed Stork).
Tarangire: Saw the giant Baobab trees for which it's famous, a few elephants, rock hyrax, giraffes & ostrich.
Typical Day
Woke up early typically at 6.30 am and had a quick shower and breakfast.
Left for safari between 7.30 & 8.30 am and spent the whole day on safari.
Lunch break at a park garden or hippo pool & continue with animal spotting.
Evening return to camp by 5 pm and have a rest and read a book till dinner.
Dinner at 8 pm and then back to the tent where I could write in my daily diary and then read a book till lights out at 10 or 10.30 pm.
Disappointments / Regrets
Got bitten badly by tsetse flies in Tarangire and was worried about sleeping sickness.
Most of the tented camps had a lot of big spiders and insects which I didn't like.
Veg food was ok.
Tips and Advice
Do your research well and
choose the right operator
.
Spend enough time at the Parks (a day or two or three) rather than rushing from place to place.
Enjoy the sensory experience and take hundreds of pictures.
Carry insect repellent, sunscreen & a wide brimmed
hat
.
My most useful items in my luggage were my camera and the long sleeved shirts & cotton trousers.
More safari clothing tips...
Deepa's Safari Details:

Rating: 8.5/10

Safari company used: Tanzania 2000 Adventures (make an enquiry)

Parks visited: North Tanzania: Lake Manyara, Ngorongoro Crater, Serengeti & Tarangire

Date of safari: 31 January - 10 February

More Tanzania safari reviews »

More Ngorongoro Safari Reviews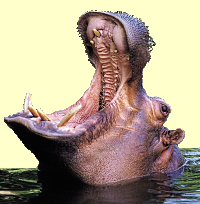 Join in and write your own page! It's easy to do. How? Simply click here to return to Safari Tanzania.