Fabulous Family Safari
by Kate Watkins
(USA)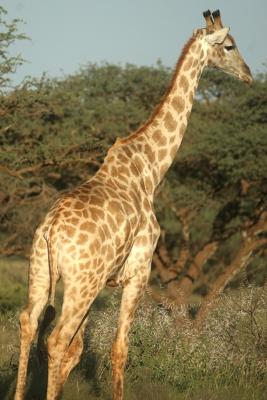 Photo © www.african-safari-journals.com
Connie Ebright of Ebright Travel was wonderful and worked closely with us to get us the safari we wanted (not too expensive and good for kids). Everything was fabulous.
Safari Operator Performance
We used Naipenda Safaris and Connie Ebright for our safari. Heard about them from African-Safari Journals!
They worked within our budget and our guides were outstanding. They were great with kids, incredibly knowledgeable and flexible and super-friendly. Everything was organized, nothing broke.
Accommodation
We travelled Tanzania's Northern Circuit — Arusha National Park, Tarangire National Park, Lake Manyanara, Ngorogoro Crater, Serengeti and a week in Zanzibar.
Mountain Village Lodge, Arusha — beautiful, a lovely place to start out, fancier than the rest of the places we went.
Maramboi Tented Camps — this was our favourite because of how wonderful Elisha the manager was, and the location was beautiful. Also they have a pool. Great food and a lovely place to hang out and watch the animals.
Bougainvilla Lodge — also nice, excellent food but less friendly. Also has a pool.
Ndutu Safari lodge — saw the most lions here, also they had servals in the roof which was wonderful for the kids to see. Very friendly and also they had a good gift shop.
Kati Kati Mobile tent camp — least favourite place but still fine. Food less good and there weren't alternatives for the people in our group who didn't eat pork. I loved the showers here however and how close you are to the outdoors.
Ikoma tented camp — was difficult to get hot water here and electricity turned off during the day. Food was excellent and beds very comfortable. Went on a night safari that was very interesting.
Pongwe beach hotel in Zanzibar — Fabulous and beautiful and comfortable. Like a paradise. They weren't used to working with a large group, so meals were sometimes challenging for the waiters. Food was wonderful— great mango smoothies. Also very helpful staff.
Africa House in Stonetown — rooms were ok but smelled a bit of mould and air conditioning didn't work in one of our rooms. Food mediocre. Nice upstairs lounge.
Food
All the food was good and some was excellent. Lots of fresh fruit and veggies. A lot of pork and lamb so if you don't eat pork this could be a problem. Lots of juice.
Wildlife
Can't even begin to describe the wildlife — we saw everything.
The highlight was the animals with nursing babies — elephants, giraffes, baboons, zebras.
Other Activities
Snorkelling and scuba in Zanzibar — outstanding.
Pongwe and the beach there was a highlight.
Tips and Advice
We came prepared for lots of mosquitoes but there were very few. Didn't need as much repellent.
The kids — ages 9, 10, 11 and 12 — did great. Bring extra
binoculars
as one set broke and we used our guide's binoculars a lot.
You need even less
clothing
than you think — travel light!
More Tarangire Safari Reviews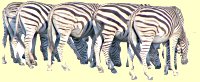 Join in and write your own page! It's easy to do. How? Simply click here to return to Ebright Travel.