Cape Town and Safari
by Susann Chism
(USA)
The trip was a perfect 10. Everything went exactly as planned, no luggage problems, no delays. When a transfer was scheduled our driver was on time and very accommodating. The food was good and lodging was comfortable. We were fortunate to see lots of game. About the only thing we did not see was snakes (although we saw a trail of one) and a crocodile.
Safari Agent Performance
Ebright Travel arranged the accommodations with her contacts in South Africa; I found her on African Safari Journals.
Working with Connie at Ebright Travel was a dream. She listened to what we wanted to see and gave us options to choose from.
Janit from Africapass met us in Cape Town and checked on us a couple of times to be sure that everything was going ok.
My travelling companion and I were talking of returning to Africa again even before we returned home and we will most likely use Connie for our agent again.
Accommodation
CAPE TOWN —
The hotel Commodore was very well located, a good buffet breakfast. We enjoyed wandering through the waterfront mall, and had plenty of places to choose from for dinner.
Robben Island was informing, but very pristine with all the perfect paint. Some locals complained that it was a tourist trap now, and the difference of that prison and Alcatraz for example, was extreme. It would have been better if they had left it alone, it would have been much more realistic.
The Hylton Ross Tour Company for the peninsula and wine lands was very good. Picked us up on time and guides related lots of information in general conversation and were willing to answer all questions.
The Cape is beautiful. I loved the mountains, and the deep blue of the sea. The wind was blowing so hard it was easy to imagine the difficulty ships had rounding the horn.
Kirstenbosch gardens were lovely, very tranquil, a nice ending to a long day.
On the wine lands tour it was just the two of us, with a very nice, very intelligent guide. The choice of wineries fine, I know there were three, but can only remember two. One had an awesome view looking out a big picture window all the way to Cape Town. Stops at historical places, like the prison Mandela was released from; a very pleasant day.
SAFARI -
Ngala Main Camp Ngala private reserve - what can I say. It was definitely a perfect place to begin. We felt like we were family right away. Mama Connie so anxious to make sure we were happy. This camp had the best food.
Our game drives were definitely an experience. Saw a wide range of animals. Our last morning there Lyson (ranger) and Soli (tracker) spent a long time tracking rhinos for us, and though we got a glimpse, the bush was so thick we would scare them off before getting close.
Soli had gotten out to walk through the bush, and he was off by himself for about 45 minutes, and somehow the two of them came back together again. Amazing! We also enjoyed our first breakfast in the bush.
Kapama Karula, Timbavati - this was our least favorite. The main reason being the decor was too modern to give you the feel you were in Africa. Never saw the manager after the first meeting, the staff was fine, just a very formal affair.
There we saw the greatest concentration of giraffe and elephant, but it almost seemed too easy, and at the time it felt as though we were part of a tour. I mean our ranger, who was very pleasant, seemed to have a script that he followed, stopping at designated points with a speech.
We were with 2 other couples in the range rover, who this camp was their only stop and they felt they had a good experience so I was glad for that. It just seemed like we felt we had more of a true track at Ngala, so it fell short.
Exeter Dulini
Sabi Sand
was another camp where we felt very welcome. Our ranger, Justin, wanted to know what we had seen before and it was kind of a game to see if he could be beat Ngala.
The last morning he tracked a long time for lion cubs that we wanted to see, again had a light breakfast in the bush, and Justin and I walked back to the lodge and I got an opportunity to see some of the "little five".
Each game drive here seemed like a true tracking experience too. Justin spent a long time looking for the one animal we had not seen, the hippo, which we eventually found, a male out of the water marking his territory flinging dung everywhere. Very comical.
Our last night there several birthdays and anniversaries were celebrated. The choir danced and sang, for a nice evening of entertainment.
Elephant Camp, Zimbabwe, near Victoria Falls Town - this was the place I felt like I was truly in an "Out of Africa" setting. I cannot say enough about Jonathan. He was very accommodating to take us to the falls twice, and stop at the bank. He really did make it special.
The boat ride on the Zambia River was pleasant, but so many on the barge that it lost the intimacy we felt at other places.
Food
There was always a wide selection of food for each meal, e.g. fresh fruit, meats, eggs, crumpets for breakfast. Usually vegetables, salads, fruits and some type of main course for the other meals.
Ostrich and warthog were two of the dishes I had not previously tried. Ostrich was prepared in various ways, but always good. Warthog reminds me of pork, only a little drier.
Wildlife
Of course, the big five: lion, leopard, buffalo, rhino and elephant. Also saw African wild dog, zebra, giraffe, monkeys, jackals, antelope by the hundreds, wildebeest, warthog, kudu, and lots of birds.
One highlight was watching a den of wild dog puppies as the pack came back from the kill.
We also followed another pack of 12 for a kill. The pack leader began to run and our ranger followed driving at about 35 miles/hour or more. When we found them again, less than 6 minutes later, the antelope was nearly devoured.
Typical Day
Morning was always early, about 5:30AM with a light snack and coffee before a 3 hour morning drive. A large breakfast was served on return.
Usually between late morning and early afternoon was a time to rest or walk with the ranger.
A late afternoon tea would be served at about 3 before leaving for a 3 hour evening drive. A late dinner on return, and then one would definitely be ready for bed.
Other Activities
While at Ngala we visited a nearby community supported by &Beyond camps. This is definitely an opportunity to see how outside financial support can improve the lives of those living in rural areas.
The elephant ride in Zimbabwe was a lot of fun.
Victoria Falls is awesome. Because of lots of rain the falls were very full, almost difficult to see them. It was amazing to know that our accommodations were about 4 miles from the falls and mist was still very easily seen from camp.
Disappointments
I was not comfortable at the formality of Kapama Karula, but there were others there who were very happy. I enjoyed the warmth of the staff at the other places we stayed.
Tips and Advice
Take less clothing than you think you need. We never needed "dress up" attire.
The most useful thing was a fleece jacket for the early morning and late game drives, as it really could be on the cool side.
The other thing was the camera and digital cards. I think it is best to take a few of smaller cards, and change them out often. If any card is lost then usually there are some pictures of where one has been on different cards.
More Ngala Safari Reviews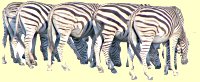 Join in and write your own page! It's easy to do. How? Simply click here to return to Ebright Travel.