Seamless Private Reserves Safari
by Kim Seguin
(USA)

Hippo out of water
We had the most amazing trip of our lives!! It exceeded our expectations a million times over, and we are so grateful to Connie Ebright, our African Safari Specialist for making the trip a dream come true. Not only did she make it easy and painless to plan, but she booked us at three camps that were all fabulous and very unique.
Safari Agent
I booked my safari with Ebright Travel whom I found on this website.
I visited three private game reserves in South Africa. All of our camps were amazing, and the guides were incredible.
Accommodations/Safari Locations
Kapama Game Reserve - we stayed at Camp Jabulani first, which was an Elephant safari camp where they let you do your "game drive" on Elephant Back. Quite amazing to be able to ride these enormous creatures and see other wildlife at the same time. It was truly 5 star and the staff catered to our every desire.
Ngala Game Reserve
(next to Timbavati)
- Ngala Tented Camp was very authentic. The food was incredible and 'South African' (salads, and wonderful meats) which was fun, and the staff couldn't have been nicer. Our driver grew up on the reserve so tracked animals with such expertise. It was fantastic.
Sabi Sands Game Reserve - Exeter Dulini and what a way to end the trip. It was so romantic, with special touches in our room from the staff, and candle lit dinners. Our guide here (Leno) was an expert on the animals and it was as if we were getting an educational seminar on every drive, which we LOVED! We learned so much and he was wonderful.
The Safari and Overall Impressions
During our safari, we were anywhere from just the two of us when we got lucky, to 6 passengers. We used a Range Rover - loved it.
Regarding wildlife, leopard was the highlight - in a tree, and came down to play with her baby right in front of us. Also saw a croc in the grass, and got VERY close to him. All the big 5, and saw hippos out of the water. Wild dogs too!
Typically we would do a game drive in the mornings, a mid afternoon break, and another evening game drive... with lots of eating fabulous food (we loved all the foods) in the middle!
Another highlight for me was learning about the animals, and having a second honeymoon without cell service or internet!!
My only possible regret is that we didn't visit a village (it wasn't offered), but it's no biggie. Next time!
All in all, we can't say enough about our amazing safari. I highly highly recommend all three camps, and to book through Ebright Travel.
Tips and Advice
Don't stress about clothes to bring, or all the little stuff you feel like you need. These aren't "camping" type of places, but rather 5 star accommodations that have everything you would need.
The most useful item in my luggage was my camera. And hat/gloves/scarves – it was freezing before the sun was up and after it went down.
More Sabi Sands Safari Reviews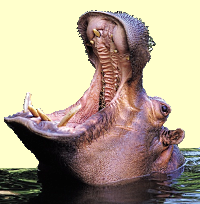 Join in and write your own page! It's easy to do. How? Simply click here to return to Ebright Travel.